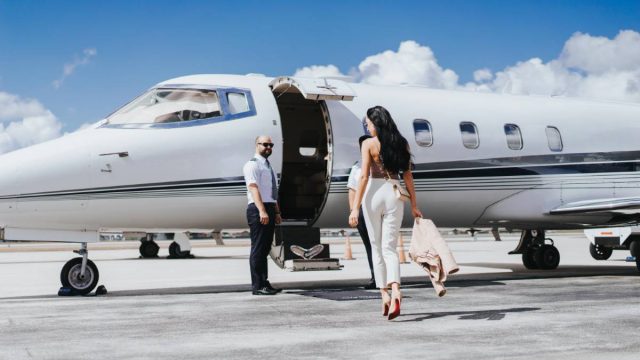 Private aviation is recognized worldwide for its efficiency, safety, and simplicity. Customers can choose from a wide range of aircraft that adapt to their different needs, whether for long or short distances, asphalt, or grass runways.
Among its great advantages is that it does not know of fixed schedules and, consequently, long waits for security lines nor flight delays. In addition, the comfort of traveling alone or with a small number of passengers is one of the strengths of this type of flight, since in most cases there are no seatmates and there is no waiting for the bathroom.
If you have considered flying private, you are not alone. Many are contemplating moving towards this type of transportation for the first time. And it is understandable because the higher levels of comfort, flexibility and service are unmatched.
However, there are some unspoken rules that apply. These will guide first time travelers towards a better private jet experience. From how to pack to which aircraft to choose, Fort Lauderdale-based private jet provider Monarch Air Group offers an etiquette handbook for passengers flying for the first time on a private jet.
Dress appropriately
It seems obvious, but it is one of the most important aspects when it comes to a private flight. Comfort is paramount on any flight and traveling for business is not the same as traveling for pleasure. When it comes to a business trip, it is essential to follow the usual dress code: suit, shoes and tie for men and jacket or blouse and skirt for women. On the flight you will meet colleagues, partners, and managers, and during the flight, it is highly likely that work-related matter will continue to be discussed.
However, when it comes to a private flight that has nothing to do with work, it is advisable not to overdress, to wear comfortable sneakers and pants. Jeans are not recommended as they are often not comfortable if you are going to sit for several hours.
Arrival and documentation
International flights require proper passenger documentation, including a Visa. That is not the case with domestic trips, where a simple government issued ID will allow you to fly. An experienced company like Monarch Air Group will take care of entry permits, embassy authorization (if necessary), among other procedures. Likewise, pets can be transported if they have certifications of their vaccines. You can also arrive 15-minutes before departure to the private terminal.
However, there are clear rules in terms of transporting cargo or valuable items. A jet operator will always check these documents and the cargo before approving the flight. Similarly, the passenger may have to pay customs at the destination when transporting products across international borders.
Limit your luggage
People often associate private travel with unlimited luggage capacity, but that is not entirely true. Private jets are generally small planes with limited cargo space and, nonetheless, all aircraft, small or large, have a maximum takeoff weight.
Private jets allow luggage inside the cabin as well since it is all based on weight. In many cases, passengers bring their pets, expensive art, and medical supplies, aboard the aircraft with them. Private jets of all sizes provide the convenience of being able to securely transport expensive and valuable items; some customers even use small aircraft to relocate from major cities.
How to reduce costs
Traveling by private jet may not be expensive if you follow this advice. By booking in advance and dividing the cost with other passengers you will be able to reduce considerably the price of chartering a jet during designated dates such as Christmas Day, New Year's Eve, Easter, or Thanksgiving.
Other variables to consider for reducing costs on the trip is the duration and size of the plane. It will be less expensive to fly less hours and to charter a smaller aircraft, while prices will increase with the size of the aircraft due to overall operational costs.
The aircraft
It is important to know the different types of aircraft available for charter, their main attributes and how these variables are paired with the final price. With different sizes, the choice will depend mainly on the number of passengers, luggage requirements, budget, and route, among other preferences.
Light and medium jets, like the Embraer Phenom 300 and Citation XLS, for example, can seat four to eight people. They are smaller and less expensive to operate, ideal for groups of 7 to 9 passengers and couples on special occasions.
Super midsize and large cabin jets, such as the Citation X or Challenger 300, are a good option for larger groups of passengers up to 9 people. The operational capacity of these aircraft models allows for flights of five to six hours.
On another level of size and price are the so-called heavy jets with transatlantic range. In this class, popular models include the Dassault Falcon 8X and the Gulfstream G650. Because they are more spacious, some aircraft have flat sleeping beds, larger bathrooms, and a wide variety of cabin configurations, with a seating capacity of up to 30 people.