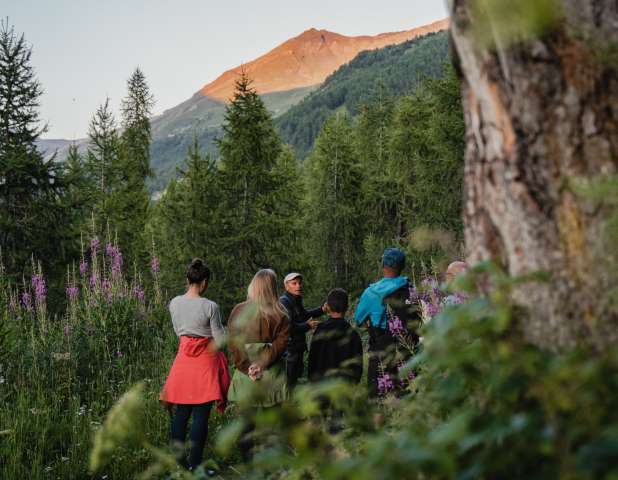 For those looking for a sense of discovery this summer, top resort Val d'Isère is offering visitors the opportunity to venture on a botanical trail to explore the rich flora and fauna or try their hand at mindfulness on a discovery walk. Not just the best place for fast action winter sports skiing, Val d'Isère is the ideal destination for travelers to immerse themselves in the summer alpine surroundings. 
Discover Val d'Isère through guided mountain walks
Franck Bortolotti, an enthusiastic Val d'Isère based mountain guide hosts walks where walkers can learn to reconnect with their senses, offer lessons on how to protect the environment, identify wild plants for those interested in cooking and themed walks. Sunrise lovers can enjoy a slow mindful walk in the heart of the nature, where these early risers can focus on engaging with oneself, with the aim of opening to others and to their surroundings. Franck also offers a dusk forest walk with no artificial lights around to introduce walkers to nature and to reconnect them with their senses and a 'grandmother's garden' walk where participants are educated about the wild plants and herbs like wild spinach, dandelions, and yarrow that grow in Val d'Isère. The last is the extraordinary 'world of trees' walk, where visitors will be introduced to Val d'Isère's larch and pine forests. Partakers can choose from a gentle stroll or a longer more strenuous hiking route for the active walker.
Explore the Bailletaz botanical trail
Families and solo travelers can enjoy the alpine scenery and savor the rich flora and fauna by taking a walk on the 'wild side' of Val d'Isère. With more than twenty rare species and about 400 chamois mountain goat, the park covers more than half of Val d'Isère's commune, making the Bailletaz nature reserve home to characteristic flora that has adapted to the high-altitude environment. The Vanoise National Park can be explored on hikes to the Prariond or Fond des Fours refuges, where hikers can recharge hear stories from the refuges' caretakers.