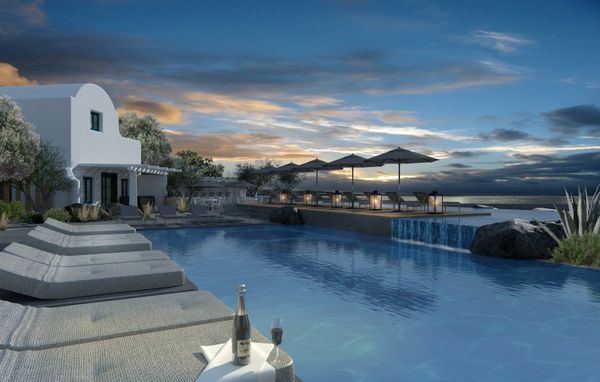 Named after the Ancient Greek word OMMA meaning vision, the brand new OMMA Santorini boutique hotel in Imerovigli focuses on providing guests the element of discovery through all senses. Taste the freshest culinary creations, experience the panoramic views of the famous Santorini Caldera and Aegean, inhale the fresh aromas of the spa and listen to the relaxing waves of the ocean. OMMA Santorini is a 360 experience for all your senses.
An Elegant and Refined Stay
A tranquil and blissful escape, OMMA Santorini's 30 rooms – including villas, are all individually designed and feature views of the eminent Caldera from the front and Aegean Sea from the back. Suites open out to a spacious terrace with a dining area, ideal for private celebrations and intimate dinners.
10 meticulously designed room categories accommodate all types of travellers. Families can enjoy spacious Maisonette Suites with plunge pools whilst couples can treat themselves to ultimate privacy and luxury with an OMMA Villa and private swimming pool.
The Artistry of Dining
OMMA Restaurant focuses on Mediterranean Greek cuisine created by renowned Executive Chef Dimitris Stamoudis, who blends traditional dishes with a modern twist. Using local Santorini and Greek ingredients, each of Stamoudis' plates showcases a work of art.
The dining experience elevates at night as mouthwatering dinner selections are perfectly paired with local and international wine labels, served at the highest vantage point overlooking the Caldera.
For fancy cocktails and delicious poolside bites day and night guests can venture to the poolside bar. One of the most impressive on the island, the multiple level OMMA signature infinity pool with double sun loungers is surrounded by lush greenery.
Personalised Wellbeing
At the OMMA Spa you are in control. All treatments are personalised based on individual preferences and requirements. The no.1 luxury British skincare brand Elemis powers the long list of decadent treatments.
Want to work off that indulgent gourmet lunch? At OMMA you can upgrade your weekly exercise routine at the boutique gym, complete with ultra-modern equipment.
For more information visit ommasantorini.com.