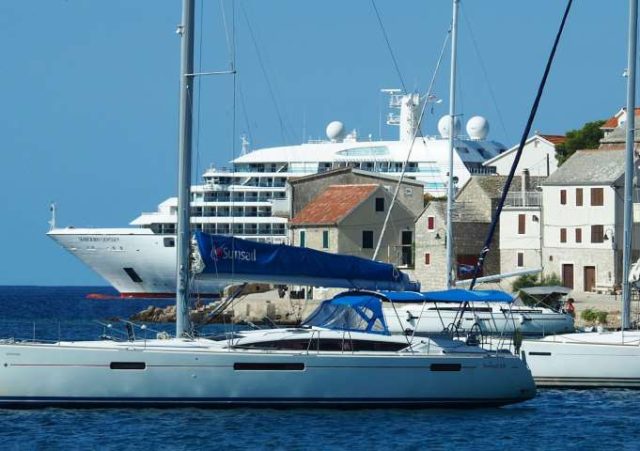 The Mediterranean is full of gorgeous, picture-perfect islands. It is, perhaps, one of its most famous features. From grand, historic spots like Cyprus or Crete to the exquisite, tiny rocks like Gozo or Lampedusa, there are islands to suit every type of traveler. You can party the night (and most of the day) away on Ibiza in the Balearic Islands, or soak up the stunning sunsets and astonishingly perfect landscapes on Santorini in the Cyclades.
Often underrated but genuinely fantastic are the string of islands off the coast of Croatia. There are more than 1,000 islands in the Adriatic along the rugged Croatian shoreline, but only 15 have a population of over 1,000 people or are larger than 500 square feet. As a result, you can find isolated rocky outcrops and peaceful havens of tranquility just as easily as charming, stone villages and vibrant beach parties.
So if you are planning a Mediterranean islands cruise and want to explore one of the most beautiful parts of Europe, here is a list of the best Croatian islands to visit.
Krk
Unpronounceable though its vowel-less name might be, Krk is one of the most visually stunning islands in the entire Mediterranean. From ancient fortified monasteries and striking Romanesque churches to hills covered in sprawling vines, it is a glorious sight to behold. One of the few Croatian islands directly accessible from the mainland thanks to a dramatic bridge, it is a wonderful place to explore, full of picturesque little fishing villages which boast a surprising number of wonderful taverns serving up scrumptious local cuisine. Hike the island, swim in the sea, and explore the world beneath your feet in Biserujka Cave, before settling down to watch the sunset with a glass of local wine in your hand.
Hvar
Probably the most famous of all the Croatian islands, Hvar is well known as a party destination. It is also a bit of a billionaire's playground, with the seas around the island often filled with vast superyachts. But don't let the opulence and electronic music put you off – away from the main town of Hvar the island is delightful, full of history, heritage, and culture. Explore the smaller coastal towns of Stari Grad and Jelsa, and luxuriate in lavender fields and lush vineyards.
Dugi Otok
One of the largest of all of the Croatian islands, Dugi Otok is just off the coast of Zadar, and easily accessible by ferry. It offers excellent swimming beaches, majestic cliffs, a dramatic rock-strewn coastline, and some of the best seafood to be found in the country.
Korčula
A perfect day trip from Dubrovnik, Korčula is one of Croatia's best islands for families. It's fairly small, about 40 minutes drive from end to end, and its magical Old Town offers gorgeous cobbled streets, beautiful historic architecture, and an eye-catching cathedral at its center. You can grab a drink on top of the medieval fortifications or taste authentic Croatian cuisine in one of the many charming taverns in town. There are also plenty of exquisite beaches to discover, tucked into bays around the island's rugged coastline.
Brač
Brač claims to have the best beach in Croatia, and once you've seen Zlatni Rat you might well agree. As well as swimmers and sun worshippers, Brač attracts a huge number of windsurfers, and is the top destination for water-sports in the country. It is a great island for outdoor activity lovers in general, with an excellent system of hiking trails and cycling paths, culminating in the magnificent ascent of Vidova Gora, the highest peak on any island in Croatia. The view from the top is sensational, and worth the effort it takes to make the climb!