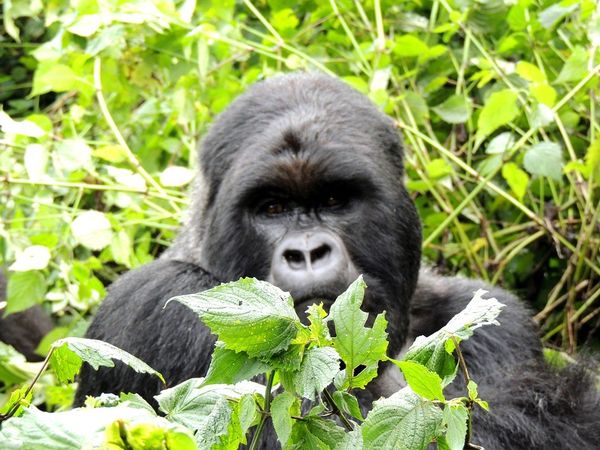 According to census results just released last month, the population of critically endangered mountain gorillas living in East Africa's mountains has grown to over 1,000, a huge success story at a time when many other African species are experiencing a reduction in numbers due to poaching and habitat destruction.
The census, which was led by the governments of Rwanda, Uganda, the Democratic Republic of the Congo and many conservation groups, showed 604 individual gorillas living in Rwanda's Virunga Mountains as of June 2016. Combined with an earlier study that shows approximately 400 gorillas in Uganda's Bwindi Impenetrable Forest, the total comes to over 1,000.
Gorilla populations in East Africa have been steadily increasing since 1981, when their numbers reached a perilously low 242 individuals. The growth over the last three decades is attributable to the hard work done by governments, local communities, and non-profit conservation groups.
"Conserving gorillas for future generations is a crucial mission – one that benefits us all," said Lucille Sive, CEO of The Travel Corporation's Africa Division, who blogged about her experience gorilla trekking in Rwanda here. "These gentle creatures are stunning to behold in their natural habitat. If you are considering visiting Rwanda or Uganda to see the mountain gorillas, I absolutely recommend it."
Travelers can see these majestic creatures up close on three different African Travel, Inc. itineraries in Rwanda and Uganda.
Rwanda: Travelers who want a truly off-the-beaten-path wilderness experience come to Rwanda, a country that was made famous by primate researcher Dian Fossey and the movie "Gorillas in the Mist." A select few visitors every year can see gorillas up close in the dense tropical rainforests of Volcanoes National Park,where trekking guides take guests high into the mountains to peer at the creatures as they play, forage and groom each other. Travelers can also explore other remarkable parks such as Murchison Falls National Park and Nyungwe Forest National Park, or enjoy the cosmopolitan pleasures of Kigali, one of the cleanest, safest and friendliest capitals in Africa. African Travel, Inc. offers two itineraries that include Rwanda: the 5-day 'Ultimate Rwanda,' priced from $7,995 per person; and the 5-day 'Rwanda in the Mist,' priced from $5,995 per person.
Uganda: Often described as the "pearl of Africa," this lush land is celebrated for its verdant scenery, natural attractions and of course, primate population. Bwindi Impenetrable Forest is where visitors can see these fascinating mammals and learn about the ongoing conservation efforts to protect them. Other highlights of Uganda include Queen Elizabeth National Park, which offers the quintessential big game safari experience; Kibale Forest National Park, a place to go hiking and see chimpanzees; and Murchison Falls National Park, home to the spectacular Murchison Falls and the river Nile, with its resident hippo and crocodile populations. African Travel, Inc. offers one itinerary in Uganda, the 8-day 'Pearl of Africa,' priced from $8,095 per person.
From the mesmerizing savannas of east Africa, to the blissful islands of Mozambique, to the rainforests of Rwanda, to the pyramids of Egypt, African Travel, Inc. can take you on unique, unforgettable and magical journeys that can be customized to suit your travel styles and interests, no matter your price point or time frame. All you need to do is bring your sense of wonder, and we provide the rest!
For more information visit www.africantravelinc.com.