A dazzling white rock with crystal clear blue sea, Ibiza has a long-hidden secret on its northern tip, Xarraca Bay. This magical cove with unobstructed sunset views and special energy is where the golden hour lasts until the Cinderella hour. Sundowner, guitar, or loved one in hand, anything feels possible. Live layers of programming and experiences will constantly evolve to celebrate music, art, sustainable fashion, spirituality, pioneering wellness, culinary exploration and culture, all synonymous with the island.

A place this meaningful needs protecting, which is why when it opens in July, Six Senses Ibiza will be the first sustainable BREEAM certified resort and residential community in the Balearics. In total there are 116 guest accommodations, villas, suites and beachfront caves across a 20-acre (8-hectare) site, blending into the contours of the bay. Available to a handful of owners are a number of Village Residences with intimate terraces, lush gardens and pools.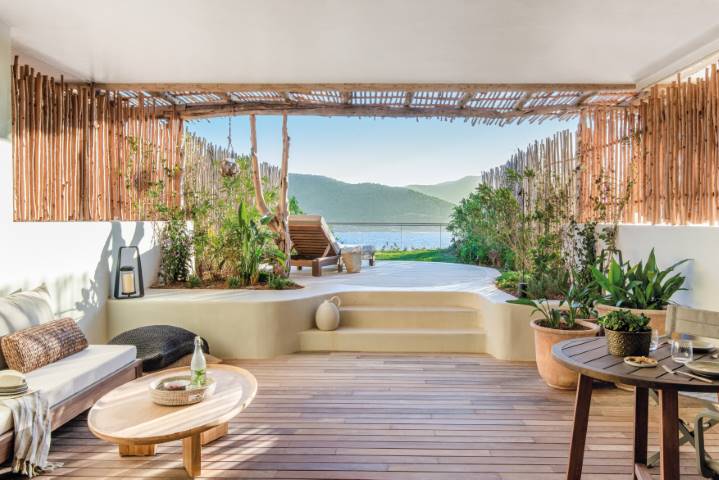 From the resort's four organic restaurants to the Recording Studio and showcase Six Senses Spa, a host of amenities are easily bookable through the app to match every whim. All guests and residents also enjoy personalized service through their own Guest Experience Maker.
Community, Spirituality and Celebration
Jonathan Leitersdorf, the architect and developer, explains, "Our vision is to capture the authentic Ibiza experience of community, spirituality and celebration."

In the hot season (May to October), the community celebrates. From lazy days soaking poolside, enjoying the natural beauty of the bay or meeting an extended family of islanders, to gathering at night on long tables to explore new culinary frontiers, festive pop-up events and full moon dinners.

In the cool season (November to April), the community shares deep spiritual experiences. Six Senses Ibiza is gearing up to feature a series of immersive teaser weekends and longer-stay retreats, initially yoga, cleanse and fitness.
Sustainability
Surrounded by fragrant and unspoiled coves and groves, Six Senses Ibiza is symbolic of the light, beauty and natural rhythms of the seasons that, like a siren's call, draw people back and back again. The architecture uses locally sourced materials and maximizes the impact of the natural breeze and aspects. The tactile Finca-style aesthetic has a modern and sophisticated design and finish. The Farm at Six Senses Ibiza is a 400-year-old olive press and agricultural estate, where guests will take part in growing the abundance of organic produce that will also supply the resort's restaurants, café and bars.

"This vision captures an authentic Ibiza experience that really resonates with me on a personal level," says Neil Jacobs, Chief Executive Officer of Six Senses. "It is aligned with our set of beliefs, particularly around emotional hospitality. Sustainability is a huge part of our company ethos. And when you find a magical place such as Cala Xarraca, it's something that you work really hard to both showcase and respect. In the case of Six Senses Ibiza, this is what shines so brightly."
Culinary
Six Senses Ibiza will be the first European outpost for celebrity chef Eyal Shani, founding father of new Israeli cuisine. His sublime menus will follow the Eat With Six Senses guiding principles of organic, seasonal, nutritious and delicious, gathering guests at the exquisite long tables of the Farmers' Market. Other signature venues including The Orchard, The Piazza, Farmacy Bar and Live Cave will be complemented by grow-your-own veg, chef's table and cooking lessons at the Farm.
Wellness & Spa
The Six Senses Spa houses single and couple's treatment rooms, steam room, hammam and state-of-the-art fitness area, café and juice bar. The Rose Bar offers night owls a chance to roll back the years through a range of healing and preventative longevity programs combining diagnostics, biohacking, nutrition and beauty treatments. Outdoors there is an impressive yoga deck and boxing ring on the roof.
Immersive Retreats: Once in a lifetime, twice a year
Transformation happens when many things come together in perfect harmony to enable it: openness, awareness, timing, the people, the place and the experience itself. These immersive retreats will be facilitated by Friends of Six Senses, Visiting Practitioners and partners.
Music
Six Senses Ibiza will add an enticing new spectrum to the Ibiza music scene. Directly on the shorefront, the Beach Caves music venue is the heartbeat of the resort. Hosting live shows, events, emerging artist sessions, and an expansive vinyl collection, the Beach Caves features avant-garde technology from McIntosh and Sonus faber through a partnership with McIntosh Group. There is even a Cave Royale guestroom with a secret door leading to the Recording Studio for when creativity strikes in the middle of the night.
Fashion
Six Senses Ibiza celebrates sustainable fashion at the Agora, a new retail concept, part entertainment, part education and part shopping experience. Curated by the renowned fashion editors Daniela Agnelli and Tiffanie Darke, it seeks to tell a story in a series of chapters: Reduce, Recycle, Rent and Restore. Highlights of the store will be a "live magazine" experience, a "Cinderella Room" for dress up nights, and an Intention Tree for customers to remember the change.
Arts & Culture
Arts and culture are central to the Six Senses experience. As they wander through the resort's galleries, guests will enjoy displays by Magnum photographers, curated by Elaine Groenestein to reflect Ibiza's core themes. Along with photography events and workshops, a larger selection of fine prints is available through the Magnum Gallery. There is also a beautiful library to expand the mind and guide the soul to new horizons.

Six Senses Ibiza is a 35-minute private transfer from the airport. Nostradamus coined Ibiza as Earth's final refuge and no one who visits would argue with that.