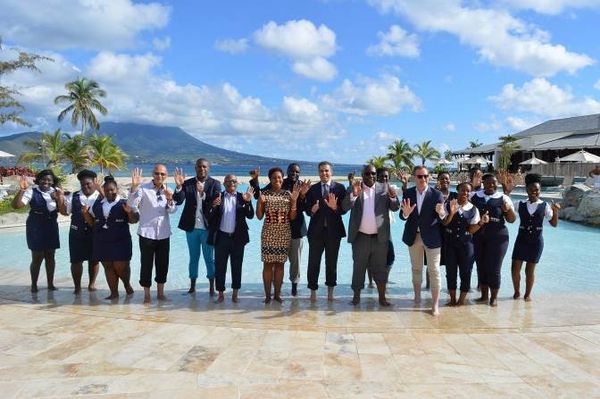 The Ministry of Tourism and the St. Kitts Tourism Authority are pleased to announce that premier hotel resort and spa brand Six Senses will be making its Caribbean and Latin American debut on St. Kitts in 2021.
This marks yet another inaugural property in the region by a top tier hotel brand for St. Kitts following the opening of the Park Hyatt St. Kitts Christophe Harbour in November of last year.
"We sincerely look forward to welcoming the distinguished Six Senses brand to St. Kitts," said the Hon. Mr. Lindsay F.P. Grant, Minister of Tourism, International Trade, Industry and Commerce. "Six Senses only develops resorts in the world's most unique and exquisite destinations, therefore it is a singular testament to the history and natural beauty of the island's landscape to become one of them. The Six Senses philosophy with regard to sustainability, wellness and premier service makes it an ideal fit for St. Kitts as it complements our own vision and direction for our tourism product as we continue to enhance the variety of accommodations we have to offer to the discerning, experiential traveler."
The new Six Senses resort will be set on 41 acres of a former sugar plantation in the La Vallee area of St. Kitts amidst gentle hills rolling down to a long stretch of sandy Caribbean beach.  All projected 70 pool villas and The Retreat will be nestled within the island's lush natural environment and offer scenic views of the landcape and the sea.  Six Senses is scheduled to open on St. Kitts in the fourth quarter of 2021.  A signing ceremony was held on Sunday, March 4, at the Park Hyatt St. Kitts Christophe Harbour.
The Six Senses development will create approximately 300 jobs on island during construction with several hundred more becoming available once the hotel is operational, thereby providing employment for St. Kitts' citizens and benefiting the Federation's economy.  It is a project of Range Developments, which also led the development of the Park Hyatt St. Kitts Christophe Harbour.  Range Developments is an investment and hospitality company operating across the Eastern Caribbean that focuses on the development of iconic properties in places of remarkable natural beauty.
Six Senses is a signature hospitality brand that is committed to sustainability and service.  Each of its properties has a distinctive and diverse personality that makes use of the natural land topography.  The brand's award-winning best practices include environmental performance of each property and support for the preservation of natural and cultural heritage, while enhancing social and economic benefits to local communities in destinations where Six Senses operates.  Six Senses currently operates resorts in such exotic and glamorous locales as the Seychelles, Fiji, France, Oman, the Maldives, Thailand, Singapore, Turkey, Vietnam, Portugal and China.
For more information about Six Senses, visit http://www.sixsenses.com.