Suit up with Smartwool this season in their latest collection of merino wool performance socks, the perfect accompaniment to step out of the house and savour the warm days of spring. Made from 100% ZQ-certified merino wool, these natural-powered performance products are so comfortable, all you'll feel is the adrenaline.
Whether a seasoned outdoor enthusiast or just starting to lace up, here are the Smartwool socks you'll need for Spring:
NEW: PhD® Pro Hike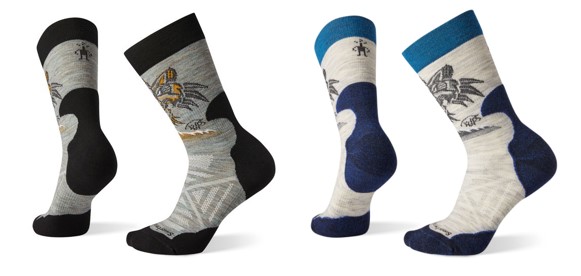 Stay comfortable and sweat-free on the trail with Smartwool's supportive PhD Pro Hike Socks. Designed and tested with Smartwool athlete and thru-hiking enthusiast Kalen Thorien, this technical hiking sock boasts top technology to bring you comfort, fit, durability, and breathability to take you to new heights every climb.
NEW: PhD® Cycle

If you've spent all winter dreaming of warmer weather rides, this one's for you. Smartwool's PhD Cycle Socks are designed to keep up with even the most long-distance rider. Made with Indestructawool™ technology for added durability and 4 Degree™ elite fit system for a performance oriented fit, they're the perfect addition to any rider's kit. Along with body-mapped mesh zones for utmost breathability and a virtually seamless toe for enhanced comfort, cycling farther will start to be an everyday thing.
PhD® Run

Ready to meet your longest and toughest journeys head on, Smartwool PhD® Run promises all gain and no pain. This range of run socks will regulate the temperature of your feet and wick away sweat and moisture, keeping feet comfortable and blister-free. Built with Shred Shield™ technology to reduce wear from toes, these technical running socks are designed for enhanced durability and a performance-oriented fit ready for any challenge. Built to run as far as you can, with unwavering comfort and reliability.