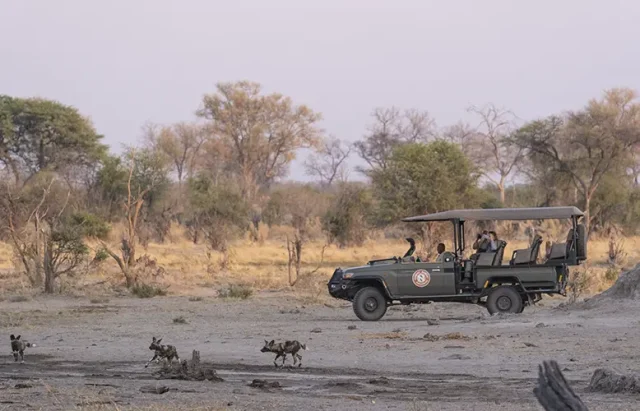 Natural Habitat Adventures, in partnership with World Wildlife Fund (WWF) recently deployed one of the safari industry's first off-the-grid solar-powered electric safari vehicles in Botswana. The innovative and fully electric 4×4 vehicle, powered by renewable solar energy, is part of the brand's broader initiative to continuously elevate the game drive experience for a more immersive and sustainable safari.
The ESV, a converted Land Cruiser turned from diesel to electric, is charged by an off-grid solar array that uses the sun's energy to power safari drives. The new ESV is stationed at Nat Hab's Gomoti Camp in the wildlife-rich Okavango Delta and holds seven passengers.
"This two-year project has been long in the making but well worth the effort to move toward decarbonization and offer more ecologically conscious exploration of the Okavango Delta's habitat. Not only does an ESV lessen our carbon footprint, it's also much quieter, making it ideal for game viewing in the African bush," said Ben Bressler, President of Natural Habitat Adventures.
"We were eager to join the movement toward expanding off-the-grid, solar-powered game drives, which are currently quite rare, but we hope this important progress will spur wider implementation across the safari industry.  Demonstrating the performance and reliability of the vehicle coupled with the positive impacts of the enhanced game drive experience and creation of local jobs in solar arrays furthers our company mission of conservation through exploration," says Bressler.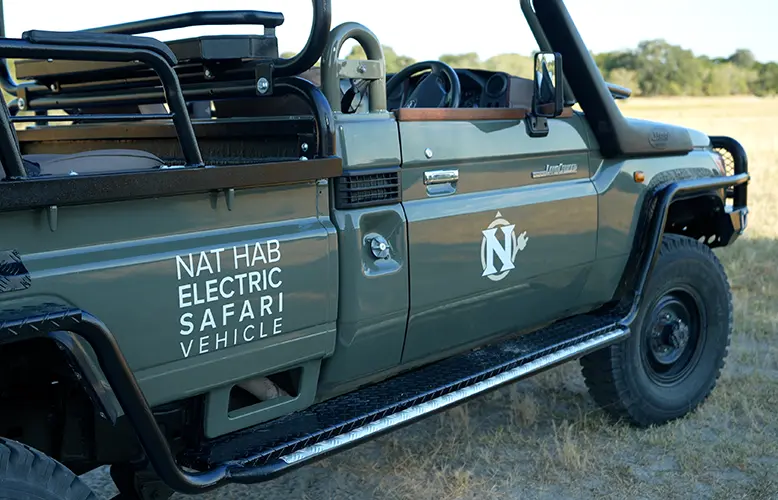 The Natural Habitat Adventures team was able to create the vehicle and enhance the guest safari experience by taking a formerly diesel powered 4×4 vehicle and retrofitting it by converting the internal combustion engine to an electric motor and batteries. At night, the ESV is plugged into a solar-powered charging station to recharge the batteries with renewable energy. The electric safari vehicle can go 150+ miles for hours during a daily game drive once it's been charged for a few hours.
The lack of noise from the solar-powered ESV allows Expedition Leaders to more easily explain details about the wildlife guests are seeing during their game drive. Travelers are not only able to hear the natural sounds of the African bush and discreetly navigate raw wildlife interactions, but also gain more insights about what they encounter on their safari experience.