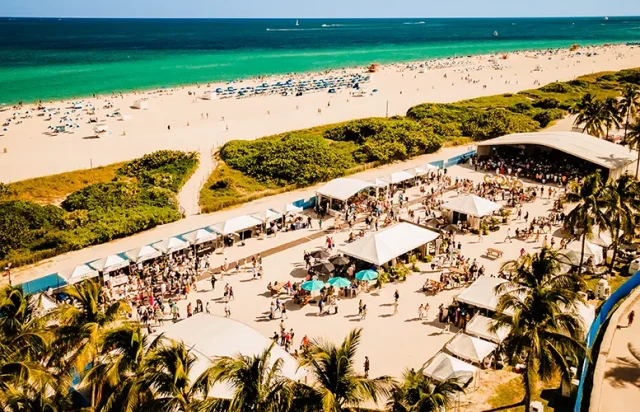 The South Beach Seafood Festival, now in its 11th year, concluded its four-day gastronomic spectacle set against the iconic Miami Beach Art Deco district this past weekend. Celebrating the commencement of Miami's famed stone crab season, the festival once again solidified its reputation as one of the leading seafood events in the country.
Brought to you by Tequila Herradura, presented by GOYA Foods, and hosted by City of Miami Beach and in partnership with the support of the Miami Beach Visitor and Convention Authority, the festival featured a blend of the finest seafood, masterful celebrity chefs, and exhilarating live entertainment. The culinary extravaganza consisted of four distinct events, each ticketed separately, beginning with "An Evening at Joe's Stone Crab" on Wednesday, October 18th. Hosted by Sonoma Cutrer, attendees were treated to Executive Chef Andre Bienvenu's exquisite five-course meal harmoniously paired with the selections of master sommeliers. GOYA Foods' Executive Chef Fernando Desa and other top chefs from the Magic City took diners on an international 'Surf n' Turf' adventure the following evening, on Thursday, October 19th, during "Crabs, Slabs & Cabs," presented by GOYA Foods, and hosted by Halperns Steak and Seafood and Breakthru Beverage, which hosted a formal, sit-down dining experience held at the historic Kimpton Surfcomber Hotel. The participating chefs in this year's dinner included celebrated restaurateur and Pubbelly Sushi partner José Mendín; La Mar Executive Chef Diego Oka; Meat Market Executive Chef and Owner Sean Brasel; Luca Osteria & Eating House's Chef and Owner Giorgio Rapicavoli; Leku Executive Chef Carlos Garcia; and venue host, Kimpton Surfcomber's Chef Gaston Javier. Then, the heat turned up on Friday, October 20th with the exhilarating "Chef Showdown", additionally presented by Mountain Valley Spring Water on the Demesmin & Dover LIVE stage, when South Florida's creme de la creme of chefs clashed in a thrilling culinary face-off across 11 competitive seafood rounds featuring 23 chefs. Last year's champion chefs returned, putting their skills on the line to retain their titles. The interactive event invited guests to sample deliciously cooked dishes from this year's participating eateries and vote for their favorite among the contestants. The food-loving attendees were also able to interact with each chef as they took the main stage to show off their impressive skills with entertaining live demonstrations that hosted a panel of experienced culinary masters who helped the audience decide the winners.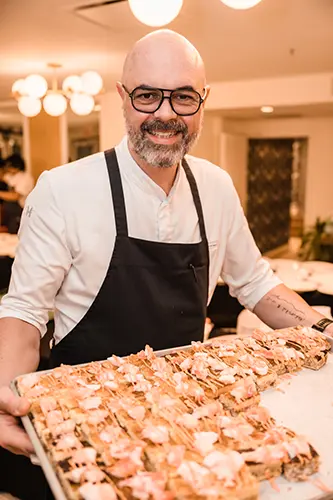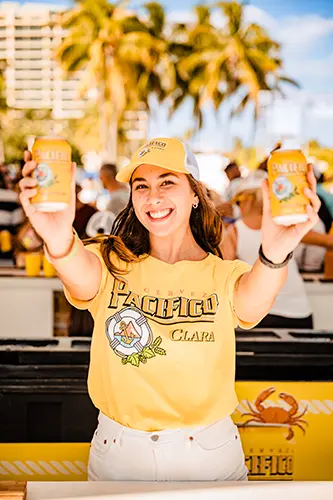 2023 Chef Showdown Battle Competition Winners are as follows:
Battle Ceviche: Chef Nilton Castillo of Cilantro 27
Battle Crab: 4-Time Champion Chef Brian Nasajon of Beaker & Gray
Battle Fusion-Sushi: 2-Time Champion Chef Gustavo Montes of Tanuki
Battle Salmon: Chef Ryan Leonard of American Social
Battle Caviar by Sterling Caviar: Chef Donatella Arpaia of Noma Beach
Battle Tuna: Chef Andres Garcia of Chef Billy G
Battle Oyster: 3-Time Champion Chef Cristian Canencio of Uchi
Battle Shrimp: Chef Generric Kyles of Golden Rule Seafood
Battle Surf n' Turf presented by Halpern's Steak & Seafood: 4-Time Champion Chef Fiorela Cornejo of Rusty Pelican
Battle Sushi: 2-Time Champion Chef Michael Asalie of Paperfish
Battle Taco: 2-Time Champion Chef Randy Piedras of Tacos and Tattoos
Every battle was closer than the next and all the participating restaurants put on quite the show. A list of participating restaurants included: Aida Mexican Seafood, American Social, Beaker & Gray, Billy G Catering, Call Me Cuban, Cilantro 27, Fox's Lounge, Golden Rule, Joliet, Latin House Grill, La Santa Taqueria, NOMA Beach at Redfish, Ocean 234, Paperfish Sushi, Perl by Chef Ip, Rum Room, Rusty Pelican, Seawell Fish n' Oyster, SIMS Sushi & Tapas Bar, Sushi | Bar Miami Beach, Tanuki, Tacos & Tattoos, and UCHI Miami. This year's Tequila Herradura Showdown, which celebrated 4 South Florida mixologists battling for the most creative Tequila Herradura cocktail was Belinda Perdomo of Uchi Miami.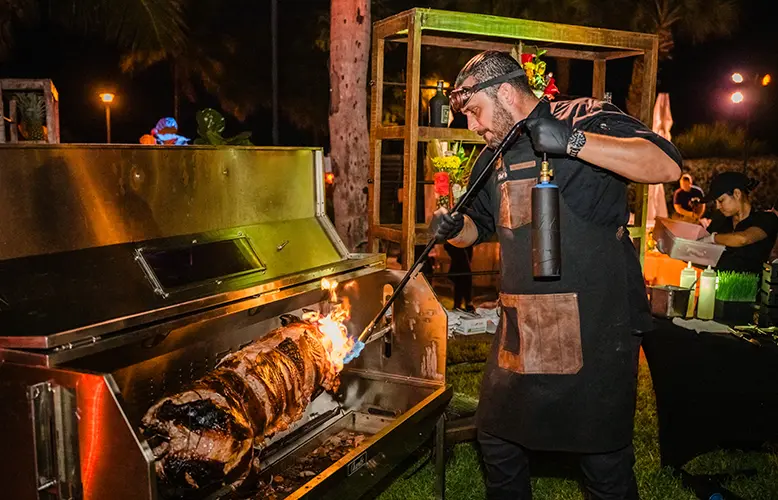 The climax of the festival was the main "South Beach Seafood Festival" on Saturday, October 21st. An array of pop-up cafés, VIP samplings, and national brand showcases took over South Beach, as the festival grounds pulsated with live music on the entertaining Demesmin & Dover LIVE Stage presented by Jack Daniels, culinary education in the always popular Milam's Markets Culinary Showcase Kitchen, interactive sponsor setups, and a spread of refreshing beverage bars. Ensuring a premium experience, the VIP Village was a massive hit with its eclectic mix of offerings, including the GOYA Culinary Pavilion, the Tequila Herradura Pop Up featuring Bodega South Beach, Jack Daniels Pop Up featuring Le Chick, Celebrity Cruises Silent Disco, a wine tasting experience featuring Matua, 19 Crimes, Bogle, Rabble, Sonoma Cutrer, and Hess Pearson, the Sterling Caviar tasting, Tartufo Prestige, Diplomatico Rum and Fords' Gin and Oysters bar, and the Mountain Valley Spring Water hydration lounge. Culinary delights were served by renowned names featuring popular pop up cafes in the General Festival area and VIP Village featuring Aida Mexican Seafood, A Fish Called Avalon, American Social, Area 31, Café Avanti, Chef Billy G Catering, Cilantro 27, Cielito Artisan Pops, Chocolate Chip Bakery, CJ's Crabs Shack, Crepemaker, Doral International Foods, Ella's Oyster Bar, Estiatorio Milos, Latin House, Lobster Shack, Mau Miami, Meat N' Bone, Mouthgasm Cookies, Osaka Nikkei Miami, Playa Miami, Old Lisbon, Pubbelly Sushi, RED Steakhouse South Beach, Rum Room, Sala O' Cuban, Sim Sushi & Tapas, Social 27, Suviche, Tacos and Tattoos, The Baked Bear, The Lazy Oyster, Viva La Pasta, and Wynwood Parlor.
"After another successful year, we're already excitedly looking forward to the 2024 South Beach Seafood Festival. This event has seamlessly woven itself into the vibrant tapestry of Miami's cultural milieu, attracting both locals and visitors alike," remarked Valerie Roy, Director of Marketing and Client Strategy at CI Management. "Whether it's the allure of delectable seafood, the buzz of live entertainment, or the sheer joy of savoring diverse flavors amidst the scenic beauty of South Beach, our festival guarantees moments that will linger in memory, enchanting the palate and soul alike. Our gratitude goes out to all our sponsors who create the experiences, and the valued guests who attend from near and far, but most importantly, to the chefs and restaurants who generate a week of events that celebrate them, form collaborations, and shed light on the talents available locally throughout the South Florida area. We'll see everyone next October."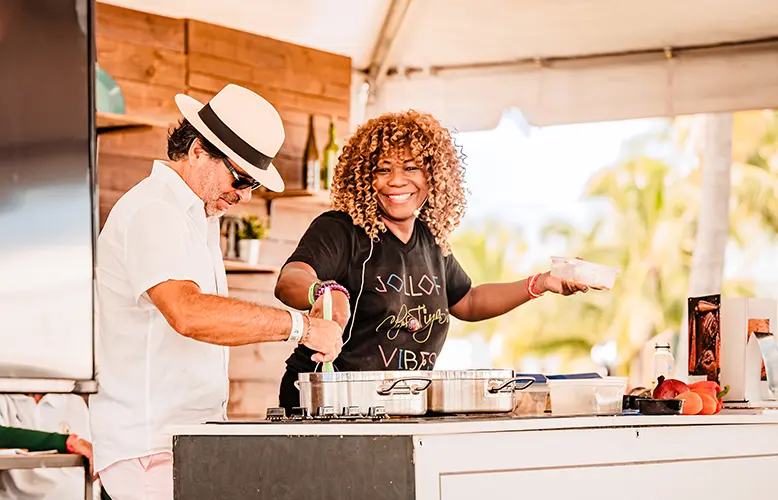 Touted in previous years by USA TODAY as one of the "Top 5 Specialty Festivals in The Country;" by Forbes as the "Top 5 Things to Do This Fall;" and by the Travel Channel as the "Best Seafood Festival in the US,", the South Beach Seafood Festival is the place to be for ultimate 'sea foodies' from near and far. In addition to celebrating regional culinary talent, the festival annually supports CI Foundation's EAT SMART program, a 501 ©(3) nonprofit program that provides healthy meals and nutritional guidance to the local community and Florida's youth through programs in Miami-Dade County public schools.
The South Beach Seafood Festival was hosted in partnership with Miami Beach Visitor and Convention Authority and brought to you by entitlement sponsor Herradura Tequila; title sponsors Jack Daniel's and Breakthru Beverage Florida; and presenting sponsors GOYA Foods, City National Bank, Demesmin & Dover Law Firm, Celebrity Cruises, LuxRally, and the City of Miami Beach. Additional hosting sponsors include Mountain Valley Spring Water, Castaway Coffee, Baptist Health, Cerveza Pacifico Clara, Miami-Dade County, Halpern's, Cadillac, Milam's Markets, Treasury Wine Estates, Rabble Wines, Vine and Branches, and Sterling Caviar. Corporate sponsors include Bucked Up, Smart Water/Agua Frescas, The Arsht Center, Ripe Juice, LIV Golf, Suja Organic, Polar Seltzer, Ride Alto. One of the newest sponsors joining the event was Champions 4 Green. In partnership with the South Beach Seafood Festival, Champions for GREEN joined this year's event leading the charge in sustainable education and action, managing recycling to ensure plastic doesn't find landfill but also transform recyclables into premium, long-lasting apparel and products, showcasing the potential of recycling at the event. Together, the event is committed to creating a more eco-conscious future. For a list of corporate and media sponsors, please visit sobeseafoodfest.com.