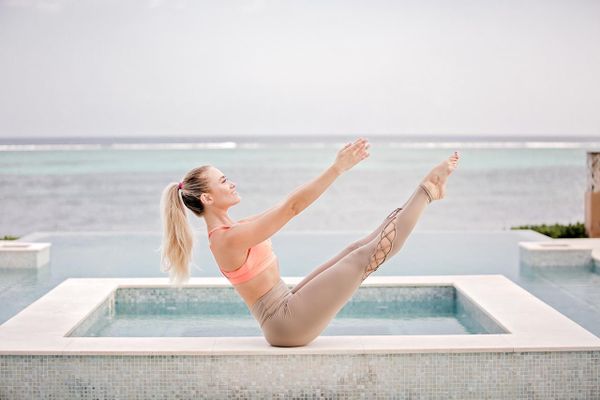 What: Pilates & Yoga Retreat with Grace Hurry
Where: Niyama Private Islands Maldives
When: 7 – 25 April 2019
Grace is set to host a series of exclusive classes at Niyama which will focus on alignment, strength and mobility through the practices of Pilates and yoga. Guests will get the chance to participate in Pilates Group Classes and Yoga Group Classes, with sessions geared to different parts of the body, as well as one-on-one sessions for those seeing to fine tune their skills. Grace will also host Mother-Daughter classes and Pilates Play Workshops for children, highlighting how these practices are beneficial to people of all ages.
Grace trained at the Royal Ballet School as a child and found a natural transition to Pilates in her late teens. She went on to become a certified Body Arts and Science International (BASI) instructor and now owns and runs a Pilates academy in St. Ouens, Jersey. Grace also hosts regular retreats in top destinations across the globe, including Costa Rica and Thailand. 
What: Fitness & Wellness Retreat with Adrienne LDN
Where: Shangri-La's Villingili Resort & Spa, Maldives
When: 9 – 19 April 2019
Set on the shores of this Maldivian paradise, Adrienne will lead participants along the brand-new 5km running trail, allowing guests to explore the island on foot. The path takes runners through ten iconic locations unique to the resort, such as Mount Villingili, the highest peak in the Maldives at 5.1 metres, the lush jungle with 17,000 coconut trees and majestic banyan trees, historical sites, natural lagoons, the turtle nestling beach, and the closest point to Antarctica. The route also passes along the sandy coastline and through the golf course.
In addition, the residency entails private training sessions, total body workouts, morning mobility classes and fitness-for-children sessions. Proving there's more to wellness than boot camps and burpees, the residency has been expertly curated to offer a holistic experience.
Adrienne, the host of podcast "The Power Hour" and co-founder of "Get To Know", a platform to inspire and support women along their career paths, will also hold a motivational workshop to ensure that guests feel revitalised inside and out.
What: Beverly Hills IV Therapy with Deborah Alessi
Where: Niyama Private Islands Maldives
When: Year-round
Launched in October 2018, the private island's DRIFT Spa, in collaboration with Beverly Hills IV Therapy, provides guests with a range of IV therapy formulations including Detox, Fat Burn, Hydration, Jet-Lag, Anti-Aging and Vacation Booster. IV Therapy is a safe, immediate and effective solution to many health concerns and helps to support optimal health and wellness, with benefits lasting for at least seven days post-treatment. The therapy delivers nutrients directly into the blood stream for optimum results. Deborah Alessi, CEO of Beverly Hills IV Therapy, says that the therapy "allows guests to receive all of the vitamins they need to strengthen the immune system, clear toxins and hydrate."
IV Therapy Treatments are priced from £196, with treatments taking around 45 minutes. A free consultation and medical history review is carried out pre-therapy. For more information, please visit www.niyama.com/en/drift-spa.
What: Non-invasive cosmetic treatments with Beverly Hills plastic surgeon, Dr David Alessi
Where: Niyama Private Islands Maldives
When: 19 – 29 April 2019
Dr David Alessi, renowned Beverly Hills plastic surgeon to the stars, will be returning to Niyama to offer his regenerating, non-invasive treatments in the tranquillity of the turquoise paradise. Dr. Alessi is the founder and medical director of the Alessi Institute for Facial Plastic Surgery, Beverly Hills. Guests can experience a rejuvenating non-surgical facelift with the Maldives' only licenced cosmetic surgeon. In just minutes, faces are smoothed, tightened, lifted and revitalized through a signature combination of Botox, hyaluronic fillers, and Kybella – the first and only USFDA-approved injectable to dissolve fat cells under the chin that redefines and shapes the jawline and chin, achieving a more youthful complexion.
Niyama Private Islands proudly supports Face Forward, a charity founded by Dr. Alessi and his wife Deborah, providing reconstructive surgery and emotional support for victims of domestic violence around the world. Along with the reconstructive surgery, Face Forward partners with local community centres to provide victims of abuse with counselling, housing, jobs and legal assistance.
What: The "10 Steps for Perfect Health" workshop with certified health coach, Dr Paulo Fernandes
Where: Niyama Private Islands Maldives
When: Mondays, Wednesday and Fridays from 15 March – 30 April 2019
Certified Health Coach, specialist in Nutritional Microscopy, and certified therapist from Dr Daniel Amen clinics, Dr Paulo Fernandes has a proven 10-step program to achieve perfect health. At Niyama, Dr Fernandes will host his "10 Steps for Perfect Health" workshops, informing guests on how they can improve health and increase longevity through the use of Nutritional Microscopy. Guests can discover super herbs and foods to add to their diet for increased energy and calmness, with the workshop resulting in decreased stress levels, nervous system relaxation, removal of toxins, a reduction of cellulite and an increase in physical fitness, concentration and sleep quality.
Dr Fernandes is also the CEO of Total Health Transformation, a renowned international speaker and corporate consultant.
What: Traditional Mexican Therapies
Where: Grand Velas Resorts, Mexico
When: Year-round
Grand Velas Resorts in Mexico, home to the award-winning SE Spa, offer a wide range of traditional Mexican treatments, combined with cutting-edge wellness therapies, perfect for detoxing and rejuvenating the mind and body. The treatments available at the resorts include a Uumbal Shawl Massage, promising to align the body's posture and cleanse vital energy channels by using lemons to create pressure and shawls to promote stretching, as well as Chromotherapy, elevating the benefits of steam by combining it with sensory stimulation through light. As Mexico is the home of tequila, Grand Velas have also launched Tequila Massages on their treatment menus. Made from agave, tequila has endless healing properties traditionally used to heal burns and scars. Also embracing corn, which is native to Mexico and sacred to the Mayan culture, guests can enjoy Bacal Massage Treatments – beginning with a dry corn and honey exfoliation to detoxify the skin, followed by an essential oil massage using corn cobs to apply pressure on the body, improving circulation.
What: Eat, Sleep, Treat, Repeat: A Scarlet Ayurvedic Retreat
Where: The Scarlet, Cornwall
When: Year-round
Leading UK eco spa hotel, The Scarlet, has partnered with Ayurvedic specialist, Dr Shijoe Mathew, to create Eat, Sleep, Treat, Repeat – a luxurious Ayurvedic retreat for those seeking a little R&R by the sea. The retreat will allow guests to gain and experience a deeper level of knowledge of Ayurveda, based on dosha diagnosis-based body balancing, and how it can be used to find true health, or 'swasthya'.The stay includes three peaceful nights in a sea view room overlooking beautiful Mawgan Porth beach, with a two-course breakfast every morning. A delicious dinner will also be served each evening, either in the Scarlet's restaurant or as room service, and a healthy spa lunch can be enjoyed on one of the days, with meal choices taking into consideration aims and advice from the doctor. A pre-arrival consultation with Dr Mathew will be scheduled, so that treatments are entirely tailored to the individual's specific needs and issues. To triple the effects, they will be given three times over the duration of the stay, ensuring that guests are gently coached into feeling rested and restored.
What: Cornish One Night Spa Break
Where: Bedruthan Hotel & Spa, Cornwall
When: Until 30 April 2019
Bedruthan's One Night Spa Break allows guests to unravel all of their tension and come away feeling deeply cleansed and relaxed, with an hour in the outdoor Sensory Spa Garden where all of the senses are targeted. Guests will journey from hot to cold – incorporating the cedar sauna, an ice cold shower, a hot tub session, a hot rain shower and time around the fire with a herbal tea, reaping the benefits of thermaltherapy. The offer also includes a 30 minute Sole Foundation foot treatment and unlimited time in the indoor spa, home to a hydropool, eucalyptus steam room and spa lounge.
Guests can also enjoy a complimentary bottle of bubbles, a three course meal in the Wild Café and breakfast the following morning.