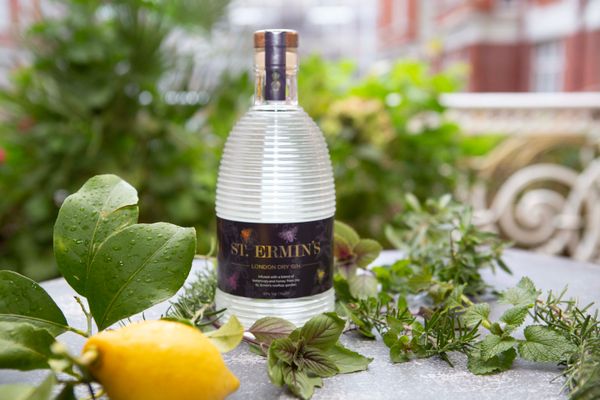 The four-star deluxe St Ermin's Hotel in London's St James' Park now has its own small batch gin, made exclusively using home-grown botanicals handpicked from the hotel's kitchen roof garden and a touch of honey from its resident Buckfast bees.
The gin, a London Dry infused with mint, lemon verbena, lavender, blue basil and geraniums is made by the award-winning Hawkridge Distillers using traditional techniques to deliver a high quality spirit. Tasting offers heady citrus flavours followed by a juniper heart through to late, refreshing fruit notes all smoothed with a hint of honey harvested from the hotel's hives.
At 40% by volume the gin will be available in the hotel's Caxton Bar, by way of traditional G&Ts paired with Franklin & Son's Tonic or a Vesper Martini, created for Mr Bond by Ian Fleming, a once familiar face at the bar. Also offered for sale in 70cl bottles it can be enjoyed sipped straight or with a premium tonic; a slice of grapefruit or sprig of rosemary and plenty of ice can also be recommended.
With a glamorous heritage, eclectic styling, gorgeous rooms and suites, the enigmatic Caxton Bar and Terrace plus award winning signature restaurant, The Caxton Grill, the St. Ermin's Hotel is a distinctly individual, contemporary and welcoming offering. The hotel is dog-friendly and the welcome has even extended to bees with the opening of London's only 'Bee & Bee' hotel alongside the hotel's resident Buckfast bee hives on the third floor wildflower terrace.