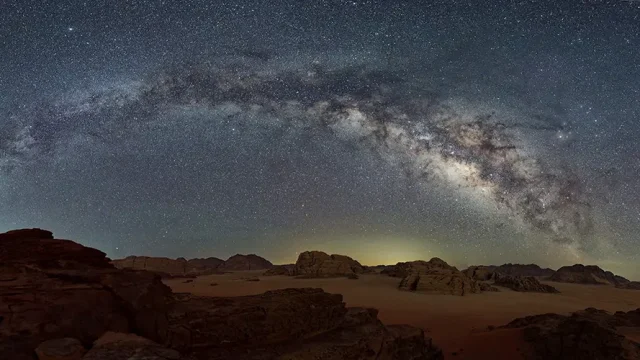 While an extremely well-known UNESCO World Heritage site in the Middle East, one of the lesser-known aspects of Wadi Rum is its exceptional night sky. If you've got an upcoming trip to Jordan planned, checking out these celestial wonders should be high up on your travel itinerary. Here's everything you need to know about the world of stargazing in Wadi Rum.
Wadi Rum – The Perfect Stargazing Destination
A trek in Wadi Rum is included in most Jordan tours, but most people don't know there's more to this area than its unique geological formations. With a low population density to limit light pollution and an altitude above 1000m, this spot is also an ideal location for stargazing.
Did you know that Wadi Rum has been designated an International Dark Sky Reserve? This means that the super dark skies make it possible to see stars that are over 100 times dimmer than in your home town. In other words, Wadi Rum is the perfect location for travellers to gaze longingly at celestial patterns overhead.
Bedouin Skylore
The Bedouin people are a group of nomadic Arabic people who have historically lived in this part of Jordan. For the Bedu, stargazing has always been a large part of their culture and lifestyle.
Until the twentieth century, the stars were seen as vital to a Bedouin trying to navigate across the desert plains. Just as vital as sailors also traversing the open sea only using the lights above to guide them. The Bedu have also traditionally used the stars to indicate the seasons of the year; regulating the annual activities for raising livestock was dependent just on the Muslim lunar calendar, which is of course, star-based.
Trying your hand at stargazing in this corner of the world is a great way to appreciate these local cultures and really immerse yourself in the traditions of the Bedouin.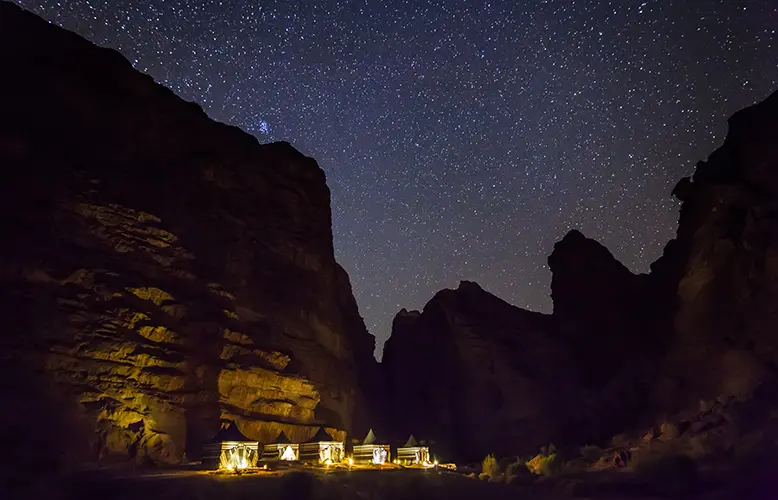 Practical Tips for Stargazing in Wadi Rum
If you're intrigued to know more about the fascinating Bedouin culture of stargazing, there are certain times of the year to visit Wadi Rum to get the most out of this experience. Researching the different lunar phases will ensure you don't have any moonlight obscuring your visibility.
It's also important to take the recommended stargazing equipment with you; most good tour companies will provide this equipment for free, whether you're signing up to spend a night living like a local Bedouin or even going trekking in Wadi Rum.
Last but not least, aiming to be at least 5km from Wadi Rum village will ensure your view isn't obstructed by one of the nearby mountains.
There are so many reasons to plan a visit to Jordan. But exploring the awe-inspiring Wadi Rum is certainly at the top of this list. If you are lucky enough to be heading that way, make sure not to miss out on this unforgettable stargazing experience.