'Winter Is Coming: A Stark Family Reunion' is a new display that celebrates the first costumes worn by the Winterfell clan when they were seen meeting King Robert Baratheon and his wife Cersei in the courtyard of Winterfell. The iconic costumes designed by Michele Clapton reflect the character of each Stark family member from Ned's practical and sombre clothing to Sansa's simple but elegant blue silk dress.
The autumnal-themed display will later transform as Game of Thrones Studio Tour prepares for winter with the first costume worn by Jon Snow joining the Starks.
The display is the latest addition to the world-class attraction that invites visitors to look behind the camera to learn the show's secrets and admire the skills that combined to make one of the most successful TV series in history.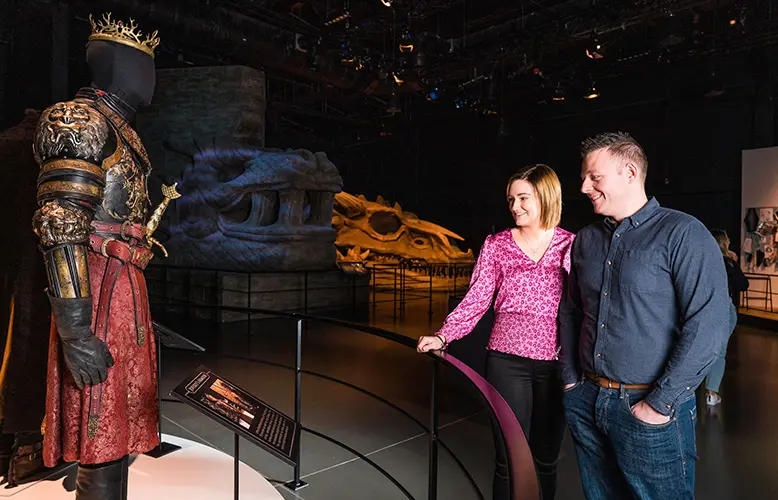 Located in Banbridge, Northern Ireland, it is the only official Game of Thrones Studio Tour in the world and includes the world's largest Game of Thrones shop.
The tour takes visitors on a journey through the seven kingdoms with authentic sets, including King's Landing, Dragonstone and the Great Hall of Winterfell, and over 140 costumes from the show together with weapons, jewellery, and the prosthetics used to create the White Walkers and the Night King.
In addition to the new Stark family costume exhibit, there are many other Stark artefacts including the sets for Bran's Chamber and the Crypts, Sansa's breathtaking coronation gown, Bran's distinctive wheelchair, and the legendary weaponry such as Arya's Needle sword, Jon Snow's Longclaw, and the Catspaw Dagger.
The studio tour also features a number of interactive experiences such as the Hall of Faces, where you can add your face to the macabre collection, and motion capture cameras that enable you to bring characters to life.
With state-of-the-art Panasonic laser projectors and displays showing the finest level of detail, realism and colour, the studio tour provides a highly-immersive experience.
The Game of Thrones Studio Tour is just one of a number of great Game of Thrones experiences that can be enjoyed in Northern Ireland. These range from guided tours of shoot locations to Winterfell banquets and the Glass of Thrones trail in Belfast's Titanic Quarter.