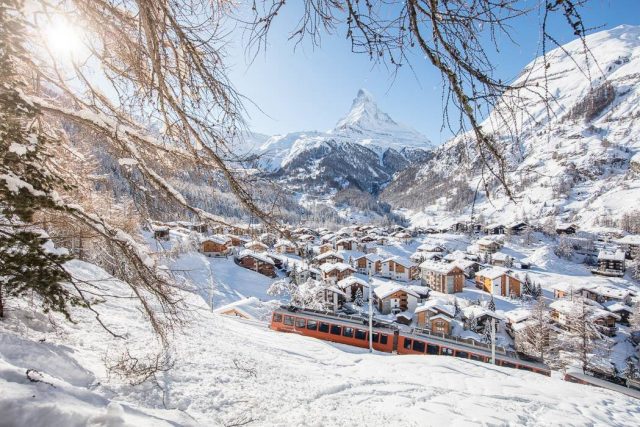 This winter is all about groundbreaking construction projects. Both the Ceneri Base Tunnel and the V-Cableway in Grindelwald will be put into service this December. The latter will take guests to the Jungfraujoch a full 47 minutes faster than was possible before. The Grand Train Tour of Switzerland has also committed to the cold season – with the new "Winter Magic" tour. Moreover, the Clean&Safe label of Switzerland enables the use of public transport without hesitation.
The New Alpine Transversal has been completed.
With the commissioning of the 9.6 mile-long Ceneri Base Tunnel in December 2020, Europe moves a little closer together. After the opening of the Gotthard Base Tunnel (35.4mi) in 2016, the Ceneri Base Tunnel completes the New Alpine Transversal (NEAT). Thus, the continuous flat railway from Altdorf to Lugano becomes reality. Since trains can reach top speeds of up to 150 mph on this new line, the travel time from Zurich to Milano is shortened from 3 h 40 min to 3 h 17 min. Also, new direct connections to Genoa and Bologna are being planned. For travellers as well as freight traffic, this is a fast, comfortable and environmentally friendly alternative.
alptransit.ch/ceneri/ceneri
Winter idyll on the Grand Train Tour of Switzerland.
Frozen lakes, fluffy powder snow, and majestic glaciers: that's guaranteed on the "Winter Magic" tour. Starting at Lucerne, the journey proceeds toInterlaken and finally Zermatt – right to the world-famous Matterhorn. After that, the Glacier and Bernina Express trains take guests through the heart of the Swiss winter wonderland to St. Moritz. Across landscapes to which no roads lead in the colder months.
GrandTrainTour.com/wintermagic
Treno Gottardo: modern and historic all in one.
Bustling cities, historic buildings and a great variety of nature and leisure activities – all of it can be experienced with the Treno Gottardo. The new train, equipped with bistro zone and family area, runs hourly from Zurich, Basel and Lucerne to Locarno. Most comfortably, guests travel along lakes and mountains over the historic Gotthard panorama route right to the sun- kissed corner of Switzerland at Locarno. The diversity of Switzerland with one single train – Benvenuti!
mystsnet.com/trenogottardo