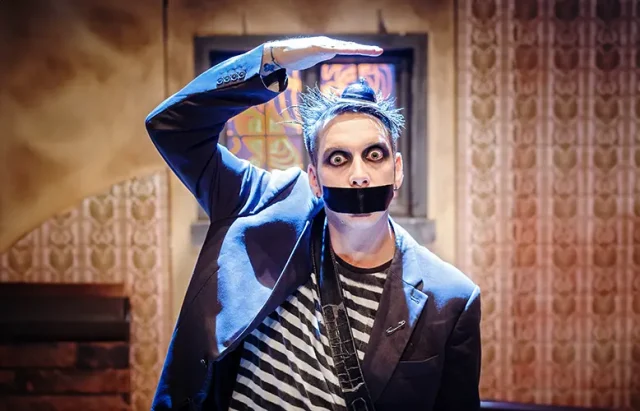 Tape Face, "America's Got Talent" fan favorite, will bring a new show to the Underground Theater at MGM Grand, which is scheduled to debut Friday, Sept. 1 at 7:30 p.m.
With nearly 250 seats, the Underground Theater will transform into a creative playground for the highly acclaimed modern-day mime show. Tape Face will continue to use simple, clever and charming humor to entertain audiences with a magical brand of physical comedy for a very funny and imaginative 75 minutes.
"I am thrilled for the move into one of the best hotels and casinos in the world, MGM Grand," said Sam Wills, Tape Face creator and actor. "The show relies on audience participation and having this beautiful showroom will guarantee an even more exciting and intimate experience for guests!"
Hailing from New Zealand, Tape Face continues to achieve memorable success as seen in his placement as number 14 in Simon Cowell's "16 Most Memorable 'Got Talent' Auditions" on the recent Season 18 episode of NBC's "America's Got Talent." Though silent, the prop comedy and whimsical routines keep audiences engaged and truly laughing out loud.
Tickets are on sale today at 2 p.m. PT and range between $39 to $99 (not including applicable tax and fees). VIP ticket holders will receive a Tape Face swag bag, which includes a t-shirt and other goodies only available in Las Vegas. Tickets are available for purchase online at mgmgrand.com. Shows, scheduled to begin Friday, Sept. 1, will be performed Thursday through Tuesday at 7:30 p.m., with doors opening at 7 p.m. nightly. There also will be a 4:30 p.m. matinee offered on select weekends.