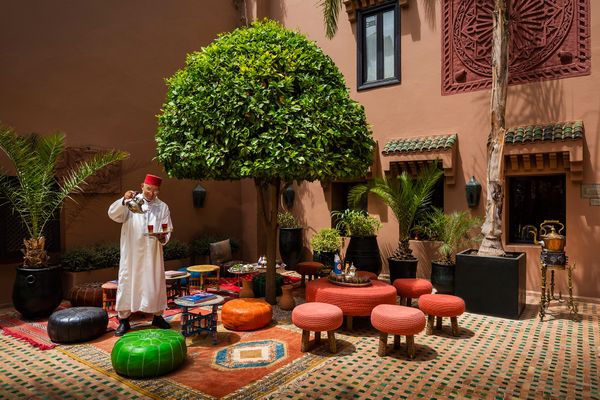 Located at the foothills of Morocco's High Atlas Mountains, Kasbah Tamadot, Sir Richard Branson's luxury retreat and part of the Virgin Limited Edition portfolio, is offering guests the opportunity to immerse themselves in true Berber culture with a newly launched 'Authentically Berber Experience'.
Morocco's Berber communities are renowned for their kind and noble nature and their culture forms an incredibly important part of Morocco's rich history. At Kasbah Tamadot, guests are already welcomed with true Berber hospitality as 98% of its staff are from the local Berber communities.
Guests now staying at Kasbah Tamadot will have the opportunity to learn about the traditions and culture by immersing themselves in a number of unique experiences that will give them a true taste of Berber culture.
'Authentically Berber Experience' includes:
One-hour Mule Trek
Tea in a local Berber House
A visit to the Eve Branson Foundation
One-hour Berber cooking lesson
Berber bread baking
Situated in the spectacular Atlas Mountains in Morocco, the award-winning Kasbah Tamadot was bought by Sir Richard Branson during one of his famous ballooning expeditions. Each of the 28 rooms and suites has been individually decorated to reflect the beautiful architecture of the building and features antiques from all over the world.
For more information visit www.virginlimitededition.com