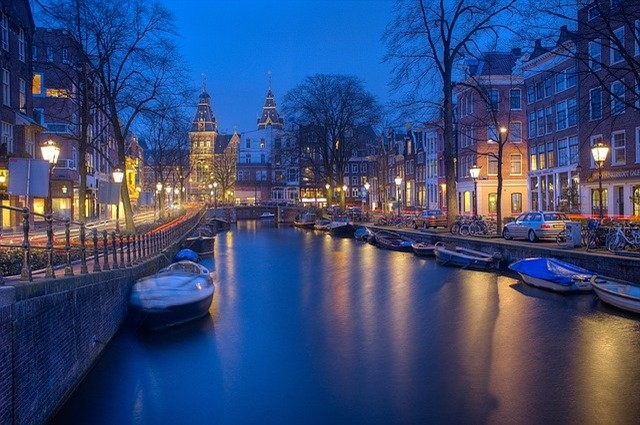 From the picturesque canals of Amsterdam to the historic streets of Maastricht, the Netherlands offers visitors an array of cultural experiences. However, for those who revel in the glitz and glamour of gaming, the Dutch land-based casino scene remains a hidden gem, teeming with both history and modern attractions. Gambling in the Netherlands can trace its roots back to the 14th century, but it was in 1976 that Holland Casino established the nation's first legal casino. This balance of tradition and modernity is evident in the exquisite venues across the country today.
With two decades of gambling industry insights, here's your curated guide by Online Casinos Spelen to the best land-based casinos in the Netherlands.
1. Holland Casino Amsterdam
Located in the pulsating heart of the Dutch capital, this casino is an emblem of luxury and thrill.
Pros:
Prime Location: Offers easy accessibility and is surrounded by numerous tourist attractions.
Wide Range of Games: A diverse mix of table games like Blackjack and Roulette to innovative slot machines.
Luxurious Ambiance: With plush interiors and an upscale dining experience, it's a gamer's paradise.
Cons:
Highly Popular: Might feel crowded during peak times.
Pricey: The betting minimum is comparatively high.
Special Events & Tournaments: Famous for its annual poker showdown, which sees international participation.
Nearby Attractions: The Anne Frank House and Van Gogh Museum are a short walk away, perfect for a day of art and history.
2. Holland Casino Utrecht
Experience expansive gaming floors and captivating live entertainment in Utrecht.
Pros:
Spacious: The vast gaming floor ensures it never feels overcrowded.
Live Entertainment: Frequent shows and musical events.
Convenient Parking: Ample space for vehicles.
Cons:
Limited Dining Options: Offers food but lacks the variety some might seek.
Accessibility: Just a 10-minute drive from Utrecht Central Station, and various bus routes serve the venue.
3. Jack's Casino Eindhoven
Where modern design meets a grand gaming experience.
Pros:
Modern Design: A fresh, contemporary ambiance.
Diverse Slot Collection: From traditional to contemporary slots, there's something for everyone.
Promotions: Regular bonuses for members and enticing loyalty programs.
Cons:
Smaller Table Game Section: Limited variety for table game enthusiasts.
Loyalty Programs: The 'Jack's Club' membership offers exclusive perks like rapid loyalty points accrual and special event invites.
4. Holland Casino Scheveningen, The Hague
Beachside gaming couldn't get better than this!
Pros:
Beachside Location: Adjacent to the famed Scheveningen beach.
Varied Gaming Options: Equally strong offerings in table games and slot machines.
Multiple Dining Venues: From casual snacks to gourmet meals, they have it all.
Cons:
Tourist Hotspot: Expect crowds during the peak tourist season.
Nearby Attractions: After trying your luck, visit the adjacent Scheveningen Pier or the SEA LIFE Scheveningen aquarium.
5. Fair Play Casino Maastricht
Gambling within historic walls that tell tales of the past.
Pros:
Historic Building: Provides a unique, charming ambiance.
Friendly Staff: Renowned for its warm hospitality.
Central Location: Nestled in the heart of Maastricht.
Cons:
Compact Venue: May feel a tad snug compared to larger casinos.
Safety & Responsible Gaming: Like all Dutch casinos, Fair Play Casino adheres to stringent safety and hygiene measures. Moreover, they are staunch advocates of responsible gambling, ensuring visitors enjoy safely.
Dress Codes & Entry Requirements
Dutch casinos typically have a relaxed dress code, favoring smart-casual attire. Refrain from wearing sportswear, and always carry a valid ID for age verification, as the entry age is 18.
Casino Games in Dutch Casinos
A pivotal aspect of the appeal of Dutch casinos lies in the myriad of games they offer. Each game provides a different level of thrill, strategy, and chance. For both novice players and seasoned gamblers, understanding the nuances of these games enhances the gaming experience. Here's a closer look at the classic games you can indulge in at Dutch gambling venues:
Roulette
A quintessential casino game, Roulette involves a spinning wheel divided into numbered sections. Players bet on where they think a ball will land when the wheel comes to a stop.
Types: European Roulette (most common in Dutch casinos), American Roulette, and French Roulette.
Strategy: While primarily a game of chance, players often employ betting systems like Martingale or Fibonacci to enhance their odds.
Blackjack
Known as '21', this card game pits players against the dealer. The aim is to have a hand total closest to 21 without exceeding it.
Types: Classic Blackjack, Double Exposure Blackjack, and Blackjack Switch.
Strategy: From card counting (not always welcomed by casinos) to basic strategy charts, players have several tools at their disposal to reduce the house edge.
Slot Machines
Slot machines are perhaps the most straightforward casino games. Players spin reels hoping to land a winning combination of symbols.
Types: Classic 3-reel slots, multi-line video slots, progressive jackpot slots, and themed slots.
Strategy: While slots are predominantly luck-based, players can maximize their chances by understanding paytables, choosing games with higher Return to Player (RTP) percentages, and managing their bankrolls effectively.
Poker
Poker is a card game of skill and strategy, where players compete against each other based on the strength of their hands.
Types: Texas Hold'em (most popular), Omaha, Seven-Card Stud, and Three Card Poker.
Strategy: Poker strategy is vast, encompassing understanding hand rankings, reading opponents, bluffing, and pot odds.
Baccarat
Baccarat is a comparing card game played between two hands: the 'player' and the 'banker'. The objective is to bet on the hand that you believe will have a point total closest to 9.
Types: Punto Banco (most common in the Netherlands), Chemin de Fer, and Baccarat Banque.
Strategy: Though largely based on luck, understanding when to bet on the 'banker' versus the 'player' can influence the outcome.
Craps
A dynamic dice game, Craps involves players betting on the outcome of the roll, or a series of rolls, of two dice.
Strategy: Understanding the different types of bets – like 'Pass Line', 'Don't Pass', 'Come', and 'Don't Come' – and the associated odds can help players make informed decisions.
Bingo
A classic game where players mark off numbers on cards as they are randomly called out, aiming to be the first to form a specific pattern or line.
Strategy: While largely a game of chance, purchasing multiple cards can increase the probability of winning.
Travel to Netherlands and Play!
The diversity of games in Dutch land-based casinos ensures that there's something for everyone, from those seeking a quick thrill to strategists aiming to outplay the odds. While the allure of these games is undeniable, always remember the cardinal rule of gambling: Play responsibly. Whether you're a high roller or just seeking some casual fun, these games promise excitement, strategy, and the tantalizing possibility of fortune. And for those eager to explore more travel gems in the Netherlands, check out our other guides and features on OnlineCasinosSpelen.com. Happy travels and may luck be on your side!