2020 may have clipped our wings, but it certainly hasn't quelled our wanderlust. With the hope of more jet setting adventures on the horizon, this Christmas is the perfect time to remind friends and family of the joys of exploring. Zoey Goto rounds up the best Christmas gifts for travel lovers.
Magnetic Map by The Future Mapping Company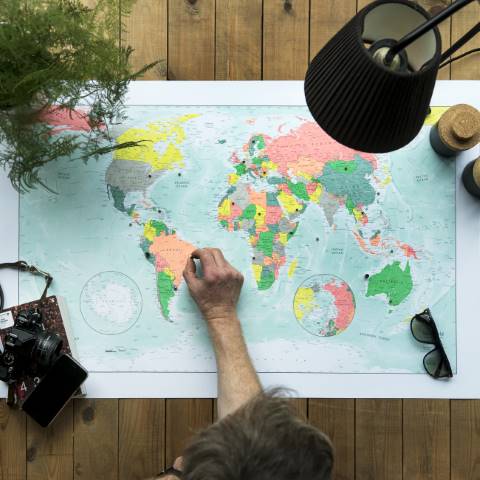 Reminisce about adventures past or plot your next epic trip with this stylish magnetic map. Using bold colour pops and shimmering metallic finishes, the large-scale maps make a stunning statement on the wall and are perfect for evoking sun-drenched memories.
Use the magnets to highlight bucket list destinations or to pin photos and mementos right into the map. The print also has a write on/wipe off finish for adding notes in non-permanent highlighters. Choose from a map of the globe, specific continents and countries or a spellbinding map of the constellations. All the maps are crafted in an English workshop and shipped internationally.
Best for: Wanderlust inspiration
LARQ Water Purifying Bottle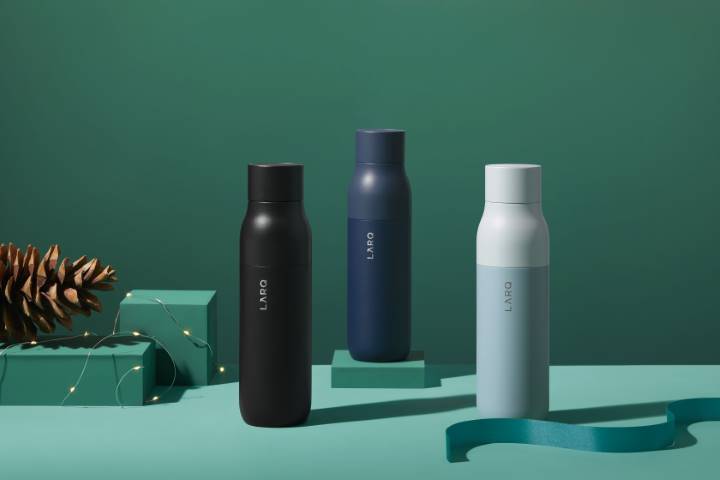 Ditch the plastic, with the state-of-the-art reusable LARQ bottle. Delivering pristine clean drinking water within 60 seconds, the bottle uses a smart UV-C light hidden in the cap to zap away 99.9% of harmful bacteria and viruses. Visiting a country with unclean tap water? Or fancy sampling the stream water whilst hiking? The LARQ bottle makes it safe and convenient to hydrate on the go, even in the most challenging of environments.
This low maintenance bottle even cleans itself, so there's no need to worry about it becoming a petri dish for germs, and the sleek design comes in a range of colourways and sizes. With the recent estimate that we each throw away of 117 plastic bottles per year, now is the time to buy less but buy better.
Best for: Safe water on the go
L'Occitane Classic Shea Limited Edition Collection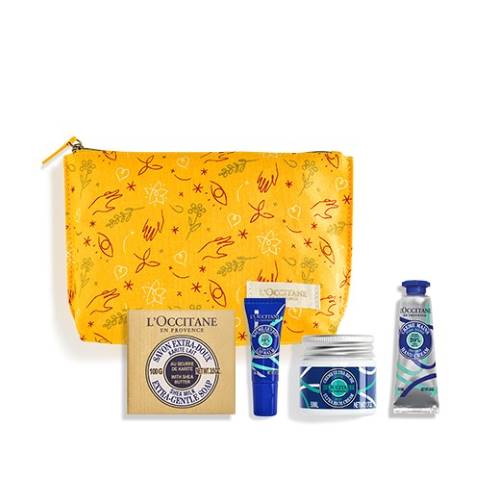 This cult beauty brand makes products that smell divine, celebrating the native herbs and flowers of Provence. As a Christmas gift it's hard to go wrong with L'Occitane, although the miniature collections in airline compliant travel sizes are sure to appeal to jet setters.
The Classic Shea kit offers compact versions of their bestselling shea butter products, which work a treat on winter-weary skin. There's an extra gentle soap, soothing body cream and hand cream, and a limited edition lip balm, plus a handy cosmetic bag.
Best for: Carry-on essentials
Lonely Planet's Ultimate Travel List Book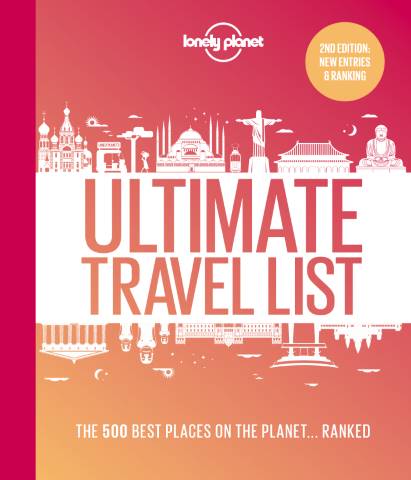 Create the definitive travel bucket list with the latest edition of Lonely Planet's best-selling coffee table book. This mighty tome is filled with 500 of the most memorable travel experiences in the world, ranked in order of sheer brilliance and illustrated with gorgeous photography. There's also a big emphasis on alfresco experiences, with almost half of the recommendations focussing on the natural world.
From exploring the lost city of Petra, to discovering the globe's most photogenic lake in Slovenia, this trusted guide will is a treasure trove of travel ideas to inspire the next epic trip.
Best for: Far flung adventures
https://shop.lonelyplanet.com/products/ultimate-travel-list-2
Name a Baby Rhino with Great Plains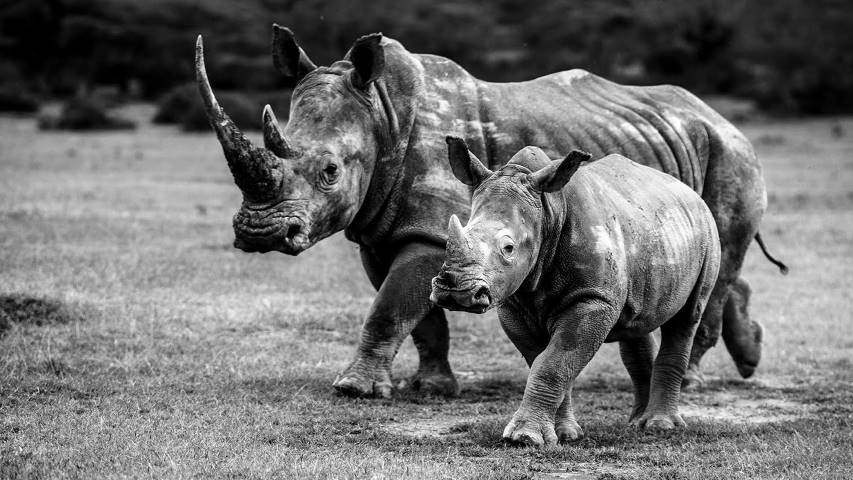 This one has to be the ultimate heart-warming gift! Organised by the African luxury safari specialists Great Plains, through their Rhinos without Borders foundation, the initiative allows you gift donations that will contribute towards protecting the endangered rhinos. Choose from contributing towards everyday veterinary costs, or dig deep to cover the costs of monitoring a newborn rhino and its mother in Botswana for 3 years and you'll also get the privilege of naming the youngster. The team then sends periodic photos and updates on each named calf to the patron donor.
To date over 50 calves have been born in the Okavango Delta as part of Rhinos without Borders campaign and roughly 10 calves have been named as part of the on going programme. It's the kind of legacy gift that extends far beyond the holiday season.
Best for: Philanthropists
http://greatplainsfoundation.com/newborn/contribute
Beauty Sleep To Go! Travel Set by Slip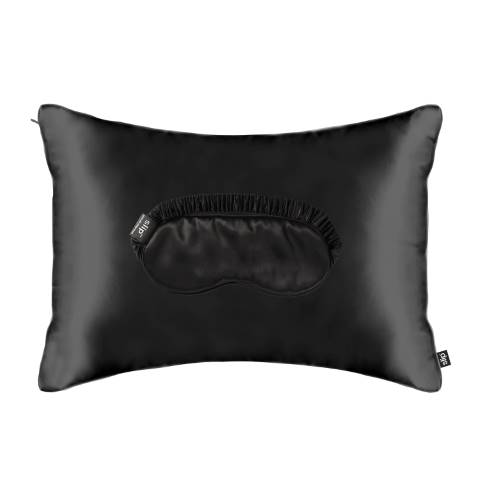 Catching some shut-eye whilst in transit can be a challenge, but this luxury set will help ease the transition into a restful slumber. Perfect for long-haul naps, the Slipsilk pillowcase is made from super-soft mulberry silk, which helps to reduce bedhead and sleep creases, so you can awake at your destination feeling refreshed.
The set comes with a matching silk mask to block out light and in-flight distractions, whilst the silk filler allows the delicate skin around the eyes to the breathe. It's a must for frequent flyers.
Best for: Luxurious long-haul naps
The Green Edit: Travel Book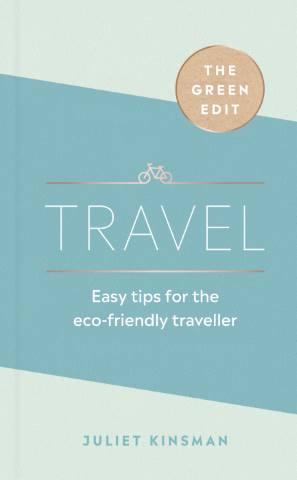 Frequent flyers will be relieved to hear that The Green Edit's travel manifesto doesn't require a total flight ban or spending holidays under canvas in your own backyard. Instead, this compact hardback guide is packed with practical and positive steps to travel lightly, from smart booking to boarding.
Written by Juliet Kinsman, sustainability editor for Conde Nast Traveller, this uplifting book shows how to lesson our impact whilst still getting out there and exploring the world.
Best for: The eco-curious
https://www.waterstones.com/book/the-green-edit-travel/juliet-kinsman//9781529107852
VSSL Compact Adventure Flask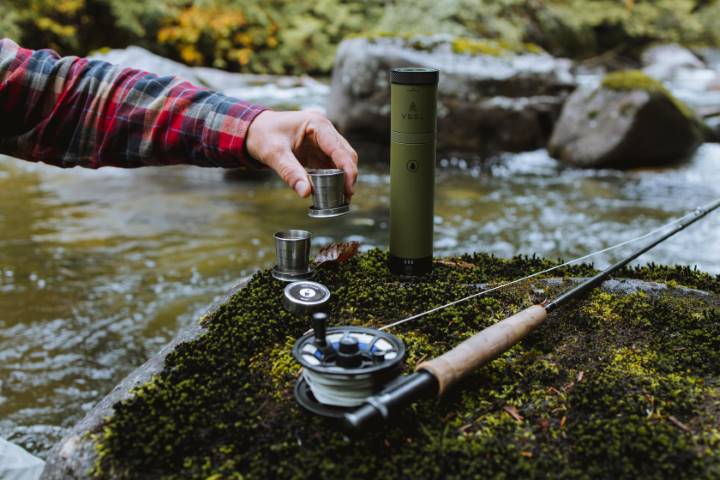 Is it a flask? Is it a torchlight? The VSSL adventure flask is both of these things, plus more. Ideal for outdoor adventures and evenings spent around the campfire, the multiuse flask has enough room to hold two shot glasses and a decent swig of your tipple of choice. Need help navigating your way back to camp? Then the LED light and precision compass will help to lead the way.
And the best news is that this handy hybrid is made from lightweight aluminium steel and takes up hardy any room in a backpack. Don't venture into the wilderness without one.
Best for: Outdoor adventures
https://www.vsslgear.com/products/flask
The Fjällräven Kanken Rainbow Backpack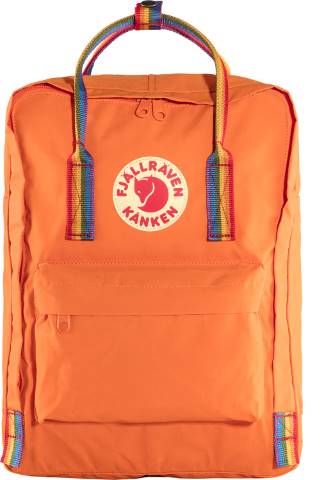 These stylish Swedish backpacks have been a travel favourite for decades, due to their iconic design and durability. Originating as a school backpack in the late '70s, the classic Kanken design has since become a hit with adults looking for a hardwearing carry-on or day bag.
Their special edition backpack has all the retro vibes that one expects from Fjällräven, this time updated using burnt orange waterproof fabric, finished with vibrant rainbow straps. And a percentage of profits from each backpack goes towards environmental projects, so you can do good whilst looking good.
Best for: Day-trippers
Summer Fridays Jet Lag Mask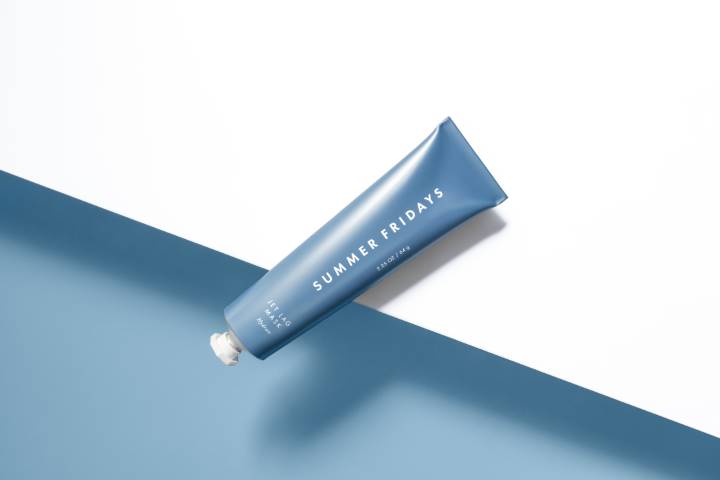 This hip beauty product is a wash-bag staple for voyagers and influencers. Counterbalancing the drying effect of travel on the skin, the ultra hydrating mask is packed with vegan-friendly vitamins and minerals, soothing and nourishing even the most tired of complexions.
Post-flight, simply apply a thin layer to the face, wait 10 minutes and blot with a warm cloth. Should your skin be in need of some serious TLC, the Jet Lag Mask can also be left on overnight for a mega dose of moisture. Say goodbye to the jet lagged look and hello to dewy, spa fresh skin.
Best for: Post-flight skin boost
https://summerfridays.com/products/jet-lag-mask
Smythson Travels and Experiences Panama Notebook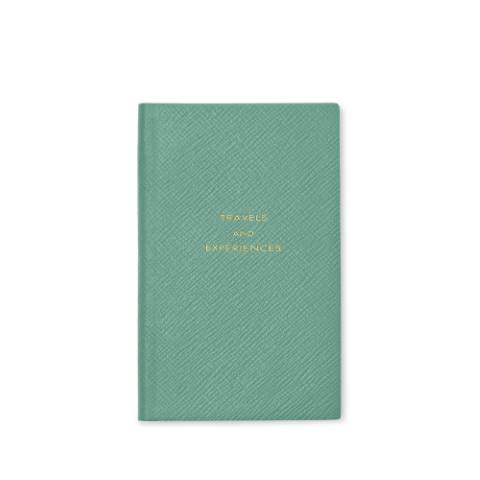 All great adventures start with a blank page, or so the saying goes. Smythson have ensured that their blank pages are featherweight to the touch, gilt-edged and encased in a sturdy leather cover, making their Panama notebook an ideal travel companion. This trusty journal is made by Smythson, a luxury leather goods company favoured by everyone from British royalty to Hollywood stars such as Katharine Hepburn and Grace Kelly. It's also small enough to slip into a carry-on and discreetly jot down observations whilst on the move.
Presented in Smythson's classic tissue-lined Nile blue gift box, this one will look elegant under the Christmas tree.
Best for: Budding travel writers
Cotton Robe by Robe de Voyage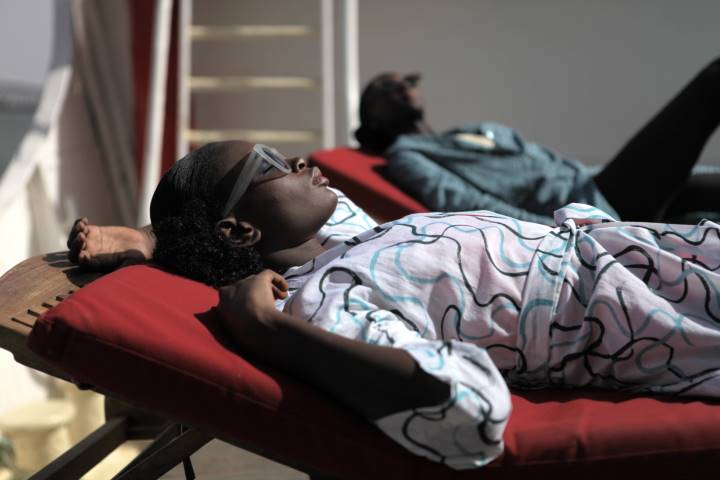 Inspired by a photograph of Lauren Bacall and Humphrey Bogart looking effortlessly chic breakfasting in the Congo, Robe de Voyage is on a mission to create the kind of robes that you'd be happy to sport outside of your guest room or cabin. The range of lightweight resortwear includes kimonos, pyjamas, shorts, scarves and hand-woven travel robes, crafted using the softest khadi cotton and silk.
Designed in London, tailored in Paris and assembled in Delhi, each garment is unique and comes in a smart presentation box, perfect for gifting.
Best for: Lounging in style
Angel Balm by Soveral
Savvy travelers know that the best products are always multi functional. Renowned facialist Alexandra Soveral has created this hardworking balm, which can be slipped into your overnight bag and used as a daily cleanser, rejuvenating mask, lip balm or dry skin soother.
This versatile little jar of goodness is 100% organic and packed with natural ingredients such as sunflower oil, avocado, beeswax and rosemary.
Best for: Multitasking skincare