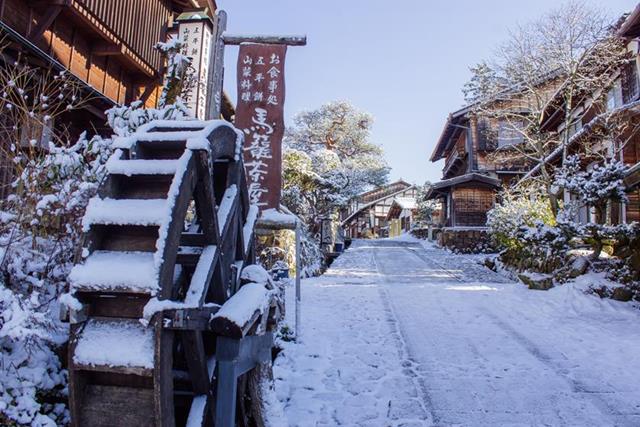 This winter, Kyoto-based tour operator Oku Japan is offering a unique way to go off the beaten path. The small group, guided Winter Nakasendo Trail tour invites visitors to walk or snowshoe village to village on the loveliest part of the famed Nakasendo Trail, which linked Kyoto and Tokyo during Japan's feudal period.
It was the 'road through the mountains' followed by feudal lords and their retinues, samurai warriors, merchants, and travelers, along which there were 69 'post towns', where people could stop and rest before continuing the next leg of their journeys. On this tour, guests spend five days walking along the loveliest parts of the trail, enjoying the peace and serenity of the winter landscapes. Depending on the depth of the snow, guests will use snowshoes to follow the route.
Traveling along quiet village roads and unpaved hill trails, this eight-day itinerary starts in Kyoto and visits Nakatsugawa, Magome, Tsumago, Kiso Fukushima, Narai, and Kiso Hirasawa, before wrapping up in Tokyo. Along the way, travelers will discover Edo-Period towns, charming villages, cedar forests, temples, museums, castles, and more, staying overnight in traditional country inns, enjoying fresh, regional cuisine, and soaking in natural thermal Onsen hot springs along the way.
Considered an 'active' walking tour, there are dedicated days of walking, ranging from one to three hours long, with some ascent and/or descent. Available December through March, currently there are spaces available on the Jan. 27 and Feb. 14, 2023 departures.
With a maximum of 13 people in any group, Oku Japan's fluently bilingual guides ensure guests enjoy rich, meaningful experiences from start to finish. Oku's itineraries steer clear of the classic tourism haunts and the on-the-bus/off-the-bus style of travel, with carefully crafted itineraries and interactions that encourage guests to get up close and personal with the places visit and people they meet along the way, putting tourist dollars to good use in remote, local communities.
To learn more about this tour, along with Oku Japan's complete line-up of year-round offerings of guided and self-guided* tours, please visit www.okujapan.com.