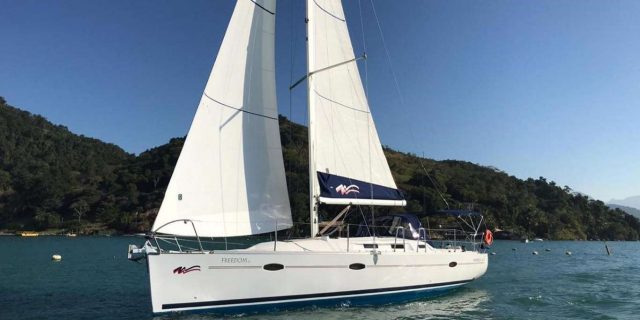 The Moorings has expanded its operations to include a new partner base in Paraty, Brazil. Surrounded by towering jungles plummeting into the waters of Baia Carioca, this charter cruising region features bays peppered with islands and world-famous beaches. Paraty adds to the charter company's more than 20 worldwide yacht charter vacation destinations.
Centrally located between Rio de Janeiro and São Paulo, Paraty (pronounced "Para-chee") holds the key to many natural wonders you can only discover by boat. Backed by mountains on Brazil's Costa Verde, Paraty is a UNESCO World Heritage site offering colonial-era architechture, cobbled streets, and a vibrant culture ideal for exploring before or after your charter. On the water, charter guests will enjoy a blend of lush Atlantic forests, scenic hikes, hidden mangroves, emerald-green passages and soft-sand beaches. A 7-day charter will take guests to such stops as Cotia Island, Ilha Grande, Gipoia Island, and Cedro Island, each with its own distinct flair and a wonderful mix of both populated and more quiet, isolated zones.
"We wanted to make a special announcement to celebrate our 50 years on the water. Brazil is a sought-after vacation destination, and we're excited to give our guests a unique place to sail and explore. Our customers will enjoy protected, remote harbors where they'll personally connect with the locals and explore pristine cruising grounds off the beaten track," said Josie Tucci, VP of Sales and Marketing.
A fleet of 3-and 4-cabin monohulls are now available for charters beginning after January 1, 2020. The fleet will be located at Marina do Engenho in Paraty, Brazil, and will be operated by our local partners at Wind Charter Brasil. This will include a 3-cabin Moorings 413 and a 3-cabin Moorings 419, both monohulls manufactured by yachtbuilder Delta, as well as a 3-cabin Moorings 45.3, built by Beneteau, and a 4-cabin Moorings 51.4, built by Jeanneau. Ever-popular for their spacious layouts and fully appointed cockpits, all four monohull models sleep up to eight passengers.
For a suggested itinerary and to explore Paraty by private yacht, please visit https://www.moorings.com/brazil.