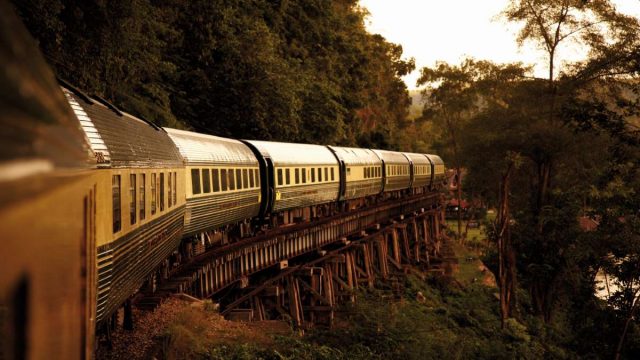 Of all the ways of getting around, there are few that can match the classic train journey for sheer romance. When you go for a drive, you'll mostly have your eyes on the road, and even if there's a stunning view to one side of the road, you won't be able to appreciate it. And while the view out of an aeroplane window can be spectacular, it does get a little bit samey after a while.
If you're planning to take some of the world's most famous rail trips, then you're in luck: there's an abundance of options to consider. Let's take a look at a few of the most appealing of them. Bear in mind that getting to the start point of each of these journeys will represent a sizeable chunk of your overall expenditure – but you can limit this by travelling to Gatwick Airport using a carnet ticket.
The Rocky Mountaineer
If you want to take in some of the most stunning alpine views that North America has to offer, then it's difficult to beat the Rocky Mountaineer. From the top deck, you'll be able to glimpse all manner of wildlife – including the occasional bear. In some cases, the driver might even elect to slow down to provide you with a better look at points of interest along the way. If you're a train aficionado, then you might decide to book a gold leaf ticket, which will put you in a glass-roofed carriage, and provide access to a viewing platform. There are a whole range of options available when it comes to routes, starting in Vancouver and ending up in Jasper or Lake Louise. But generally speaking, the longer your trip, the less you'll be spending per day on board.
Eastern and Oriental Express
Starting at Bangkok and winding southward through Malaysia and Singapore, this famous green-and-gold train offers a perfect means of seeing the Far East as it's meant to be seen. You'll pass through remote villages, rugged jungle and awe-inspiring temples along the way, many of which are inaccessible through other means. You'll also be able to enjoy a four-course meal along the way, which is extremely worthwhile.
The Trans-Siberian Express
This incredible train journey starts from Moscow and winds eastward toward the Urals, passing all the way to Vladivostok. This journey covers such an enormous distance that you might consider making the return trip by plane, or even proceeding on to Japan and making it part of a larger trip around the entire globe. Tickets aren't exactly cheap, however, with a two-week trip in a single room adding up to an eye-watering $18,000. For that money, however, you'll get a host of extras, including world-class dining and accommodation in a slew of five-star hotels.