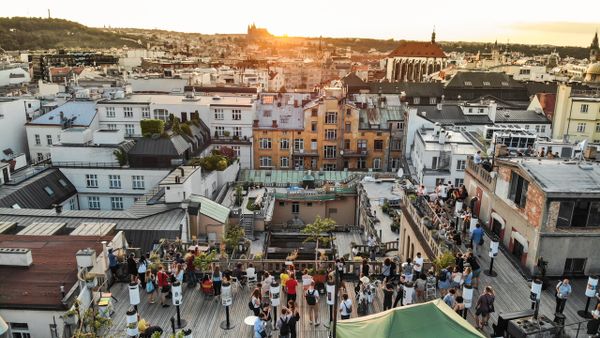 For the Czechs, the Lucerna Palace is something like the Royal Albert Hall for the British, La Cigale for the French, or Carnegie Hall for the New Yorkers. A legendary place that made history of the country and in some way changed the character of the whole city. The Lucerna Palace was inaugurated in 1909. The then builder and developer Vácslav Havel, the grandfather of the well-known president Václav Havel, raised the city to a metropolis with the building. Lucerna brought the inhabitants of the city interesting opportunities for the time. It was the opening of a cabaret, a Japanese tea room, a cinema or a large social hall for concerts. Legends of the world music such as Louis Armstrong performed in the grand hall. The Beach Boys, Ella Fitzgerald, Bob Dylan and many, many others. The Great Hall in Lucerna is a prestigious and renowned venue for concerts for both the Czech and foreign performers.
The roof of Lucerna offers visitors a view of the Prague Castle panorama from an interesting place above the roofs of the Old Town. It is a place visited by Prague residents, artists, hipsters, but also contemporary witnesses who remember the glory of the whole building. At present there is an exhibition on the roof showing the construction and functioning of Lucerna with period photographs. People can have refreshments in a bar on the roof, for example renowned Czech beer, wine or homemade soft drinks.
Recently, a unique event took place on the roof, which attracted the attention of the world media. It was the world premiere of a staging of Mozart's Don Giovanni. It was sung by the well-known singer Adam Plachetka for the audience in formal clothes laying in bathtubs full of water and enjoying the experience in an improvised music spa.
The roof of Lucerna is open from Saturday to Monday from 3 pm to 9 pm.