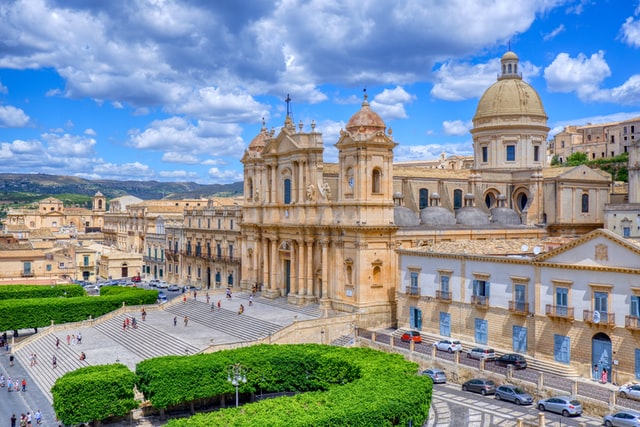 The past year was not easy for any of us, and brought a combination of challenges that nobody could have ever expected. But there seem to be light at the end of the tunnel. As Covid-19 vaccinations continue to roll out across the world, 2021 is beginning on a note of hopefulness and optimism. The end of our long international nightmare seems to be finally in sight, and the freedom to travel will be back in the cards hopefully soon.
When the time comes to travel again, Sicily, the largest and most exotic island in the Mediterranean Sea, should be high on your holiday bucket list. Boasting everything from sparkling beaches and volcanic landscapes to awe-inspiring architectural wonders, the stunning Italian isle of Sicily is a fit for any traveler.
So, dig out your passport and get ready to travel freely again after such a long period of staying indoors. Here are our top picks for the best places to visit in this sunny, triangle-shaped island off Italy's toe, to which millions of Italian Canadians and Italian Americans trace their ancestry.
North-eastern Sicily – Taormina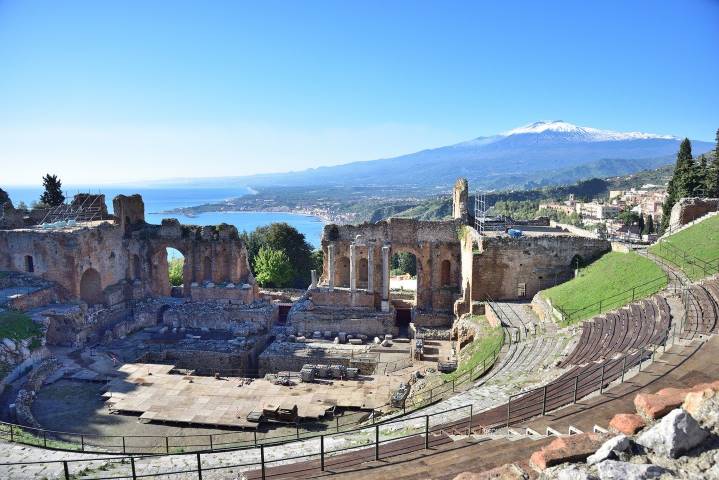 Perched on a hilltop above the opal-colored Ionian Sea, the glamorous town of Taormina, on the east coast of Sicily, couldn't ask for a more beautiful setting. Over the centuries, this little town suspended between sky and sea has charmed stars as varied as Ernest Hemingway, D. H. Lawrence, Audrey Hepburn and Elizabeth Taylor.
Its winding ancient streets will take you past imposing palaces, beautifully restored mediaeval buildings, charming squares, luxury boutiques and Michelin-starred restaurants.
Taormina's premier sight is the impressively preserved, horse-shoe-shaped Greco-Roman Theatre, which dates back to the third century BC. A fortuitous gap in the wall of the loft frames what is considered one of Italy's most iconic and spectacular views, with the Bay of Naxos down below and the magnificent Mount Etna, a UNESCO World Heritage site, towering above the clouds at the edge of the horizon.
South-eastern Sicily – Noto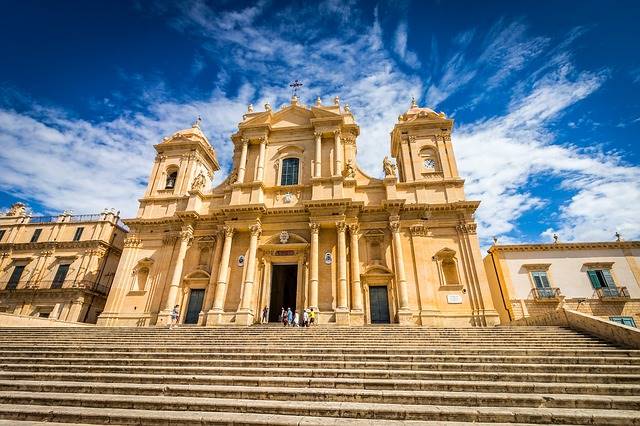 Another UNESCO treasure, the Baroque pearl of Noto, on the south-eastern coast of Sicily, is one of the most beautiful places in the whole of Italy. Prized as the Sicilian capital of Baroque, Noto is famous for its gorgeously intact, golden limestone architecture.
When in this impossibly picturesque town, make sure to stop by the Roman Catholic cathedral of Saint Nicholas, Noto's most famous landmark, breathtakingly gorgeous especially around sunset, when the Sicilian sunshine casts the creamy limestone façade with a honey glow. The pale stone reflects the sunlight in everchanging pink hues on the atmospheric cobbled streets.
The Late Baroque towns of the beautiful Noto Valley in south-eastern Sicily are listed among UNESCO's World Heritage sites.
Northern Sicily – Cefalù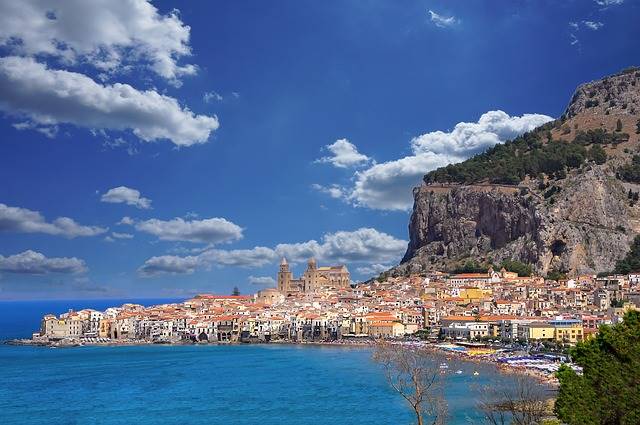 Located on the northern coast of Sicily, about an hour's drive east of Palermo, the historic village of Cefalù, pronounced /cheff-a-loo/, was designated a UNESCO World Heritage Site for its visually stunning Arab-Norman architecture.
One of the most alluring cities in Sicily, Cefalù is made up of a maze of twisting cobbled streets, filled with delightful restaurants and ice cream shops radiating out from a truly magnificent, terracotta-hued 12th-century cathedral.
The town begins at the bottom of a huge cliff called La Rocca, and winds its way down to a small, ancient fishing port and a long sandy beach lined with excellent trattorias serving traditional delights washed down with good, local wine. You recognized it? Yes, Cefalù has been featured in several Italian movies, including the Oscar award winning film Cinema Paradiso, directed by Giuseppe Tornatore in the 1980s.
North-western Sicily – Scopello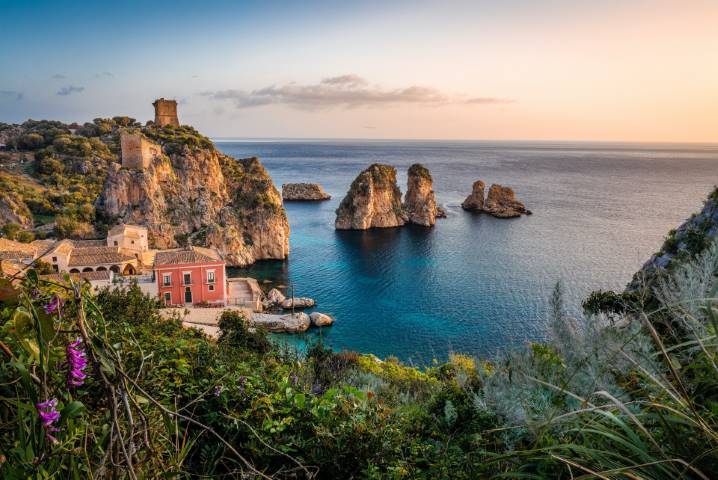 On the north-western coast of the island, Scopello's bay is one of the most photogenic locations in the Mediterranean, with its steep, rugged cliffs, picturesque fishermen's cottages and huge rocky stacks that rise out of the crystal blue sea.
A candidate for sunny Sicily's prettiest village, the tiny fishing hamlet of Scopello is set high above the cove of the historic, creamy-colored tuna factory, which had a starring role as a backdrop in a number of commercials, films and television series, including scenes from Ocean's Twelve, the Inspector Montalbano series and the Dolce & Gabbana Light Blue ad. The location is just as idyllic as it is on the screen.
The picture-perfect village of Scopello lies between the coastal city of Castellammare del Golfo and Lo Zingaro Nature Reserve, a spectacular strip of pristine white sand flanked by craggy mountains that runs for 5 miles to San Vito Lo Capo, Sicily's answer to Copacabana.
Western Sicily – Marsala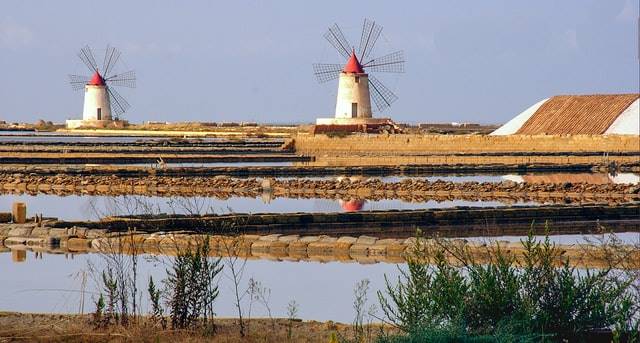 Enophiles should head to Marsala, on the western coast of Sicily, known for its easy, breezy seaside vibe and richly colored fortified dessert wine. The pleasant, relaxed coastal town of Marsala has everything a holidaymaker could ask for, from superb seafood restaurants, cozy, sandy beaches and high-end kitesurfing schools to charming wineries and local shops keen to have you taste their dry, flavorsome amber nectar.
Don't miss a chance to visit the nearby saltpans dotted with red-roofed windmills used to pump seawater, the Phoenician archaeological site of Mozia, and the Aegadian archipelago off Sicily's west coast.The island of Favignana has a fabulous summery buzz, while Marettimo is more remote, quiet and mountainous, and Levanzo is a solitude-seeker's paradise with no paved roads.
Visiting Sicily soon? Renting a holiday house is by far the safest choice at the moment. Holiday villas in Sicily are likely to be in great demand this year, as their status makes them perfect for effective social distancing from strangers. Planning a safecation in Sicily, then, is the way to go in 2021.
One of the island's leading vacation home rental agencies is Select Sicily, founded in the mid-2000s, which boasts a carefully curated collection of beautifully designed properties with spacious, light-filled interiors, deluxe facilities, panoramic swimming pools and tons of outdoor space. The company's website Selectsicilyvillas.com is a joy to browse as you search for your next holiday house and even if you are looking for design inspiration.