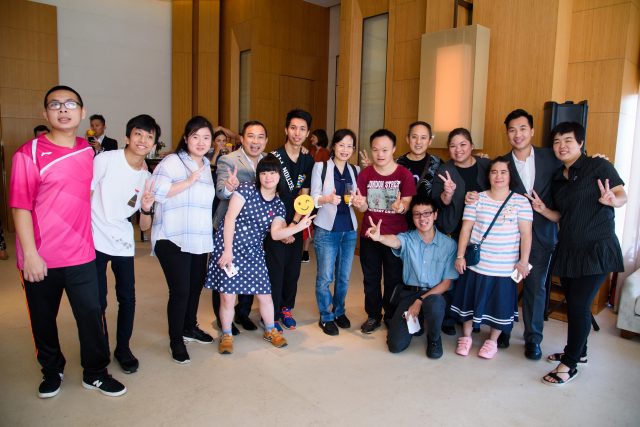 As part of Swire Properties' SD 2030 vision, an initiative to reinforce the company's commitment to sustainable development, The Upper House has partnered with The Hong Kong Down Syndrome Association (HKDSA) to provide vocational experiences for its members and to equip them with skills to integrate into society.
10 members from the Association joined the programme which included 18-hours of training, followed by a 2-month attachment with the Guest Experience, Restaurant & Bar, Housekeeping and Kitchen departments. 14 representatives from The Upper House formed a dedicated committee to provide guidance for the members, mentoring them through the back of House operation and guest engagement.
To celebrate the completion of the programme, a graduation ceremony was held in September 2018 with the members, families, friends, and teams of The Upper House and the Association. The occasion was filled with fun performances, experience sharing and awarding of certificates.
"As a hotel, we always want to be an inclusive workplace," said Marcel Thoma, General Manager of The Upper House. "Whilst we offer the participants vocational experiences, they also share their experiences, as well as their bright and positive outlook on life. We all learnt from each other tremendously. It was a fantastic partnership and we look forward to continuing our work with HKDSA."
The Upper House is delighted to announce the success of the initiative, with two of the members gaining long-term employment. The partnership with HKDSA will continue to be one of the House's many CSR commitments, with new programmes to be announced in 2019.
"It is my mission to identify partners who could offer our members opportunities to live fulfilling lives and relieve some of the daily burdens placed upon family members and caregivers," said Victoria Tang-Owen, President of the Association and friend of the House. "The programme led by The Upper House has been a wonderful example of how organisations can collaborate to offer vocational training and work opportunities, have a lot of fun in the process and deepen community ties. We are truly grateful to the Swire Hotels team for their professional commitment to our cause."
Highlights from the partnership can be viewed on the Swire Hotels YouTube channel.