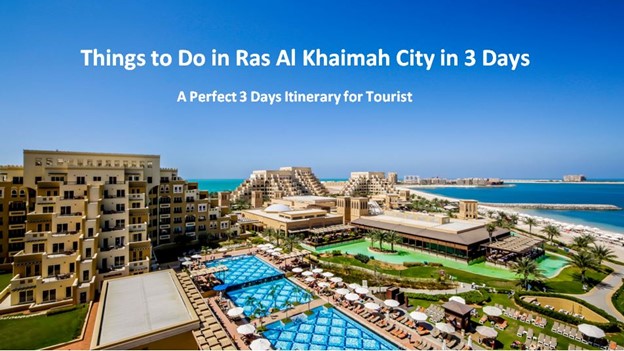 Ras Al Khaimah is a natural and historical city in the UAE. It is about a 150 min drive from Dubai's main city area. We did not know that much about this little state when we first arrived here and we are glad that we came here after we arrived in the UAE. Our flight arrived around 2 pm and the temperature was quite cold as it was December month. We walk about 5 minutes to the arrival terminal to get my luggage. It took us 10 minutes to find our luggage and we found it pretty quickly because it was just 4 piece of luggage that was waiting for us.
Transport Options Dubai to Ras Al Khaimah
There are three options for transport to Ras Al Khaimah from Dubai airport: taxis, general public transport buses, and private buses. We chose private rides as we were not comfortable with driving in the UAE. When we got out of the airport, one local told us to book a private vehicle with a driver to reach the hotel fastly and comfortably as the distance from Dubai to Abu Dhabi is enough longer and we were enough tired. It's cheaper to get a taxi than to take the private bus, but a private vehicle is more convenient and the drivers speak English so it is easier to communicate with them.
It is a 3 hours drive from Dubai by general public transport buses and around 1 hour and 30 minutes drive if you travel by private Dubai to RAK transfer bus. Based on my experience if you want a comfortable and fast ride then go for a private Dubai to Ras Al Khaimah transfer services if you are on a good budget but if you are looking for an economic ride then use a general public transport bus or use a Dubai taxi. There is a direct bus service from Dubai Ghubaiba bus station to the RAK also. They call it the "RTA bus" and it costs only 8 dollars.
The Hotel we Booked
We were staying at the Rixos Bab Al Bahr Marjan Island RAK. We booked this hotel through Booking.com. We didn't have a specific reason to choose this hotel, but it seemed that it was the closest hotel to the beach. I booked it for myself and my girlfriend, who was traveling with me. We arrived at the hotel around 4 pm. The room was nice and the breakfast was really good as well. I ordered some toast and they brought me a fresh orange juice, which was very welcome after an eight-hour flight.
It is important to know that the hotel is on the beach and we were very lucky that we found out about that because it meant that we could go to the beach and enjoy a great view, which was a very welcome thing after the flight. Ras Al Khaimah is a perfect location for travelers who like a clean and silent environment.
We reach our hotel around 4 pm and spent the rest of the evening at the RAK beach and then we decided to go to sleep around 11.30 pm.
Things to do in Ras Al Khaimah Day 1
1. Visit the Al Hamra Beach, Ras Al Khaimah, It is located at the coast and we were able to take an exclusive tour bus from the hotel to the beach because I have pre-booked a private Ras Al Khaimah tour from one local tour operator firm, and it was nice to see the city beautiful attractions including malls and take a bus to the beach and few other tourist spots. The Ras Al Khaimah tour from Dubai bus is not that expensive, and it is also a great opportunity to get some more impressions of the city. We were able to see the city, visited Al Hamara Mall RAK, and take a bus to the beach, which is something that you could not do with a normal public transport bus. There are many restaurants and bars in the area.
2. Eat at the Al Hamrah Mall mall: We had a great time at the Al Hamrah Mall RAK and I can recommend it highly enough. It is a huge mall and I was able to spend a few hours there. If you want to see a mall, then you have to go to the Al Hamarah mall and or RAK Mall in Ras Al Khaimah. There are some other malls in the area like Manar Mall, Al Naeem Mall, and My City Centre Mall Al Dhait, but RAK Al Hamarah Mall is the biggest and most luxurious. The mall had a lot of shops and the food court was quite nice as well.
3. We had a great dinner at the beach after seeing the RAK city, from the bus we decided that we wanted to take a walk to the beach. The weather was normal, so I decided to eat at the beach first. The beach was amazing and it was great to take some nice pictures. There were a few restaurants at the beach but I liked the burger stand best. I also like eating at the beach as it gives you an opportunity to have some time for yourself. I don't normally do this, but I enjoyed spending time by myself at the beach.
4. Spend time at the hotel: I had booked a massage at the hotel. It's an experience that I don't often get to have and I enjoyed it. It was a great end to the day and i and my girlfriend went to bed early. The next day we planned to visit Jebel Jais Mountains.
Things to do in Ras Al Khaimah Day 2
Visit Jebel Jais Mountains and Zip Line
5. I had read about Jebel Jais Mountains from a travel guide book and knew it was something I wanted to see while I was in the UAE. We booked a tour with one private tour operator company and it cost me around $70 per person to go to the mountain. The journey there takes about an hour by car. When we arrived, we were given a safety briefing by a man from Jebel Jais Mountain who gave us some safety tips and also told us about the different activities they have. There is a restaurant at the top of the mountain which was very nice and we enjoyed some fresh Juice there and enjoyed the surrounding scenery. At the top of Jebel Jais Mountain, there is a zip line that costs around $120 for 5 minutes. We opted to do a ride on the world's longest zip line located on the top of Jebel Jais Mountain RAK, this was an unforgettable adventure and we enjoyed it. We have also done a Jais Sky tour which cost us 95 USD. We spent a whole day in Jebel Jais Mountain and return to our hotel around 10 pm. Since we were very tired so got to sleep early.
Things to do in Ras Al Khaimah Day 3
Visit Suwaidi Pearls Farm, National Museum of RAK, Al Jazirah Al Hamra
6. The Suwaidi Pearls farm is located in the small fishing village of Al Rams, at the bottom of the majestic Al Hajar mountain range. The pearl farm established in 2005 by the world's first Arabian pearl farmer has been included on UNESCO's World Heritage List.
The Suwaidi Pearls farm is known as the Pearl of the Gulf for its beautiful white pearls, which are a symbol of the region's beauty and history. There is a farm in the middle of the desert with palm trees lining its walkways. The farm is a great place to relax, play and take a break from a busy life, with its beautiful setting and fascinating history. There are many exhibits that show pearls in their natural state, how they are formed and how they are harvested. There are also several pearl farms on-site, as well as the opportunity to watch pearl divers at work, and see how they harvest the pearls.
7. After ending at Suwaidi Pearl Farm we head to the National Museum of RAK
(Museum of RAK), which was founded in 1986 and houses the largest collection of Arab art and history in the region. The museum was established to preserve the rich cultural heritage of the people of RAK. The museum is divided into four main sections, namely the Archaeological Section, the Islamic Section, the Traditional Arts and Crafts Section, and the Contemporary Art and Design Section. The museum's exhibits are an excellent introduction to the region's rich history.
8. Al Jazirah Al Hamrah Ras Al Khaimah the old village which is also called the Ghost Village of RAK
After passing around 2 hours exploring RAK Museum we head to Jazirah Al Hamrah the old abandoned village of RAK with its old traditional houses and buildings. This is the old village of RAK and it is located on the south side of RAK city. We visited the old mosque which is a unique building made of mud bricks and has two minarets. It was built by the Zaab tribe. There are many small traditional houses in the village that are built with stones, mud bricks, and wood. The people here used to live a simple life and were farmers and fishermen before.
After exploring Jazirah Al Hamrah we drive back to RAK city for dinner and an overnight stay at a hotel in RAK.
Conclusion
Ras Al Khaimah is a beautiful tourist destination that has recently developed into a major international tourist hub. With its warm weather and beautiful scenery, it's the perfect place for family vacations. You'll find a mix of modernity and tradition in the area, as well as a variety of activities. The best way to travel to RAK city from Dubai is to take a private ride. It gives you the freedom to stop anywhere you want on the way to RAK and it's the most convenient and comfortable way. If you're planning to explore the beautiful attractions of Ras Al Khaimah city and enjoy the local sights of RAK city then book a Ras Al Khaimah city tour.