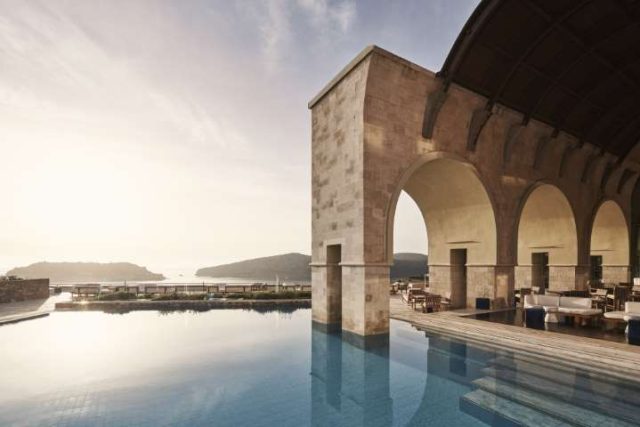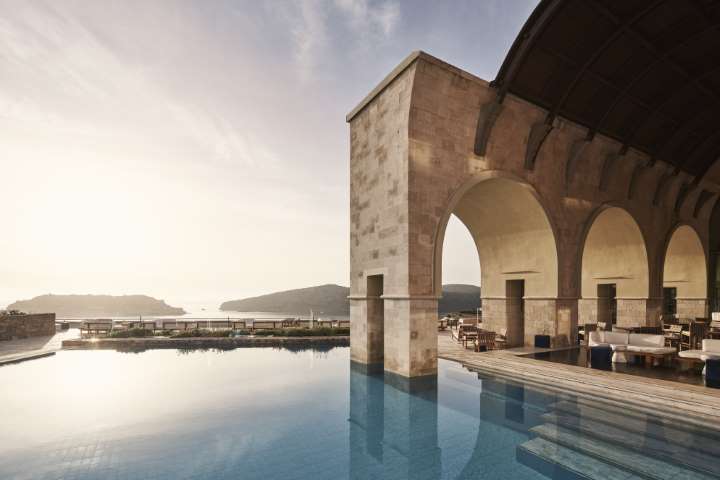 The iconic Blue Palace, a Luxury Collection Resort, Elounda Crete set on a coastal hillside in northeast Crete, promises a destination abounding with rich history, intriguing culture and wild natural beauty. Summer 2022 brings a variety of new, thoughtfully curated services to the legendary resort showcasing timeless Cretan culture, local sustainable gastronomy, unforgettable family experiences and au courant amenities while further celebrating the region's legacy.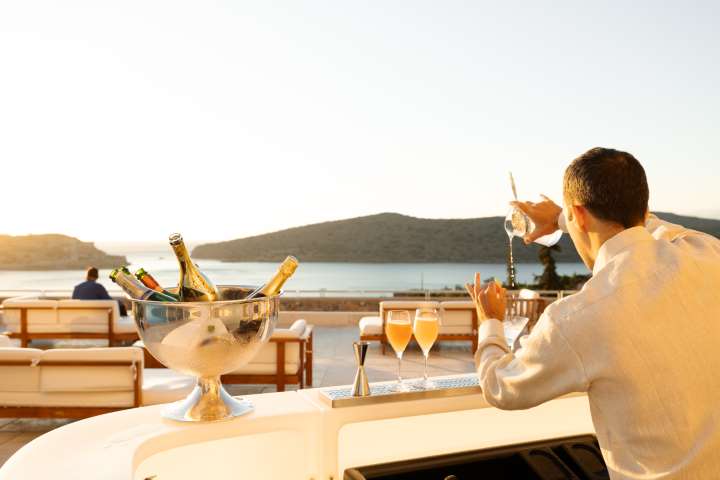 GASTRONOMY AND DRINK
"A recipe has no soul. You, as the cook, must bring soul to the recipe," declares Athinagoras Kostakos, Creative Consultant Chef at Blue Palace. At restaurant Anthós, sustainable gastronomy reflects the region's land and sea through vibrant, seasonal dishes that taste unmistakably Greek, with distinctive scents of the destination. Here, home-cooked means stories, emotions, heartfelt hospitality through sharing dishes, sampling and tasting. Ingredients emphasize locally sourced fish and meats, fresh vegetables, fragrant herbs, aromatic spices, produce from nearby farms and the resort's own organic, kitchen garden. A true highlight is the new, celebratory heritage-style dish, based on authentic Cretan homestyle recipes that will vary by season, and is freshly and affectionately prepared tableside by the Anthós team. Also new this season is the exclusive olive-oil pairing experience, where during sumptuous meals guests will taste Phāea Olive Oil, followed by a selection of stylish signature after-dinner drinks.
Anthós will also host a gastronomic tour of Greece with visits from renowned innovative Greek chefs, to be announced throughout the season, shaping the country's contemporary culinary scene, showcasing their passion for cooking, care for ingredients, and progressive tasting menus. Guests will be captivated by this one-of-a-kind dining experience, coupled with the restaurant's warm signature service and chic al fresco setting.
Other culinary concepts introduced by Creative Consultant Chef Kostakos are the light, refreshing beachside menu at the Isola Beach Club, and an inspiring take on authentic Asian flavors at Asia Deep Blue, in additions to a broad range of in-room dining experiences.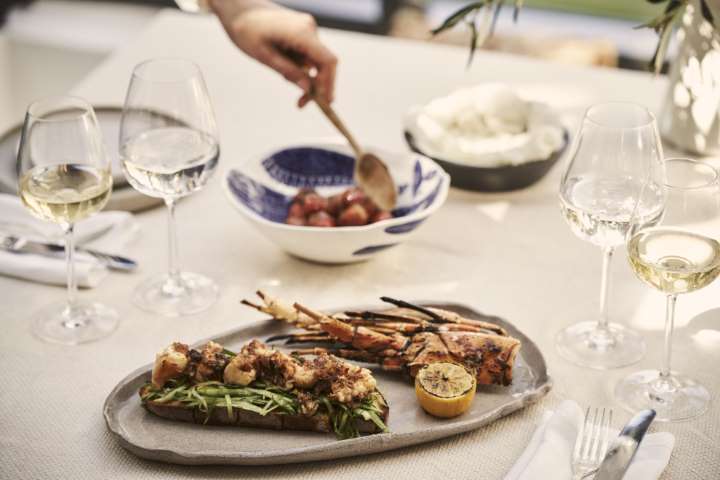 As the clock strikes 7PM, sparkling signature cocktails arrive, champagne glasses clink, and Arsenali Lounge Bar transforms into an enchanting, glamorous setting for celebrations and sublime sunsets over the Aegean, set to the swaying sounds by select DJs. The new Blue Aperitivo ritual, with an eclectic menu of cocktails, is a bespoke partnership with Venice's legendary The Gritti Palace, a Luxury Collection Hotel, marrying the art of the Italian aperitivo with Hellenic hospitality. Cocktails in the new menu include four signature serves by acclaimed Bar Manager Cristiano Luciani of The Gritti Palace's famed Longhi Bar and Riva Lounge: The Bellini, the Basil-ica, the Wild Fennel Martini, and the Acqua Riva.
The Arsenali Lounge Bar also introduces new whimsical collaborations and marquee events with world-acclaimed bartenders alongside internationally recognized mixologist Aristotelis Papadopoulos. Weaving magic from herbs and fruits from across the Aegean, each mixologist will shine a light on the landscape, heritage, nature and tradition that underpin the resort's philosophy. Guest mixologists include Marian Beke, owner of the acclaimed Gibson Bar in London on June 11; Edir Malpartida, master mixologist on July 16; and David Rios, global bartending champion on August 20.
This year, all Blue Palace restaurants proudly serve Comte de Montaigne Champagne, made in the Aube territory in northeast France. Helmed by the Révol family, this unique, bespoke Champagne is steeped in tradition, dedication, and gastronomic excellence, values and visions that align with those of the resort.
A SENSE OF PLACE
The new, innovative project – the Phāea Plan Bee initiative — is a highlight of the Summer 2022 season. Responding to the need to strengthen pollinators, more specifically bees, Blue Palace has installed beehives as it works toward creating a bee-friendly landscape with gardens, flowering plants and abundant water sources. This summer, the resort will host special events to celebrate the Plan Bee initiative, offering guests tours of the organic garden and beehives, followed by a mini-harvesting and honey tasting sessions. Delicious traditional Cretan pies drizzled with honey and a celebratory cocktail will be on the menu.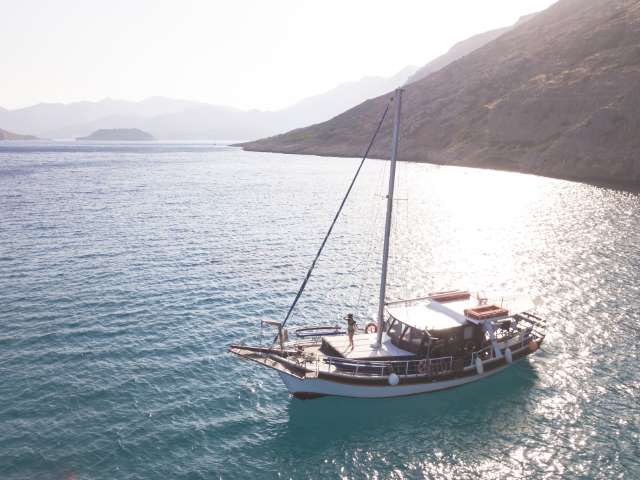 Blue Palace also offers guests opportunities to experience Crete authentically, meeting the characters and participating in the activities that make this destination so renowned. During the exclusive Spinalonga Reenactment Experience guests will board a traditional boat for a short ride across to Spinalonga island for an exclusive guided tour of the former fortress and leper colony.
Other trips are steeped in authenticity, from the Monasteri of Areti to the traditional villages of Crete, Kasteli and Fourni, a visit to the Palace of Knossos, a trip over crystal-clear waters around the Mirabello Gulf on the hotel's traditional fishing boat, or caique, while savoring a selection of Cretan wines and a platter of local cheeses, and tours that explore the island's 4,000 years of winemaking history.
A WAY TO WELLNESS
With its glass ceiling letting in natural light, the Elounda Spa is a haven for wellness, offering a journey of rejuvenation to empower body and mind with a selection of experiences and events, partnering with luxury skincare brands Valmont, Anne Semonin, and Apivita. This season, the spa launches new bespoke treatments, invigorating massages, anti-aging facials, customized rituals and therapies, tailor made to guests' needs overseen by skincare experts offering personal recommendations of skincare routines and a selection of products.
Couples looking for extra pampering can select one of Anne Semonin's best-selling, made-to-measure full-body massages, combined with a made-to-measure facial treatment to experience the French brand's unique balance of vegan ingredients and biotechnical blends for an immersive all-in-one ritual.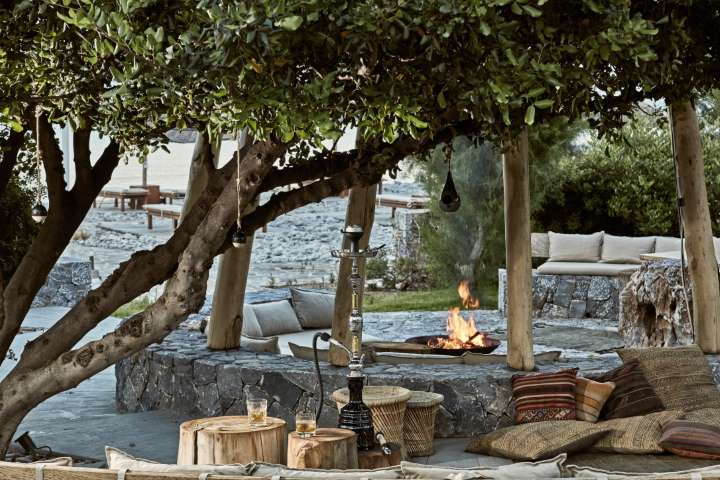 THE HAVEN
The Haven Collection offers unforgettable bespoke luxury experiences at the most exclusive suites and villas at Blue Palace, overflowing with understated luxury, services and amenities for the most discerning guests. The Haven's suites, bungalows and villas are a privileged choice, offering the ambiance of a Mediterranean home, surrounded by a peaceful landscape, but with the services of a five-star resort. 
The Haven Collection features authentic décor in the spacious accommodations, sparkling infinity pools, attentive personalized services, uncompromising privacy and emblematic sea views, all combined with the resort's impeccable beach experience. Guests enjoy a private breakfast with a wide variety of dishes served in an intimate pebble-mosaic courtyard, while at the Beach Haven, a dedicated private beach area, guests enjoy attentive seafront service with views over crystal clear azure water.
A sample of The Haven amenities include airport transfers (for bookings of a minimum four nights), complimentary daily in-room dining offerings; premium mini bar replenished daily; dedicated concierge, complimentary The Haven lunch experience; morning stretching or yoga sessions by the beach; a resort credit of 150€ per stay; exclusive discounts for resort experiences and spa services, and so much more.
For more information and reservations please visit, bluepalaceresort.gr.