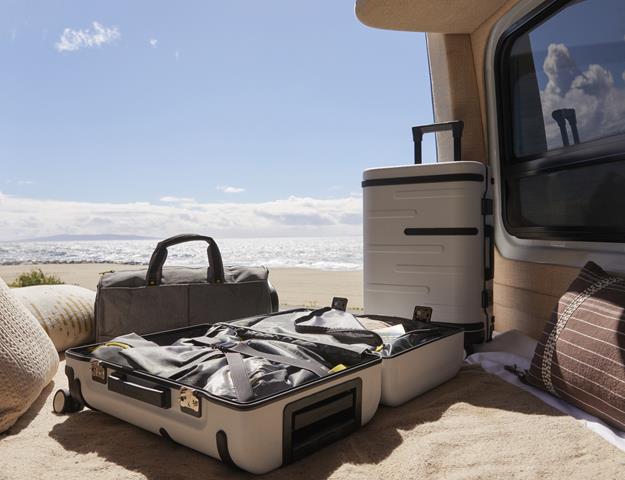 Samsara Luggage maker of innovative travel products, today announced that they will partner with iconic island lifestyle brand, Tommy Bahama to offer select products from its newly launched Tag Smart Collection both in-store and online. Tommy Bahama will add Samsara's Tag Smart Carry-on to its website in September and in select stores later in Fall 2022. The Tag Smart Carry-on is combined with the Apple AirTag, allowing travelers to easily track their suitcase using the Find My app on their iPhone. In addition, Samsara's Weekender Bag will also be added to the Tommy Bahama site as a travel accessory that coordinates with the Tag Smart Carry-on.
"Innovation, workmanship and above all quality are synonymous with the Tommy Bahama brand. It is for this reason we value our partnership with Samsara Luggage and look forward to offering it to our guests," says Chrisann Furciato, SVP of Licensing for Tommy Bahama.
"We are thrilled to partner with a like-minded brand that stays on the forefront of consumer trends in the travel industry," says Atara Dzikowski, Co-founder and CEO, Samsara Luggage. "In the wake of an increase in reports of lost luggage across the globe, the Tag Smart suitcase can offer their community of travel enthusiasts the right luggage to make their next trip more effortless. Tommy Bahama aligns seamlessly with the Samsara brand, and we are optimistic that this will be a successful and lasting partnership."
Samsara Luggage launched its Tag Smart Collection and coordinating travel products in April 2022. The Tag Smart Carry-on is combined with the Apple AirTag, which uses a Bluetooth signal to map a suitcase's precise location. The suitcase features an interior compartment that secures the device from within. The suitcase's durable aluminum frame and TSA-approved combination locks keep the AirTag protected from any outside tampering. The Tag Smart Device is included with the suitcase.