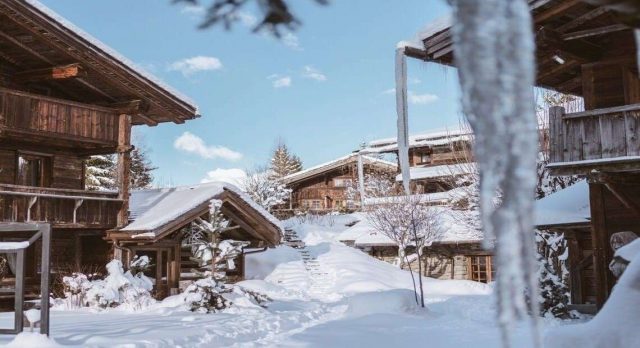 Many couples dream of a honeymoon in a warm country and or a tropic island. But isn't it romantic to warm yourself not with sunrays but with the love of your soulmate? Indeed, only the most sophisticated newlyweds can imagine a honeymoon somewhere on a snowy slope in the mountains.
After spending a honeymoon in the mountains, the newlyweds will receive a lot of new emotions and bring to their friends and relatives a lot of bewitching photos, amazing stories, and non-standard souvenirs. You must admit that this unforgettable experience is much more valuable and enjoyable than an ordinary tan and a couple of photos of a sandy shore. If you feel like spending your honeymoon in the mountains, then check out the following 5 hotels in the mountains that will make your honeymoon truly unforgettable.
The hotel was opened in 1989, by the spouses Josselin and Jean-Louis Cibé. Since then, Les Fermes de Marie has been famous for its family atmosphere and informal attitude towards guests. The design is also quite simple – during construction, wooden beams, and masonry fragments of old chalets in which shepherds lived several centuries ago were used. The complex of nine buildings has 70 rooms from 12 to 90 square meters.
In the Alpin restaurant, you should try out the specialty fondue Les Fermes de Marie (€28), and in the Traditionnel, you should taste the fried tail of a blue lobster (€40). At the Pure Altitude Spa, go for a Soin Sève de Vie anti-aging facial treatment that uses cosmetics based on alpine herbs of the same name that belongs to the Sibé family (€145 per 80 min).
Slopes with fir forests and 445 kilometers of land are a 5-minute drive from the hotel (transfer is free). In 10 minutes you can walk to the center of Megeve with 200 shops and 100 restaurants, including the Michelin-starred Flocons de Sel and Le 1920, as well as cinemas and nightclubs.
2. Badrutt's Palace
This castle hotel in one of the best ski resorts in the world. It was opened in 1896. Since then, millionaires and celebrities have been constantly visiting it (the book of guests contains the names of Alfred Hitchcock and Marlene Dietrich). After a renovation that happened last year, polished wood furniture, soft carpets, and crystal chandeliers appeared in all 157 rooms, while the Hans Badrutt Suite has an area of ​​280 m2 with a sauna and Jacuzzi. Ski rental is also available at the hotel. An equipment store and a ski school are also available for all the visitors. At 500 meters, lifts will take you to the tracks of primary and secondary difficulty with a total length of 350 kilometers. If you book a room for a period longer than two nights, you will receive a ski pass for all lifts as a gift.
The Palace Spa menu has a signature hot stone massage from the Alpine Engadine Valley (€200 for 80 minutes). There are seven restaurants serving French, Italian, and Japanese cuisine, including Nobu. At the King's Club nightclub, you can meet Liz Hurley and Claudia Schiffer. If you don't have a partner to visit this place with, then be sure to check out the following younger woman older man dating sites.
3. Cristallo, Cortina d'Ampezzo
Vladimir Nabokov, Frank Sinatra, and Claudia Cardinal visited the five-story palace in the Dolomites. The hotel opened its doors in 1901, and a century later, it underwent a complete renovation. The walls of 74 rooms were sheathed in wood, marble baths with hydromassage are available to all the visitors of this majestic place.
The hotel has three restaurants, including Il Gazebo with panoramic views of the Alps, as well as two bars and the Aldo Coppola beauty salon. During the procedures, the Transvital Swiss Beauty Center uses cosmetics from the Swiss brand Transvital during the procedures (face and body care cost €250 for 60 minutes). A 10-minute walk from the hotel is the center of Cortina d'Ampezzo with 7,000 boutiques and 16 galleries of contemporary art for its 7,000 inhabitants. Ski slopes with a total length of 140 kilometers can be reached in 5 minutes by a free bus.
4. Les Barmes De L'ours, Val d Isere
The hotel is a gallery of modern ar. On the walls of its rooms, you will be able to see the abstract paintings by British artist Zoe Kronberger, a bronze bear by Italian Livio Benedetti is located in the lobby.
The four-story building has three restaurants, a bar, Shu Uemura beauty salon and spa (pay attention to the Barmes de l'Ours body treatment center, which includes a wrap using honey and chocolate; € 145 for 1.5 hours). The reception staff can be requested to book a ski pass for you. The nearest ski lifts are 50 meters away. Most of the tracks with a total length of 300 kilometers are suitable for beginners.
5. Cheval Blanc
The largest Chalet suite in the hotel, which has been operating in the center of Courchevel since 2003. It has been expanded to 315 m2 and re-decorated with oak and marble. The remaining 35 rooms still have beds with velvet bedspreads, white marble bathtubs, and fireplaces.
In front of the hotel guests are greeted by a mirror horse, the work of the modern French sculptor Bruno Peinado, and a few steps away is the Les Trois Vallées zone. You can relax after skiing at the Cheval Blanc Spa via muscle-relaxing treatments with Guerlain cosmetics (sign up for the comprehensive Blanc Impérial: it includes massages and body wraps; €300 for 90 min).
In Chef Yannick Alleno's Michelin-starred restaurant Le 1947, check out flounder with bone marrow (€115) and chocolate fondant (€34), and in the restaurant called The White, try out their beef tenderloin with pepper sauce (€68). The interior of this establishment was also updated under the supervision of American minimalist Peter Marino.