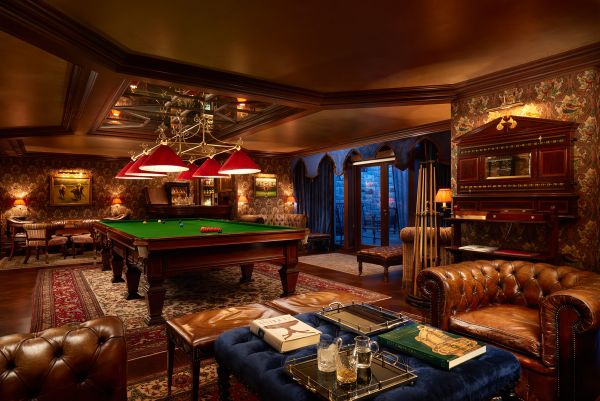 St. Patrick's Day is upon us! Celebrated by the Irish as far back as the ninth century, St. Patrick's Day commemorates the arrival of Christianity in Ireland, brought by the man known as the patron saint of Ireland. Now, of course, it has become a wildly popular secular holiday around the world, celebrated in a whirlwind of parties, green-colored food and drink, and many, many glasses of booze.
Insight Vacations, the award-winning leader in premium escorted travel, wants travelers to observe St Patrick's Day the way it was meant to be observed: by imbibing a bevy of delicious beverages across the beautiful countryside of Ireland. On Insight's remarkable journeys to Ireland, guests are invited to raise a glass at various establishments that offer an authentic experience, as well as good old-fashioned fun.
Guinness Storehouse: It's impossible to visit Ireland and not pop into the place where Guinness beer is brewed. On the 'Irish Elegance' itinerary, guests have the opportunity to tour the facility on their very first day. It's a journey that starts at the bottom of the world's largest pint glass and ends with a glass of the famed Black Stuff. Insight's Travel Directors consider it a near-religious experience.
The Five-Star Ashford Castle: One of the most beautiful stops on the 'Irish Elegance' journey is the stunning 800-year Ashford Castle  which boasts a superb whiskey. In the Billiards Room, a sumptuously-decorated space with rich colors and leather chairs, guests can choose from a selection of the finest single-pot still whiskeys, a style unique to Ireland. Wine tastings are also available in the Billiards Room for those who want to take in the waterfront views with a glass of red.
The Curragh Racecourse: Any guest with an affinity for horse racing should make time for a stop at The Curragh, Ireland's most important thoroughbred race course and breeding center. Located in County Kildare, The Curragh is home to the cool and contemporary Champagne Bar, where exquisite bubblies and wines will help you ring in St. Patrick's Day. Visit The Curragh on the 'Country Roads of Ireland'itinerary.
Mac's Bar: While there is certainly no shortage of pubs in Killarney to choose from, we recommend Mac's Bar, a small spot with incredible live music, delicious drinks and a cheerful clientele who are always willing to share recommendations. Visit Mac's on the 'Country Roads of Ireland' journey, then on your way back to your hotel, perhaps pop into another memorable bar or two along Killarney's lively streets.
O'Connells Bar & Restaurant: If beer isn't your thing, there's another famous beverage you can ring in St. Patrick's Day with, Irish coffee. After a decadent dinner, guests at O'Connells in Dublin are treated to a table-side demonstration of proper coffee-making technique, followed by lots of tasting, of course. Guests on Insight's 'Britain and Ireland Discovery' journey will visit O'Connells during their Farewell Dinner, which takes place on the final night of the itinerary.
O'Hara's Brewery Corner: Along the scenic, winding road that reveals the magnificent Ring of Kerry, guests are treated to a stop at this cozy little pub. They'll find 13 taps pouring the full range of beers from the famed O'Hara's Brewery, guest Irish craft beers and ciders, and rare beers from Belgium, Germany and the USA. This pub offers a world of choice, and it's the perfect place for beer enthusiasts who want to try something a bit different. Discover O'Hara's on the 'Romantic Britain and Ireland' itinerary.
Killarney Plaza: Music is a huge part of St. Patrick's Day festivities – though finding a venue where music is played isn't as hard as finding someone who can hold a tune. At the Killarney Plaza's Piano Bar, guests can enjoy a drink in elegant surroundings next to a piano that has quite the reputation for starting late night sing-alongs. Guests on the 'Britain and Ireland Explorer ' itinerary can take this opportunity to join in on some Irish folk songs that can be learned through multiple attempts.
For more information visit www.insightvacations.com