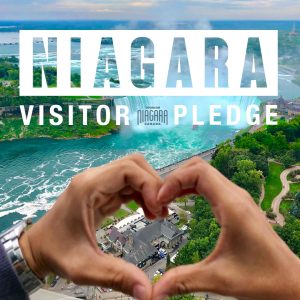 As the Niagara Region enters Stage 2 of Ontario's reopening plan, Tourism Partnership of Niagara (TPN) invites guests to explore the region's wide open spaces while taking comfort in the Niagara Visitor Pledge. Reflecting the authentic and genuine experiences that the Niagara Region is known for, with the comfort of knowing Niagara's commitment to public safety. The Visitor Pledge is Tourism Niagara's commitment to reassure visitors that Niagara is committed to the highest level of health & safety, ensuring that guests are taken care of as businesses and public spaces open their doors once again post COVID-19.
"Niagara is defined by the the strength of its communities—from the leaders, volunteers, organizations, hospitality professionals and essential workers who have helped make our home as safe as possible for all of us to enjoy together again," says Anthony Annunziata, President, Tourism Partnership of Niagara. "We look forward to welcoming our guests back to these communities and, with over 468,000 acres of land to explore across the region, visitors can take comfort in understanding that Niagara is one of the safest destinations for socially-distanced vacations in the 'new normal' of travel."
Tourism Niagara's Visitor Pledge aims to highlight the Niagara Region's commitment to going above and beyond safety requirements to protect the health and wellbeing of business owners, community members and guests in the region. Whether stopping by your favourite go-to destinations or newly discovered spots, visitors can expect the same world-class hospitality that the region is known for along with a heartfelt commitment to securing guest safety.
Visitors will be able to enjoy the same quintessential Niagara experiences they know and love, including visiting iconic attractions, tasting the 'Niagara difference' across wineries, dining at award-winning restaurants, boutique shopping and more, with the Niagara Region's safety measures to ensure guests feel as comfortable as possible during their stay.
"Our home is your home. We look forward to welcoming guests back to share 'Our Niagara' with us once again," says Annunziata.
For more information on the Visitor Pledge, which businesses are open in the region and more, please visit visitniagaracanada.com.