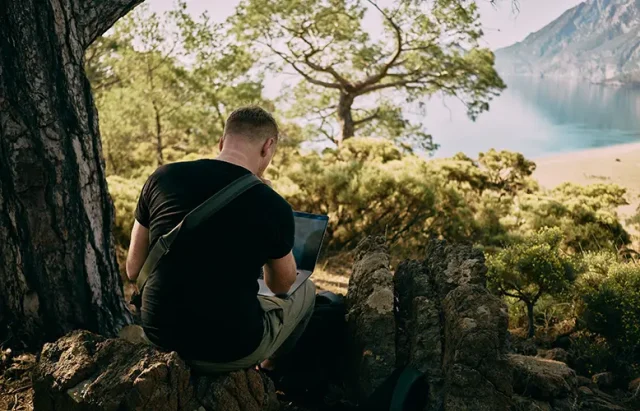 Digital nomadism has transformed the traditional working life, with a different lifestyle emerging that combines both work and travel. As a digital nomad, you have the opportunity to experience the world while still developing a career. It is a new and emerging concept that is increasingly gaining popularity.
The Rise of Digital Nomadism
In recent years, the world has transformed when it comes to how we live our lives due to the advancement of technology. People can use laptops, smartphones, and other devices to easily communicate and do almost anything from anywhere. We can see this with sports, as one can simply watch a match live from their couch; we can see it with igaming, as it's now possible to access mobile casinos instead of going to a brick-and-mortar one, and anyone can enjoy a movie through streaming platform instead of going to the cinema.
Of course, this also applies to plenty of jobs and nowadays it's not necessarily the case that people have to work the traditional 9-5 office job anymore, thanks to the flexibility that working online provides. This is one of the reasonds why digital nomadism is on the rise, these nomads are not confined to one location, meaning they can combine both working and travelling.
Benefits of the Digital Nomad Lifestyle
Primarily, digital nomads benefit from the ability to work from any location around the world. You have the flexibility and freedom to travel since you do not have to go into an office or workplace. In fact, remote working alleviates the stress of long commutes. Digital nomads have the option to choose their working environments, which can positively impact the quality of their work. If you are in a nicer environment, you are likely to feel more motivated and inspired in your work. Travelling can also help expand your personal growth since you are in a completely new environment, having different and unique experiences. Moreover, it can help you to develop your professional network, as the more you travel, the more opportunities you have to connect with a diverse range of people. Additionally, it can be financially beneficial, as digital nomads may opt for a country with a lower cost of living.
Digital Nomad Career
If you have a job that requires your physical presence, such as in healthcare or construction, then of course it is not possible for you to have a digital nomad career. However, many jobs that rely on technology and comprise primarily of individual work can be performed remotely. Freelancers, for instance, work based on projects which allow for flexibility, this might include writing, graphic design, marketing and more. Software developers and coders are other examples where the nature of their jobs fits well with remote working. Online tutoring is another popular option, where you can teach students over video calls. Many remote workers can be found in the realm of digital marketing, which might involve, SEO, online advertising, or social media. Nowadays, content creation has also risen in popularity, with social media influencers making an income through advertising and sponsorships. These are a few of the most popular digital nomad careers, but there are far too many options to list every single one. Nevertheless, you can find all kinds of different remote roles out there.
Top Countries for Digital Nomads
You might be wondering where exactly you might live or visit after becoming a digital nomad. Ultimately, you have the freedom to travel wherever you wish, but these are a few places that are especially known to have a thriving digital nomad community. The capital city of Portugal, Lisbon, is a hub for remote workers with colourful streets and plenty of coworking space. The city offers a lower cost of living than other European capitals, making it a popular choice for digital nomads. For an even lower cost of living, digital nomads may venture to Asia. Bali, for example, is not only a top destination for tourists but also for remote workers looking for a sunny setting. Other common digital nomad spots include big cities such as Bangkok and Ho Chi Minh City. On the other side of the world, you can find many digital nomads include locations such as Mexico and Costa Rica.
Conclusion
Digital nomadism displays a fundamental shift from the traditional concept of work, travel, and lifestyle. It allows for flexibility and freedom that has never been seen before when it comes to working. You can find many remote careers in this day and age, while there is a plethora of places to visit. For some. this kind of lifestyle might produce a more satisfied and happier work and life balance.