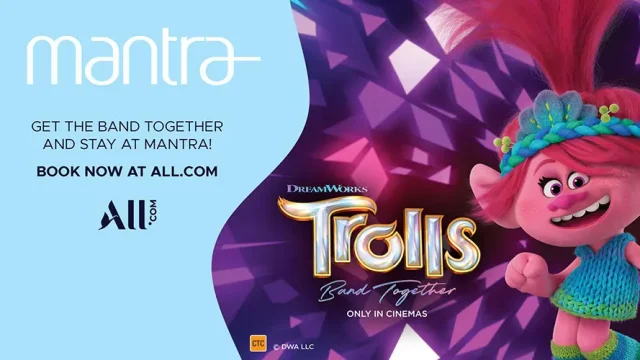 Mantra, in collaboration with Universal Pictures, is excited to announce an action-packed partnership to celebrate the release of the new chapter in Universal Pictures' blockbuster franchise, Trolls Band Together, beginning on November 20 and continuing throughout summer.
Trolls Band Together is an all-star, rainbow-colored family reunion like no other. Mantra will delight its guests, fans, and followers with special offers, surprises, and fun activities inspired by the film at hotels, resorts and apartments throughout Australia and New Zealand.
Accor Pacific CEO, Sarah Derry, said: "We're excited to partner with Universal Pictures to offer our guests a new way to experience the magic of Trolls Band Together beyond the big screen. This collaboration will help bring the Trolls characters to life across our collection of Mantra hotels, resorts and apartments in Australia and New Zealand. We know that families are looking forward to an extra-special summer holiday this year, and for those staying at Mantra, we hope this partnership will make their stays even more exciting and memorable."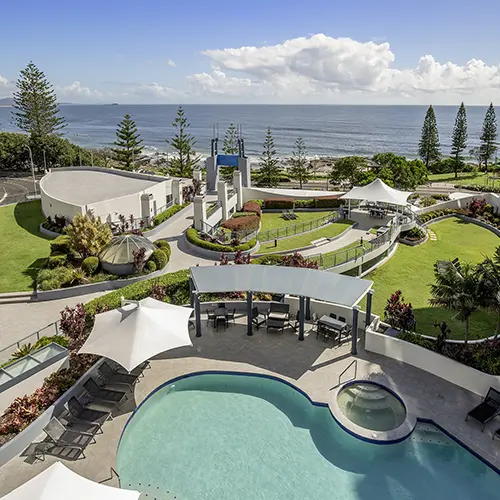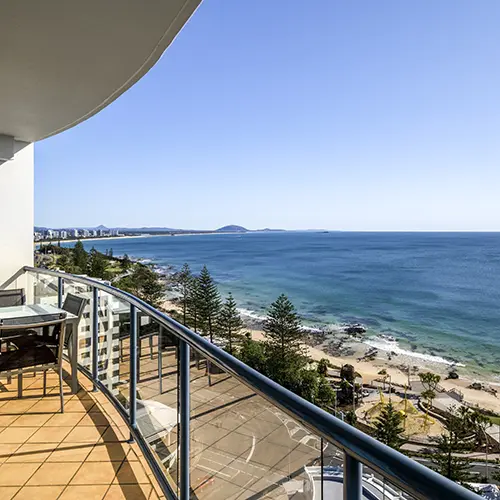 As part of the Mantra and Universal Pictures collaboration, participating Mantra locations will feature a series of glittering activities for visiting families. Upon arrival, Mantra guests will be surprised with an assortment of fun activities and experiences, such as coloring in sets, a design your Troll competition, a music playlist of Trolls soundtrack favorites, Trolls-inspired menu items, merchandise packs to win, and Trolls themed guest experiences.
Mantra is renowned for having a great selection of hotels, resorts and spacious self-contained apartments in vibrant cities and favorite holiday hotspots, allowing guests to create the perfect stay by giving them the space and freedom to come together in their own unique ways.
Families can make exciting memories together with a stay at a Mantra hotel, resort or apartment. For the best accommodation rates, visit ALL.COM.
About Trolls Band Together
This holiday season, get ready for an action-packed, all-star, rainbow-coloured family reunion like no other as Anna Kendrick and Justin Timberlake return for the new chapter in DreamWorks Animation's blockbuster musical franchise: Trolls Band Together.
After two films of true friendship and relentless flirting, Poppy (Anna Kendrick) and Branch (Justin Timberlake) are now officially, finally, a couple (#broppy)! As they grow closer, Poppy discovers that Branch has a secret past. He was once part of her favourite boyband phenomenon, BroZone, with his four brothers: Floyd (Golden Globe nominated electropop sensation Troye Sivan), John Dory (Eric André; Sing 2), Spruce (Grammy winner Daveed Diggs; Hamilton) and Clay (Grammy winner Kid Cudi; Don't Look Up). BroZone disbanded when Branch was still a baby, as did the family, and Branch hasn't seen his brothers since.
But when Branch's bro Floyd is kidnapped for his musical talents by a pair of nefarious pop-star villains—Velvet (Emmy winner Amy Schumer; Trainwreck) and Veneer (Grammy winner and Tony nominee Andrew Rannells; The Book of Mormon)—Branch and Poppy embark on a harrowing and emotional journey to reunite the other brothers and rescue Floyd from a fate even worse than pop-culture obscurity.
Featuring Trolls' signature psychedelic joy-bomb of new and classic pop hits, Trolls Band Together stars a dazzling cast of musical superstars and comedic powerhouses as new franchise characters, including four-time Grammy nominee and Latin Grammy winner Camila Cabello (Cinderella) as Viva; Zosia Mamet (The Flight Attendant) as Crimp; and 12-time Emmy winning drag icon RuPaul Charles as Miss Maxine.
The returning cast includes Grammy, Emmy and Golden Globe nominee Zooey Deschanel as Bridget; Christopher Mintz-Plasse as Gristle, the Icona Pop duo Aino Jawo and Caroline Hjelt as Satin and Chenille, Grammy winner Anderson .Paak as Prince D, comedian Ron Funches as Cooper, SAG nominee Kunal Nayyar as Guy Diamond and Emmy winning Saturday Night Live legend Kenan Thompson as Tiny Diamond.
Trolls Band Together is steered by returning director Walt Dohrn and producer Gina Shay, and is co-directed by Tim Heitz (head of story, Trolls World Tour). DreamWorks Animation's Trolls films—2016's Trolls and 2020's Trolls World Tour—have sung and danced their way to record-breaking success, earning an Oscar® nomination for Best Original Song and fuellingone of the largest and most beloved entertainment brands in the world.