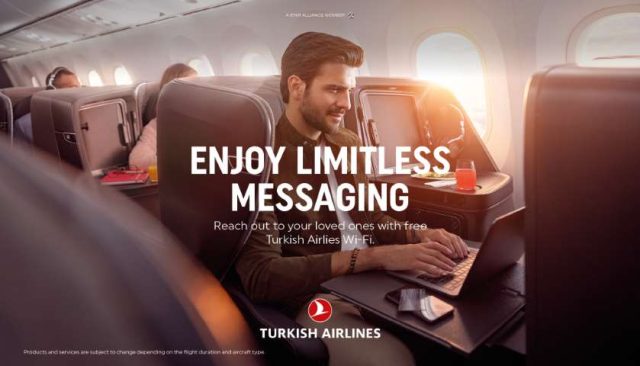 Bringing luxury travel to new heights, Turkish Airlines will offer free and limitless messaging services to passengers on international flights where internet access is available.
Flying to more countries than any other airline, Turkish Airlines offers an enhanced in-flight internet experience, with the motto "Enjoy Limitless Messaging" through applications such as WhatsApp, Messenger or iMessage, along with others.
On the new service, Turkish Airlines CEO Bilal Ekşi stated: "We are adding another innovative development to the countless improvements we made for Türkiye's aviation sector as the national flag carrier. By combining our innovative approach with customer satisfaction, we are ensuring our passengers will be able to freely message their loved ones above the clouds, staying in contact with them without any limits."
The limitless messaging service is complimentary to all Miles&Smiles members, and non-members will also be able to use the service upon completing the Miles&Smiles membership form available before or during the flight. Moreover; Miles&Smiles Classic Plus, Elite and Elite Plus members will also benefit from enhanced free internet packages.
Providing passengers with luxury at every stage of their journey, the service will be launched on Turkish Airlines' aircraft with internet access provided by Turk Telekom, and then gradually on all aircraft with internet connection.