Tuscany Now & More is delighted launch new culinary experiences for summer 2021. These gourmet adventures have been designed to bring Italian food to life and provide guests with an immersive holiday centred around the joys of Tuscan cooking. The villa rental company is introducing three cooking courses across a selection of their luxury  villa rentals in Italy: Italian Classics for Vegetarians, Nonna's Traditional Italian Recipes and The Art of Pasta Making. Despite being a country renowned for its pizza and pasta, these cooking classes will ensure that healthy, plant-based, and gluten-free recipes are available to try. With research showing that families and friends are looking for secluded holiday destinations this year, this new offering ensures that guests 'bubbling' in their villa can still fully enjoy the Italian culture and lifestyle – which starts with food.

Tuscany Now & More offers the most exquisite rental properties, each with their own renovation story to tell throughout Tuscany and beyond. These foodie experiences are just the tip of the iceberg when it comes to what is on offer – including hot-air balloon rides over Tuscany, cycling through traditional villages and towns, local farmer's market tours and truffle hunting.
Nonna's Traditional Italian Recipes at Il Cortile Pratolino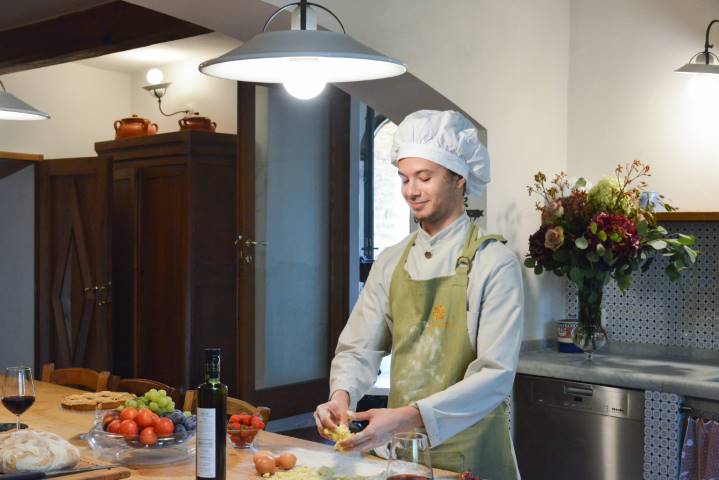 'Nonna' means 'Grandmother' and these traditional Italian recipes have been designed to introduce guests to a collection of dishes that celebrate culinary customs and have been passed down from generation to generation. Chefs will explore more than just cooking with stories, traditions and anecdotes that honour Italy's cuisine.

Through a series of hands-on classes, demonstrations and a selection of tasting evenings, food fanatics will uncover the secrets that transform fresh, local, and seasonal ingredients into flavourful regional specialities, and cooking methods and techniques every great Italian 'Nonna' uses. Throughout the course of the week, guests will learn how to make traditional appetisers, hand made pizza, seasonal primi (first courses), hearty secondi (second courses) such as Polpette, and local desserts including Tiramisu and Cantucci.

Il Cortile Pratolino will be offering 'Nonna's' cooking classes – a beautiful eight-bedroom 18th-century farmhouse set on a hilltop near Florence on the Monti del Chianti hills. A shaded seating area overlooks the garden, and the broad lawn leads to the spectacular swimming pool from which guests can soak up the stunning views. The villa boasts a well-equipped kitchen and dining table which sits 15 people, along with a dining loggia and a barbeque. Here guests will also receive an overview of Tuscan meats and seasonal recipes, instructions on how to identify grains and cook breads, and local experiences are available including a visit to a nearby cheesemaker. 
Italian Classics for Vegetarians at I Corbezzoli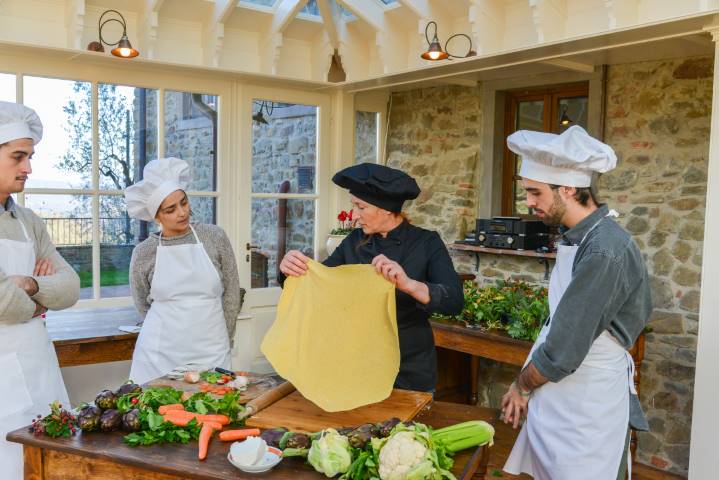 This course has been designed to introduce guests to a collection of vegetarian recipes that stay true to Italy's culinary heritage and cooking traditions. Guests will be embark on a spot of 'peasant cooking' whipping up 'Ribollita' which used to be known as the 'cuisine of the poor' –now considered a flavourful, nourishing and more importantly, delicious soup.  Additional dishes include Panzanella, Parmigiana, Focaccia Breads, Vegetarian Pastas and Crespelle – the 'Italian crepe' – a Florentine dish that is often filled with Ricotta and Spinach.
Vegies staying at the fully staffed I Corbezzoli could not be more comfortable with eleven ensuite bedrooms, a private swimming pool, heated jacuzzi and a stunning view over the vineyards, woodland and olive groves of the Chianti region. This villa is perfect for large groups looking to improve their appreciation of vegetarian Italian cuisine.
The Art of Making Pasta at Villa d'Elsa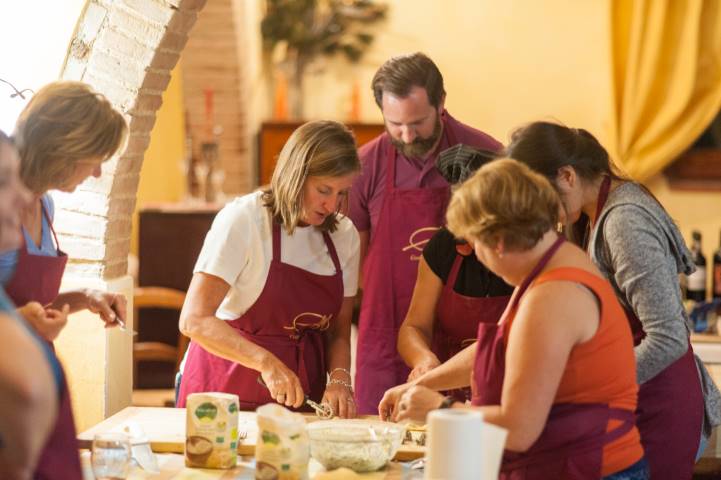 This culinary offering is an Italian cooking must, purely concentrating on the Italian artform of pasta making. Guests can learn the Italian tradition, making over eight different hand-made pasta types and the secret to pairing pasta textures, fillings, and sauces. The course will cover dishes such as Pappardelle, Raviolini and the thick noodle-like pasta, Pici. By the end of the week pasta makers will know how produce a range of Italy's regional recipes including Pici Cacio e Pepe, Pappardelle al Ragù, Ricotta and Spinach Ravioli and Gnocchi alla Sorrentina.

Villa d'Elsa is a beautiful Chianti villa and will be offering pasta-making classes throughout the summer months. The property features a private infinity swimming pool, furnished bedrooms, and hot tub. Beautifully lined with cypress trees and with a view of incredible Italian sunsets, this villa is ideal for a culinary escape to paradise. Here guests are also invited to participate in two more local experiences: a farmers' market tour and truffle hunting on the estate's grounds with a truffle hunter and dog in tow.
For further information and bookings, please contact tuscanynowandmore.com.