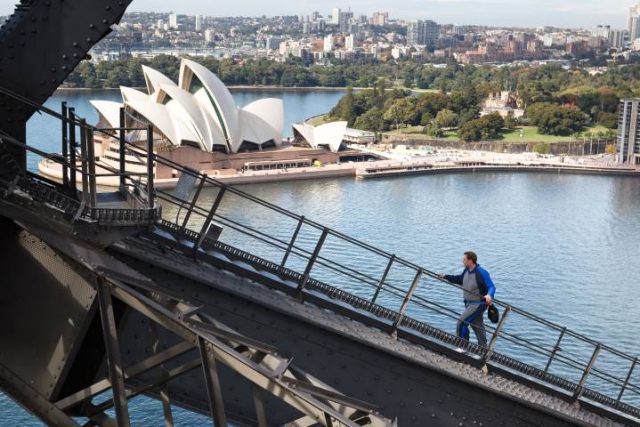 One of the world's most eye-catching destinations, Sydney has a vast array of wonderful attractions, natural, cultural and architectural. But for first-time visitors looking to enjoy a few sights and experiences straight away, this list is your ultimate reference. From climbing the Sydney Harbour Bridge to catching a ferry to Taronga Zoo and tackling the waves at Bondi Beach for a surf lesson, here are the essential Harbour City highlights. 
Cruise to Taronga Zoo Sydney
Many people visit Taronga Zoo Sydney for the animals; many more linger for the views. Enjoy a 12-minute ferry ride here from Circular Quay, then soak up million-dollar vistas over Sydney Harbour all the way to the Sydney Opera House and Sydney Harbour Bridge — giraffe heads bobbing in the foreground. Sitting hilltop in the upscale North Shore suburb of Mosman, this wildlife sanctuary has a world-leading conservation program that sees both native and exotic animals (there are more than 4,000 species) cared for and protected. If you tear yourself away, check in to a safari-style tent and sleep overnight as part of the after-hours Roar and Snore experience, or stay at the Wildlife Retreat, an stylish eco-lodge with water and animal views.
Marvel at Sydney Opera House
The word 'iconic' is overused when it comes to architecture. But the Sydney Opera House truly deserves this label. The harbourside building, with its distinctive 'shells' all in white, is often the first thing visitors picture when they think about Australia. For good reason. Aside from its masterful design and jaw-dropping setting, this is one of the world's busiest performing arts centres, hosting shows that range from opera to ballet, comedy and rock — the front stairs have also been used as a stage for artists over the years. If you're not catching a show, discover where the magic happens on a backstage tour, revealing the building's history and secrets. Then head to the Opera Bar at the foot of the building for cocktails overlooking the Sydney Harbour Bridge.
Climb the Sydney Harbour Bridge
Another legendary landmark, the Sydney Harbour bridge — affectionately known as the 'coat hanger' by locals — adorns pretty much ever postcard you pick up in Sydney. It dazzles regardless of your vantage, but perhaps the best way to take it in is from the top. BridgeClimb Sydney offers tours that will see you scaling this immense structure, your guide providing commentary on the history of the bridge while you wander toward the summit. Book a twilight or night climb for added drama and to see the city's lights twinkle, from the North Shore to Circular Quay. Another way to see the bridge is by walking across on the protected pedestrian path beside the road — stroll from the south so you can end your amble with a dip in the dreamy North Sydney Pool.
Go glamping on Cockatoo Island
Sydney's largest harbour island, UNESCO World Heritage-listed Cockatoo Island features Australia's only remaining dry dock constructed by convicts, as well as buildings and other relics relating to their imprisonment. Catch the ferry here from Circular Quay, then sign up for all manner of activities, from ghost tours to self-guided audio expeditions. You'll want to linger, so it's a good thing there are options to spend the night, including charming heritage cottages as well as glamping tents taking pride of place in the harbourside camping ground, backdropped by the Sydney Harbour Bridge.
Watch Bangarra Dance Theatre
For more than 30 years, critically-acclaimed Aboriginal dance company Bangarra Dance Theatre has been wowing audiences with its innovative production tours. While based in Sydney's harbourside precinct of Barangaroo, the troupe — all classically trained artists with a proud Aboriginal and/or Torres Strait Islander background — travel the world telling stories through their powerful contemporary choreography, which draws on thousands of years of rich indigenous culture. Catch a performance in Sydney; they often host outdoor shows.
Learn to surf at Bondi Beach
Surfing is part of the fabric of Sydney, and every morning you'll find plenty of enthusiasts catching waves at Bondi, Sydney's most legendary beach. Many people choose to sit on the sand and watch the spectacle. If you want to join in, but need a little help with your technique, Let's Go Surfing offers lessons that will have you up on your board chasing breaks in no time. Experienced instructors can assist with everything from one-off beginner classes to a comprehensive six-week course, teaching the sport's essential safety rules as well as tips on paddling, catching waves and maintaining your balance.
Explore the Royal Botanic Garden Sydney
Wrapped around Farm Cove at the edge of Sydney Harbour, the Royal Botanic Garden offers panoramic water views. The oldest garden of its kind in Australia, the 30-hectare expanse is a haven for 27,000 plants from around the world, including a significant section dedicated to Australian natives, which you can discover on daily guided walks, as well as an aromatic herb garden, rose garden and tropical greenhouse. While you're here, be sure to visit Mrs Macquarie's Chair (a bench chiselled into rocks for former Governor Macquarie's wife, Elizabeth, to enjoy water views).
Lace up your shoes for a coastal walk
Spectacular ocean and harbour views, secluded bays and beaches, opportunities to spot whales and dolphins — Sydney's coastline doesn't disappoint. The city's network of coastal walks is extensive, hugging clifftops, weaving through national parkland and linking popular stretches of sand. Like the 6km Bondi to Coogee experience in the eastern suburbs, snaking from the Bondi Icebergs ocean pool and the golden shores of Coogee. And the 10km Spit Bridge Walk to Manly on the North Shore, weaving through rainforest and past lighthouses with Sydney Harbour views most of the way. Whichever you choose, prepare for nature writ large.