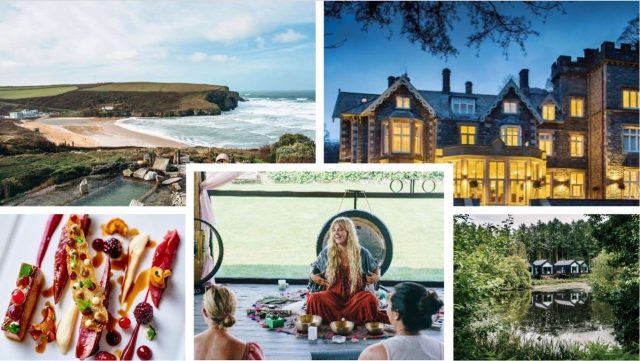 Struggling for inspiration to keep that new year's resolution afloat? Sauce Communications have rounded up six easy ways to keep your eye on the prize, from learning new skills to spending time with loved ones or getting back to nature. Be it bird spotting in Staffordshire or beach cleaning in Cornwall, there's no excuse not to deliver on your new year's resolution with these cool and close to home suggestions. So, whether you've pledged to get back in shape, support local business or take time for two, here's how to keep every wobbling resolver on track in 2022.
If you resolved to make wellness a priority this year – Experiment with CBD, sunrise yoga, sound meditation and more at The Coniston Hotel's Power of CBD Retreat with OTO. This March, The Coniston Hotel Country Estate & Spa alongside the creators of the world's finest CBD experiences, OTO, are set to host 'The Power of CBD' retreat in the Yorkshire Dales. Held between 17th – 19th March, each day of the two-night retreat will be themed on one of OTO's three pillars – Focus, Amplify and Balance. Guests will understand the remarkable benefits of CBD, whilst immersing themselves in an enriching spa experience at Nàdarra Spa nested within The Coniston's picturesque and private 1,400-acre Yorkshire Dales estate. Expect sunrise yoga, a gong bath, sound meditation and more.
If you're looking to live more sustainably – Start with a visit to Scarlet Hotel in Cornwall, where you can pitch in with local environmental groups to help protect the coastline and see sustainable hospitality in action. Built to the highest eco-standards, The Scarlet hotel perches on the clifftops looking out over the golden sands of Mawgan Porth in North Cornwall.  With beautiful gardens, beaches and a clifftop spa, the adult-only hotel weaves environmental technologies into its core design. The team are proud to boast careful energy usage, new eco technologies and electric car charging services to help every guest contribute to a positive climate impact. The hotel opts for cooling sea breeze instead of artificial air conditioning and shuns chemicals for the use of reeds and algae to cleanse the outdoor pool.  The roof is lined with sea thrift, providing native plants for local insects and repurposed wooden posts that were once coastal erosion barriers now frame the hotel gardens. The team encourage guests to support local groups such as Surfers Against Sewage, a grassroots environmental group that fights to protect the coastline or Coast: One Planet Tourism Network, a Cornish social enterprise that promotes sustainable tourism. 
For foodie families looking to escape – Nowhere pleases parents and children in equal measure better than Lympstone Manor, with its own vineyard, shepherd's huts for the whole family and a new outdoor pool. Lympstone Manor is a Grade II listed Georgian manor house and the vision of Michael Caines MBE come to life. The property is a luxury country house hotel for the 21st Century, situated in the heart of Devon on the foreshore of the tranquil Exe Estuary. Set within 28 acres, the property has 21 individually designed bedrooms and six woodland-setting Shepherd Huts that are perfect for hosting families. (The fine dining restaurant even has a special menu for kids). Whilst parents enjoy the fruits of the hotel's vineyard children can discover a brand-new tennis court or rejoice at the heated swimming pool due to launch in the spring.  Take time together by the hotel fire pits and teach little ones the joys of a family BBQs. Lympstone Manor also works with a local water sports company who can organise everything from wake boarding to paddle boarding and wind surfing and a hotel nanny is on hand if required.  
For those getting back to nature – Explore the great outdoors within the comfort of your own private estate at The Tawny, Staffordshire. Set within the 70-acre grounds of the wonderfully restored wild garden of Consall Hall Estate in Staffordshire, The Tawny Hotel has been dubbed as the UK's first 'deconstructed hotel'. Comprising of 55 idyllic Shepherds Huts, Treehouses, Boathouses, Retreats and the Lookout, The Tawny is a destination for adventures. Guests can discover over 5 miles of meandering pathways, connecting fells to follies, dense woodland to shimmering lakes, and colourful fauna to hilly heartlands. The Tawny provides eco-baths for guests, 'pinning' structures to prevent tree-root damage and avoids use of street lighting to protect wildlife. Within the estate, activities include bird spotting, stargazing and renting recycled bikes, whilst a wonderful array of wildlife awaits in the neighbouring nature reserve. Visit the beautiful Staffordshire Moorlands during your stay or venture out on walks through the RSPB Reserve, along the Caldon Canal or to the Churnet Valley Railway.  
Overdue time for two? – Nowhere says romance like the magical Forest Side hotel in the Lake District, treat your partner to this hidden gem in 2022. Located in the heart of the Lake District in the quintessentially English village of Grasmere; The Forest Side is a restored gothic fairy-tale mansion on forty-three acres of rolling green grounds and gardens. Twice voted the UK's most Romantic Hotel in the Good Hotel Guide, the property is made up of 20 meticulously designed rooms, each with a contemporary, country feel and postcard-perfect views of the surrounding hills. The original Victorian slate and stone mansion was methodically restored with 21st century luxuries, giving a nod to Grasmere's roots as the birthplace of the Romantic Movement. Helmed by Chef Paul Leonard, The Forest Side's Michelin-starred restaurant is recognised as one of the finest in the Lake District and designed to reflect the scenic landscape in which it sits. Featuring fresh produce from local harvesters or the onsite kitchen garden – each dish is paired with wine from hand-picked organic, biodynamic producers. 
Become an urban explorer – If you vowed to explore the wonderful world of London waiting on your doorstep, there is no better place to start than Page8 London, with a laid-back café, creative workshops, inspiring talks and a rooftop restaurant making every guest the ultimate urban explorer.  Sitting coolly opposite the famed National Portrait Gallery, Page8's chic sleek exterior offers the promise of calm in the heart of Trafalgar Square.  A neighbour to the bustling streets of Soho, the hotel's central location provides the perfect anchor point from which to sample dishes by London's most talented chefs and shop the city's most prominent brands. Page8 Hotel was born with three brand pillars in mind, locality, people, and communal space. With various series of fashion, wellness and brand focused events taking place throughout the year, the hotel aims to serve its neighbourhood, and be a place for both locals and tourists to experience and share.