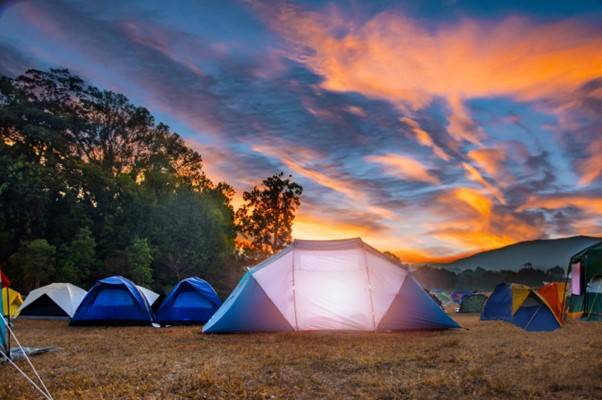 There is a certain allure to camping. Whether with friends or family, the lure of the great outdoors is something that we seem to be drawn to. With the right weather and equipment a camping vacation can be a great way of sharing some quality time. The range of accessories that can be found these days makes the average camping trip a far cry from those of a couple of decades ago, and tents are now much higher quality and offer greater weatherproofing capability.
You'll need something to cook on, sleeping bags to keep you warm at night, and one of the must-have items these days is a camping canopy. You may have seen this used at events – an aluminium frame with a canvas or other roof and open sides – and they resemble small gazebos. People take then on camping vacations as a cheap and usable extension to their available space. There are a lot on the market, but we're going to tell you why the slant leg vs. straight leg canopy debate is important.
What's the Difference?
There are two main types of camping canopy: slant leg and straight leg. Why is there a choice? It's simply down to the manufacturer choosing the most economical way to make and supply a canopy. There is little difference between the two, and they will usually cover the same footprint, but there are pros and cons to each. Let's have a look at the pros of the straight leg type of canopy:
Straight leg canopies take up less space due to the vertical legs
There seem to be more options for colours and sizes with this option
Some come with wall add-ons that give extra protection from wind and rain
Now a few of negatives of this type:
Straight leg canopies are more expensive than the alternative
They are more difficult to put up in general
These are heavier than the other design so are not recommended if you have a long way between car and camping spot
The positives for the slant leg version are as follows:
These canopies look better than the straight leg variety
They are lighter and easier to carry
They are easier to put up and take down
There are a few negatives:
The design means there is less protection as the roof area is smaller than the footprint
They cannot be fitted with walls
Not as robust as the straight leg variety and easier to break
As you can see from above, the two go hand in hand in terms of being viable and usable, and it really is up to individual choice and budget.
Do You Need a Canopy?
You might be surprised how much extra a canopy brings to a camping trip. With record numbers of people choosing camping vacations rather than going to hotels or travelling abroad right now, people are looking for as much space as they can find in which to enjoy their time outdoors.
A canopy is the perfect option for eating outdoors but remaining shaded from the hot sun and makes a great place with a little extra shelter for a few drinks in the evening. Furthermore, we recommend you look for pop-up shelters which have become very popular and take just a couple of minutes to set up and use.
Check out camping canopies in more detail and you'll see that this is a practical way to extend your camping gear and gain some extra room to live in while enjoying the splendour of your chosen location.