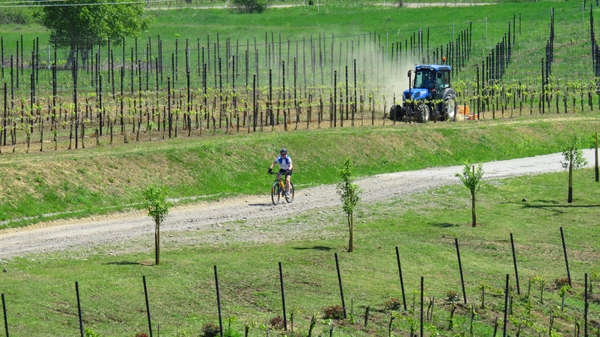 Eyeing a return to the historic, mysterious and natural beauty of the Romanian countryside, Butterfield & Robinson, the world's premier active travel company, has announced Romania Biking as a part of its New Trips for 2018. From cycling the fortified towns outside Transylvania, to gliding past centuries-old plots of colourful, sweeping farmland, travellers will be enveloped by the country affectionately known as Dacia.
"Our focus on expanding luxury active into innovative regions led us back to the mysteries of Romania," said Chris Mark, B&R's Director, Central & Eastern Europe. "With a week cycling through Transylvania, we've once again completed our quest to uncover far away European cultures, from hidden valley villages to vanishing trades and crafts."
The newly announced biking trip begins in Sibiu in central Romania and ventures through the countryside, stopping at vibrant signature hotels in Cund, Sighisoara and Talisoara. Along the way travellers will visit the oldest settlements in Transylvania (dating back to AD 1230) and UNESCO Heritage Sites, with curated meals and wine tastings to colour the jaunt through one of Eastern Europe's most awe-inspiring countries.
"Transylvania leaves nothing to be desired from a natural perspective, whether the vast forests interspersed with mountainous terrain, or its healthy populations of European brown bears and wild boars," said Tom Abraham, Trip Designer, B&R. "What is most delightful is the diversity of European cultures and history within Romania. From the German Saxon villages to the Roma communities that evoke an eastern influence, to the overlay of Hungarian and Italian cultures. The people and hospitality of Romania have me most excited to return."
Romania Biking Highlights 
Well-paved, hilly roads will guide cyclists throughout their journey, including stops in historic Saxon villages connected by vast beech and oak forests. While taking a break from two wheels, tours of UNESCO Heritage Sites, fortified churches and castles will leave travellers awestruck and invigorated.
Witness authentic Romanian traditions at the village of Viscri, recognized by UNESCO for its authenticity as a historical site. Travellers will take in lunch after visiting brickyards, wool producers and the fortified church, before dinner at the esteemed Casa Kraus.
A walking tour through the city of Sighisoara is the perfect activity for those travellers looking to slow down. Loaded with the most well-preserved medieval citadels in Europe, the charmingly colourful houses and cobblestone streets encourage prolonged roaming.• Visit the fortifications of Biertan, the first Transylvanian village to receive UNESCO status. Distant green hills play background to ornate spires and walls demanding to be gazed upon.
Activity Level
The level of activity for Romania Biking is Recreational. While travellers will be shuttled through higher traffic areas in towns, country roads are mostly paved and generally quiet, however hilly throughout for cyclists. There are longer hills linking valleys, and the daily activity ranges from 24 to 55 km of riding.
Hotel Details
Valea Verde Resort –This collection of studios and cottages spread along the Transylvanian countryside in Cund is the epitome of picturesque and serene. The resort's restaurant serves delicious modern cuisine made from fresh local ingredients.
Fronius Residence – Located within the Citadel of Sighisoara, each of the nine rooms in the residence is named after a female member of the Fronius dynasty. Gothic decoration and stone carvings abound from floor to ceiling.
Daniel Castle – An unforgettable stay at this renovated renaissance palace in Talisoara, Daniel Castle's eight spacious rooms have preserved the aesthetic of a bygone era, including looming arches and grand fireplaces.
Availability
The 6 days / 5 nights Romania Biking trip runs in May and June next year, as well as August, September and October 2018, from US$5,795 with single supplements starting at $400.
Romania Biking Private is also available for travellers to book their own groups and dates. Private itineraries are 8 days / 7 nights, from $6,195 based on four people double occupancy. Request dates for exact pricing.
For more information or to download the Romania Biking itineraries, visit: www.butterfield.com/trip/romania-biking.
About Butterfield & Robinson 
As the world's premier active travel company, Butterfield & Robinson has been designing incredible journeys in the world's most amazing places for over 50 years. From the start, B&R has encouraged travellers to "Slow down to see the world," executing itineraries focused on activity, adventure and cultural immersion for generations of travellers. With offices in Canada, France and Italy, B&R now offers 90 innovative itineraries in 60 destinations worldwide. For more information visit www.butterfield.com.