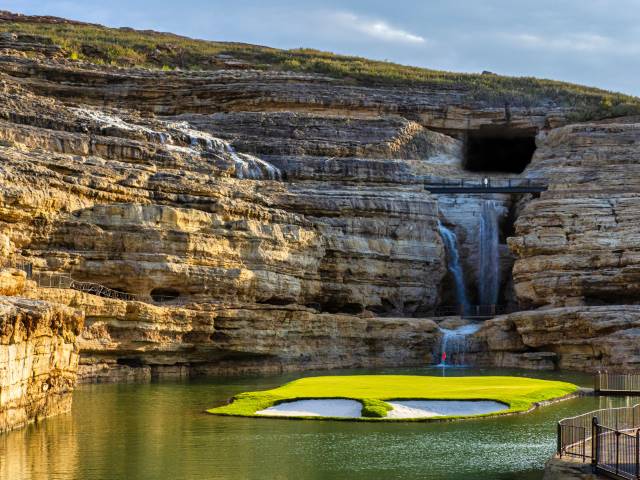 Planning golf trips now is particularly appealing as players anticipate the more golfer-friendly weather of March and April, and Branson is an ideal choice for those who want to experience what many are calling the country's most compelling golf destination.
The Missouri Ozarks oasis earns high praise through its 10 golf courses, all public access, all near one another, and including Tiger Woods' first-ever public course design – Payne's Valley, an 18-hole extravaganza with a stunning bonus 19th hole called "The Big Rock." When one sees the towering, 300-million-years-old limestone formations that surround the green (as does water )– with waterfalls cascading down them no less – they'll understand that this special extra hole came by its name honestly.
Add a variety of diverse yet complementary other playing options, wonderful restaurants and three lakes, and a plethora of other after-golf attractions, and it's clear why Branson is a spring break destination for not only discerning golfers, but also everyone in the family.
"Explore Branson during spring break and you'll leave having enjoyed what will surely be an unforgettable getaway," said Lynn Berry, Branson CVB Communications Director. "Play great golf courses that are drawing global interest, then experience some of Branson's many live shows, family attractions and other activities."
When considering where to stay and play in Branson, start by learning all that Big Cedar Lodge offers. In addition to a spectrum of wonderful lodging styles and Payne's Valley – Tiger's new course, the 19th hole of which he collaborated on with Big Cedar Founder Johnny Morris – the renowned resort includes four other layouts:
Branson Hills Golf Club and the Hiltons at Branson (Branson Hilton Convention Center and Hilton Promenade at Branson Landing) combine to form another first-class stay and play option. Both hotels are located across the street from one another – Promenade on the waterfront at Branson Landing, Convention Center adjacent to historic downtown Branson. Branson Hills is a Chuck Smith-Bobby Clampett 18-hole course design, and it was voted one of the top 50 courses in the country in the Golf Pass/Golfers' Choice awards this year.
Thousand Hills (Bob Cupp design), The Pointe, LedgeStone (Tom Clark design), and Holiday Hills complete Branson Golf's roster of 10 courses, and each has earned appreciation for their playability and value. Thousand Hills has a variety of lodging options, from condos to upscale cabins, and Holiday Hills Golf Resort is a Holiday Inn Vacations Club property that is open to the public.
See below for the complete list of Branson Golf courses, or visit www.explorebranson.com or www.facebook.com/BransonGolf
Branson Golf
Branson Hills Golf Club, 417.337.2963
Buffalo Ridge Springs Golf Course, 800.225.6343
Mountain Top Course, 800.225.6343
LedgeStone Country Club at StoneBridge Village, 417.335.8187
Ozarks National, 800.225.6343
Payne's Valley, 800.225.6343
The Pointe, 417.334.4477
Top of the Rock Golf Course, 800.225.6343
Thousand Hills Golf Resort, 800.487.0769, 417.334.4553
Holiday Hills Resort and Golf Club, 417.334.4838