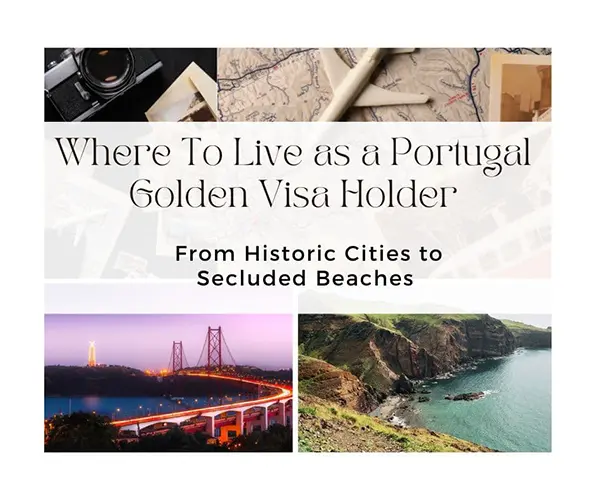 Portugal, with its rich history, vibrant culture, and stunning landscapes, has long been a favorite destination for travelers worldwide. But for many, the allure of Portugal goes beyond a mere vacation. The Golden Visa Portugal program has been a gateway for non-EU citizens to gain residency in this beautiful country. However, recent changes are reshaping the landscape of this program.
Why Portugal is a Top Choice for Golden Visa Holders
Portugal isn't just a travel destination; it's a lifestyle choice.
Golden Visa holders don't merely invest; they immerse themselves in a culture known for its warmth, hospitality, and rich traditions. From the bustling streets of Lisbon to the serene beaches of the Algarve, every region offers a unique living experience. The Mediterranean climate, world-class cuisine, and a laid-back lifestyle make it an ideal place for those looking to blend luxury with authenticity.
The Golden Visa: A Brief Overview
For years, the Portugal Golden Visa program has attracted investors, bringing in millions of euros in investment annually.
This program grants residency to investors who meet specific criteria. However, a significant change is on the horizon. Following a ministerial meeting in February 2023, the Portuguese government announced that real estate investments would no longer qualify for the Golden Visa program from 2024 onwards. This decision was made to address housing policy concerns in Portugal. While the program isn't ending, the restructuring means that potential investors need to be aware of the shifting sands.
Historic Cities: A Journey Back in Time
Lisbon: The capital city, where modernity meets history. Golden Visa holders in Lisbon benefit from a cosmopolitan lifestyle, with access to world-class restaurants, theaters, and museums. The ancient streets of Alfama or tram rides up the hills offer both history and breathtaking views.
Porto: Dive into the wine legacy of the Douro Valley and experience the charm of this northern city. Living in Porto means enjoying the rich cultural scene, historic architecture, and the famed Port wine.
Sintra: A town of palaces, castles, and romantic landscapes, Sintra is a UNESCO World Heritage site that promises a journey back in time. Golden Visa holders in Sintra can relish the tranquility of the town, away from the hustle and bustle.
Secluded Beaches: Portugal's Hidden Gems
The Algarve: Known as Europe's sunniest spot, it offers golden beaches and crystal-clear waters. Living in the Algarve provides a resort-like experience year-round, with golf courses, spas, and water sports.
Comporta: A luxury traveler's secret, Comporta boasts pristine beaches and a laid-back vibe. Golden Visa holders here enjoy a blend of luxury and nature, with upscale resorts nestled amidst natural beauty.
Azores and Madeira: These island paradises remain untouched, offering unique experiences for those looking to explore beyond the mainland. Living on these islands means being surrounded by nature, from volcanic landscapes to lush forests.
Luxury Living with the Golden Visa The Golden Visa has been a ticket to luxury living in Portugal. From upscale resorts in the Algarve to boutique hotels in Lisbon, the program has opened doors to a world of luxury.
However, with real estate no longer being an eligible investment route, potential investors need to explore other avenues. Options include investing €500,000 in collective investment structures not related to real estate or entering the share capital of existing companies with a minimum investment of €500,000.
2024: The Future of the Golden Visa Program
While the real estate route is closing, the Golden Visa program remains alive. The Portuguese parliament's decision to restructure the program ensures its continuity, albeit with different investment criteria. The President's recent veto of the Mais Habitação Bill means that discussions around the program's future will continue. For now, investors interested in the real estate option have a limited window to make their move.
Golden Visa Stories: Real Lives, Real Experiences
Living the Dream in Lisbon: Carlos's Story
Carlos, originally from Brazil, always dreamt of living in Europe.
When he learned about what were golden visas, he saw the Portuguese program as a golden ticket to make his dream come true. After investing in a charming apartment in the heart of Lisbon, Carlos immersed himself in the city's vibrant culture. He often spends his evenings listening to live Fado music in Alfama and enjoys the city's gastronomic delights. For Carlos, the Golden Visa was more than just a residency permit; it was a gateway to a new life filled with rich experiences. "Lisbon has a soul," he often says, "and I feel like I've always belonged here."
Finding Serenity in the Algarve: Aisha's Journey
Aisha, a businesswoman from South Africa, first visited the Algarve on a vacation. She instantly fell in love with its serene beaches and picturesque towns.
When she discovered the Golden Visa program, she saw an opportunity to turn her vacation destination into her home.
Investing in a luxury villa overlooking the ocean, Aisha now enjoys the tranquility of the Algarve, far from the hustle of city life. She often hosts yoga retreats in her villa, combining her passion for wellness with the beauty of her surroundings. "The Algarve offers peace," Aisha mentions, "and through the Golden Visa, I found my sanctuary."
Portugal's allure remains undiminished, and the Golden Visa program, despite its changes, continues to offer a golden opportunity for investors and travelers alike. As the program evolves, so do the opportunities it presents. For those looking to embark on this journey, now is the time to seize the moment.