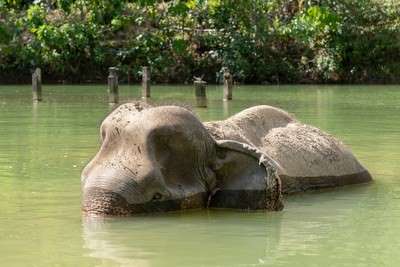 With most of the world in lockdown, the tourism industry has been hit hard by COVID-19. Not only is this challenging for humans working in this industry, but also wild animals such as elephants, who should never have been in captivity in the first place. Yet, millions of tourists flock to places like Thailand every year to see them. Now these beautiful creatures are facing abandonment, lack of basic medicine and very little food. The global charity World Animal Protection is coming to their aid and asking people to support them.
In some areas of Thailand, tourism has already come to a grinding halt. About 85 elephant camps have closed their doors and laid off 5,000 staff. The remaining camps are desperately struggling to look after their elephants, as tourism, their primary source of income, has declined. Rampant breeding of elephants for commercial use has led to a situation where vital resources are lacking to maintain the approximately 2,500 elephants in captivity. The elephant keepers (or mahouts) are struggling to afford food for their elephants. There is now a risk that elephants will starve, or their owners might feel pressure to use them for logging (hard labour) or begging in the streets for money.
World Animal Protection's worldwide urgent appeal will help these elephants by providing struggling elephant venues with food, supplements, medicine and funds to support running costs.
While delivering emergency support for elephants, the charity continues to campaign for an end to the breeding and captivity of elephants in tourism. They are also encouraging and working with elephant camps to phase-out elephant rides and shows and to transition to become wildlife friendly and meet the charity's guidelines. This means no direct interaction between tourists and elephants and no breeding.
The travel industry has been fueled by the demand from tourists to interact with elephants such as riding them or washing them, but these interactions are not natural, they are driven by profit.
Captive elephants and other wildlife depend on tourist revenue to survive and this pandemic highlights why it's important to address the root cause of their vulnerability.
Melissa Matlow, Campaign Director at World Animal Protection Canada says,
"These are challenging times, but our work to protect animals never stops. Placing complex, intelligent and endangered elephants at the whim of a fluctuating commercial tourism industry to survive is cruel and unacceptable. Elephants and the many other wild animals kept in captivity never chose this life. We hope people will support our emergency appeal and campaign to end the trade and exploitation of wildlife."
And this message does seem to be getting through to some travellers already. According to a poll conducted by KANTAR PUBLIC, in 2019, 89% of Canadian tourists surveyed believe wild animals belong in the wild. And 75% said they would pay more to see wild animals in a setting where they do not suffer.
As travel companies plan their recovery strategy, they should pay attention to the increasing shift in public attitudes. World Animal Protection hopes the travel industry will build back better and help keep wildlife in the wild.