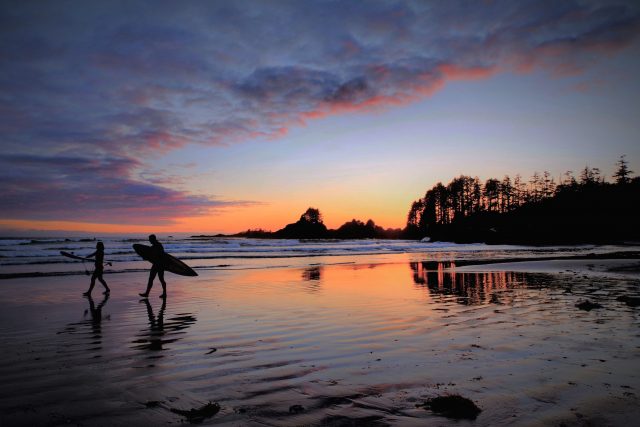 Digital disruption is causing a steady and growing impact on the number of workers that are mobile, in start-ups, through to remote staff working for worldwide companies of all sizes. With the beach, surf, and great outdoors as its backdrop, one of Canada's most distinctive Pacific Rim destinations Tofino is looking to become a workplace location of choice by attracting a steady stream of global nomads through a new coworking community. The Tofino-Long Beach Chamber of Commerce is collaborating with coworking pioneer The Network Hub and innovative hub consultants Thrive Junction to further develop the concept with a crowd-sourcing survey.
"Tofino is truly unique in its location and lifestyle," says Jen Dart, executive director of Tofino-Long Beach Chamber of Commerce. "We are thrilled to take the lead on conducting a feasibility study for coworking, a growing movement now commonplace not just in North America but around the world. We believe it is a concept that can be sustained in Tofino, especially with young entrepreneurs and visitors who can work from anywhere."
The trend for global nomads and teleworkers to cowork is a growing movement now popular around the world. Imagine working from anywhere, especially a destination such as Tofino where you can surf by day and work at night.
"Our town is thriving and looking for ways to diversify while supporting the businesses, residents and visitors already here," adds Josie Osborne, District of Tofino mayor. "Opening an innovation hub and coworking space would help bring in a different business and creative population to complement Tofino's already popular reputation. We want to be known as a place to not only explore nature, but also work within nature. With the increasing numbers of 'working travelers' who want to experience this region while working at the same time, we think coworking is a concept that can be sustained here."
Tofino is currently asking those interested to fill out a survey in order to gauge interest and demand. The results will be written into a report and shared with the public.
For visitors and global nomads, a dedicated coworking space allows them to stay longer and experience more, further investing back into the local economy. In addition, members of The Network Hub-curated Coworking Visa Map will be able to take advantage of coworking spaces in Tofino. Currently, there are 1,243 Coworking Visa Map locations worldwide, 52 in Canada, and 16 in British Columbia alone.
The survey can be taken any time until June 15, 2018.
For more information, please visit www.thenetworkhub.ca/tofino.
About The Network Hub
Vancouver-based The Network Hub has been a founding pioneer of the coworking concept in Canadasince 2006. It currently provides virtual office service, meeting room rental, coworking space rental, private office space rental, and event space rental in locations across British Columbia including Nanaimo, New Westminster, Richmond, Vancouver and Whistler. The Network Hub also curates the Coworking Visa Map, a global membership network where members can utilize any partner Coworking Visa location for up to three days.
www.thenetworkhub.ca | Facebook: /TheNetworkHub | Twitter: @TheNetworkHub | Instagram:TheNetworkHub
About Thrive Junction
Nanaimo headquartered Thrive Junction is a consulting team focused on transforming distinctive places into SMART workplace destinations. Building innovation hubs that empower distinctive communities with space, collaboration, technology, events and programs, and workplace destination branding is their focus.
www.thrivejunction.com | Facebook: /ThriveJunction | Twitter: @ThriveJunction
About Tofino-Long Beach Chamber of Commerce
The Tofino-Long Beach Chamber of Commerce is Tofino's original and largest business organization, founded in 1929. The TLBCC's mission is to actively represent the vast spectrum of businesses in Tofinoby offering a range of programs, services and networking opportunities for our members; through the development of policies on and being strong advocates for social issues; and by promoting the stewardship of the environment of Clayoquot Sound. Our membership is extremely broad and vibrant for a town of Tofino's size, and we are proud to represent some of the most innovative entrepreneurs in Canada. www.tofinochamber.org