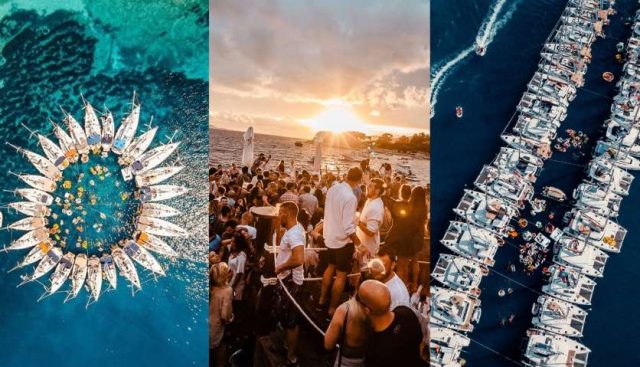 As the final countdown begins to the recently announced 'The Yacht Week Presents', the mouthwatering line-up for the Drumcode label takeover can be revealed. Playing from 18th – 25th June will be Adam Beyer, Bart Skils, Ilario Alicante, Joris Voorn, Juliet Fox, Layton Giordani, Lilly Palmer, Nicole Moudaber, Oscar L, and Rebūke who will all ensure an unforgettable soundtrack across seven days of incredible parties in unique locations along the stunning Croatian coastline this summer.
Guests at 'The Yacht Week Presents' can experience yacht life as part of an intimate sailing flotilla joining not only fellow party people, but the Drumcode artists as they sail alongside. It's set to be a festival like no other, with parties taking place at special outdoor and seafront venues and historic Croatian fortresses. Out at sea, the parties are truly unique where the yachts join together to create 'circle raft' and 'tunnel raft' parties, plus revellers can experience the floating dancefloor with floating DJ booth, fully equipped with VOID Acoustics soundsystem. When the parties are over, the fun doesn't stop there as guests begin a new adventure of exploration, culture, wellness and adventure, altogether making Croatia the most popular of The Yacht Week routes.
The Adriatic sea will come alive when Drumcode brings techno's finest names to The Yacht Week. First up is the boss and label founder Adam Beyer, master of big, chunky, rolling techno grooves powered by well-designed drums. He is no stranger to the world's biggest clubs and festivals having headlined them all over the last 20 plus years. This is a rare chance to catch him up close and personal to a backdrop like never before.
He will be joined by key label associates who will each bring the authentic Drumcode sound. These include the famously dexterous Dutchman DJ, Bart Skils, and one of the biggest breakout stars of recent times, MOOD label head, Nicole Moudaber who has a heavy and emotive sound that rocks the biggest dance floors on the planet.
Techno lovers can also enjoy sets from Rejected label founder, Joris Voorn, another hero-worshipped Dutch titan who is a master of melody and layering up grooves to devastating emotional effect. Rebūke, who always creates something new and genuinely exciting as he blends house, techno and rave. Plus appearances from Ibiza kingpin Ilario Alicante who is the perfect man to play under the sun, Juliet Fox, Layton Giordani and Oscar L.
For those who have been to festivals, travelled to holiday villas, or partied in foreign destinations, The Yacht Week Presents is an opportunity to experience something completely different. The Yacht Week motto is 'life is better at sea' and The Yacht Week Presents takes it to a new level, bringing groundbreaking electronic music to its sailing flotilla, creating a festival community where once-in-a-lifetime experiences bond friends together for life.
Check www.theyachtweek.com for full pricing on more info on the Croatia Drumcode route.