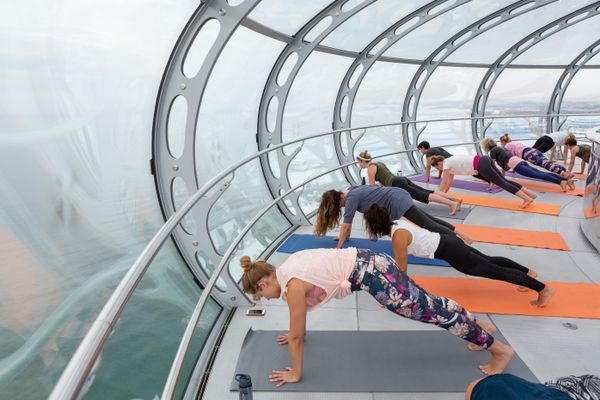 Start your weekend with an uplifting yoga class in the British Airways i360 pod high above Brighton on Saturday November 17 2018, led by yoga holiday experts My Escape and yoga party and teambuilding specialist Nine Lives Yoga.
Leave the stresses of the week behind as you glide up peacefully to 450ft and enjoy a relaxing, hour-long class looking out across the South Downs and the beautiful Sussex coastline.
A British Airways i360 spokesperson said: "A flight on the pod is a serene, peaceful experience, especially first thing in the morning when the city is just stirring. The pod is an ideal location for a yoga class and we invite the public to 'rise above it' and join us for this special yogic journey."
The class will include elements of yoga, pilates and meditation under the tuition of award-winning studio owner Holly Cooper, Yoga Rave pioneer and teacher Cat Duval, and classical pilates teacher Ellie Priest.
After the class, re-live your experience over a group breakfast in West Beach Bar & Kitchen, with mini granola pots, fruit platters, yoghurt, smoothies and croissants.
Just 40 places are available for this exclusive yoga experience.
Book now: www.BritishAirwaysi360.com/yoga
Regular yoga classes in the pod will be available in the New Year.
DATE: Saturday 17 November
TIME: 8.30am arrival for 9am start; ends by 10am
BOOK: BritishAirwaysi360.com/yoga
NOTE: yoga mats will be provided plus goodie bags including vouchers from leading sports and health brands