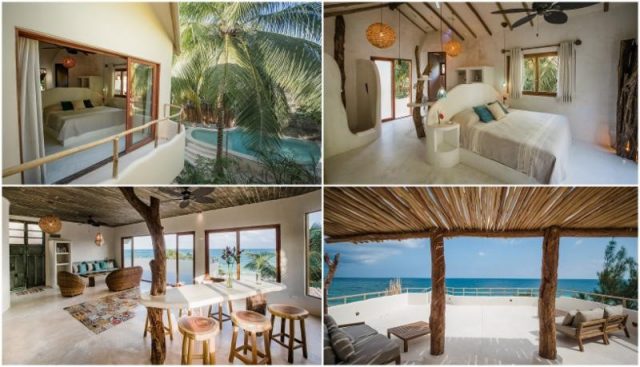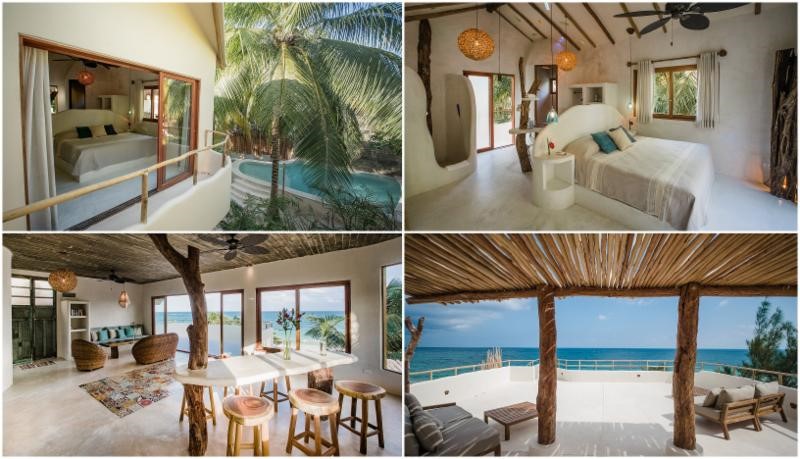 Tulum is celebrating the grand reveal of Zorba Beach Homes, an exclusive collection of luxurious beachfront villas whose doors opened to the public today.
Developed and operated by Guy Kouris and Snow Colbeck, who have collaborated for years on the popular Mahayana Tulum resort, the new sister property is situated 10 minutes away on the private beaches at KM9, in the heart of Tulum. Zorba Beach Homes is an all-suite property whose fully furnished villas range from a breathtaking two-bedroom penthouse to an expansive five-bedroom villa with a private seaside swimming pool. Collectively, the homes share a beautifully landscaped property surrounded by lush trees, 1,500-square-foot rooftop patio and communal pool exclusively for guest use, creating a luxurious oasis equally suited to couples, families and large groups.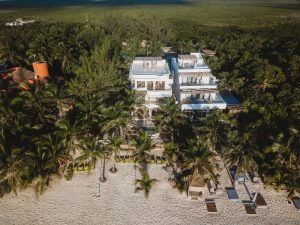 Guests of Zorba Beach Homes are treated to a wealth of amenities that ensure their stay is as comfortable and memorable as possible. In addition to fully outfitted kitchens, suites include regular housekeeping, purified water, organic toiletries and air conditioning. Guests are also granted free access to loungers and daybeds for sunning on the beach, as well as stand-up paddleboards, sea kayaks and boogie boards to explore the Caribbean Sea. Beach-goers might also catch a glimpse of turtles nesting along the resort's beach between May and November; the property is conscious to maintain natural conditions so the creatures feel comfortable returning year after year to lay their eggs.
Health and wellness is a priority at the resort, and visitors will find plenty of opportunities onsite for reflection and relaxation. Yogis will gravitate to the peaceful yoga studio; here, guests can practice in quiet solitude or book a private class with a certified yoga instructor. Groups seeking full-fledged wellness retreats are also welcome: in addition to seasoned yoga instructors, Zorba Beach Homes offers spa services upon request, soothing natural beauty, and an onsite chef who is happy to craft vegetarian and allergy-friendly menus. Zorba Beach Homes is also eco-conscious, particularly since the surrounding region is off grid power: water and energy conservation is practiced mindfully, and décor such as tables and light fixtures are crafted from local reclaimed wood.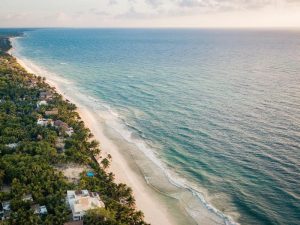 The resort's private chef is Irma Santoya, who infuses her locally sourced fare with traditional Mexican, Mayan and Aztec flavours. Chef Irma's meals are inspired by in-season ingredients and served family-style, starting with tantalizing appetizers like tortilla soup and salad with jicama and oranges. Next are bold entrées such as Mayan fish marinated in achiote spices and served with tamarind sauce or mango chutney, grilled vegetables and wild rice; vegetarian tamales prepared in banana leaf and topped by tomato sauce; and traditional cochinita, a slow-roasted pulled pork dish served with charro beans, rice and fresh tortillas. The grand finale includes festive desserts like banana flambé with vanilla ice cream. Breakfast and lunch dishes are available as well.
Zorba Beach Homes is sure to land at the top of wedding venue wish lists worldwide,
thanks to its dazzling white sand beaches, idyllic turquoise waters and endless sunshine. Wedding parties between 20 and 100 guests are invited to book the entire property for a truly unforgettable celebration of love; full buyout and minimum four-night stay is required. Upon request, the resort is happy to provide recommendations for local event planners.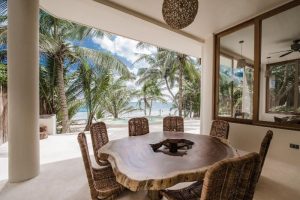 Guests staying at the resort can easily stroll to the eco-chic city of Tulum, whose rich offerings span lively bars and authentic restaurants; thoughtful public art installations; excursions to historical cenotes and ruins; and plenty of natural beauty anchored by the Caribbean Sea. Further inland, explorers can rent bicycles and ride through the national park, or visit artisan towns dotting the road leading to the Coba ruins; the hike to the top of the tallest ruin rewards adventurers with 360-degree views of the city and sea.
"We are so pleased to offer visitors to Mexico an elevated, one-of-a-kind accommodation experience on the beaches of Tulum," said Snow Colbeck, co-owner. "The area has a special place in my heart. My parents – who grew up in Nelson, B.C. – came across these beaches during a sailing trip. We spent years camping here, and after exploring all the beauty, history and culture the destination has to offer, I knew this was the ideal home for our new resort. Anyone seeking a luxurious and relaxed holiday with sunny beaches, friendly locals and history-soaked surroundings will fall in love with Zorba Beach Homes, just as I fell in love with Tulum all those years ago."
Whether seeking a romantic getaway, relaxed retreat or luxurious sojourn in the sun, Zorba Beach Homes is the perfect holiday destination. For more information visit www.zorbatulum.com.