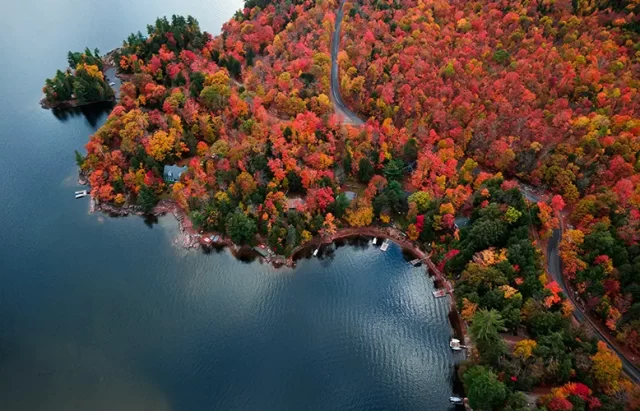 If you're wondering what you could do on your weekend instead of staying at home or going out to old familiar places, we have prepared a list of 10 weekend destinations in Ontario for you. You will be able to get there quickly and 2-3 days are enough to check the views and enjoy the local entertainment and cuisine. The locations listed are very affordable and are also so exciting that you won't need to reach out to your favorite Ontario online casino apps or watch Netflix all weekend again.
Paris Town
Paris Town stands out as one of the most beautiful small towns. It exudes a distinctly European flair, evident in its quaint cobblestone houses along the serene Grand River, as well as its cozy cafes and fashionable boutiques. Only a short journey from the city, Paris offers an idyllic retreat for a day trip. Immerse in outdoor adventures, indulge in a surprisingly delightful culinary scene, and marvel at the captivating architecture.
Prince Edward County
Prince Edward County beckons as an ideal destination for those seeking a weekend filled with wine tasting, culinary delights, and leisurely beach visits, particularly to the renowned Sandbanks Provincial Park. The region also hosts a vibrant lineup of festivals and events during the summer and fall, ensuring a delightful array of weekend activities.
Wasaga Beach
Wasaga Beach proudly claims the title of being home to the World's Longest Freshwater Beach, boasting over 14 kilometers of pristine, white sandy coastline. Drawing in millions of visitors annually, this destination offers a unique coastal dune ecosystem and breathtaking views. Wasaga Beach presents a myriad of exhilarating activities such as hiking, biking, ATVing, canoeing, kayaking, cross-country skiing, snowshoeing, fishing, paintball, golf, and even skydiving.
Elora Village
Wellington County captures the essence of charm. Located in the Grand River Valley, the county boasts scenic overlooks, 22-meter-high cliffs, and picturesque riverside trails. Nature enthusiasts can immerse themselves in fly fishing, kayaking, and rock climbing. Elora, called "Ontario's Most Beautiful Village" by renowned Group of Seven artist A.J. Casson offers a wealth of activities including parks, thrilling adventures like zip-lining and river tubing, as well as scenic hiking trails.
Sauble Beach
Boasting a remarkable expanse of 11 kilometers of white sand, it remains relatively unknown that Sauble Beach is the world's second-longest freshwater beach. The beach is an ideal haven for families with young children, offering warm and shallow waters. Surprisingly, Sauble Beach also presents excellent surfing opportunities when conditions align favorably. It is a must-visit destination this summer, with its allure complemented by nearby waterfalls and conveniently located campgrounds, just a short 15-minute drive away.
Thousand Islands
Situated at the confluence of the St. Lawrence River and Lake Ontario, the Thousand Islands region boasts a collection of 1,864 lakes to explore. There are so many islands that checking them all out is simply impossible, at least not within 3 days, but some of the most beautiful views can be seen on a weekend. It's worth noting that not all of these islands belong to Canada and some are part of the United States, requiring visitors to bring their passports.
Bruce Peninsula
The Bruce Peninsula is located in the ancestral lands of the Saugeen Ojibway Nation where the cliffs of the Niagara Escarpment meet the waters of Georgian Bay. Renowned worldwide for its exceptional hiking trails, it has become a cherished destination for camping, hiking, and fishing. The destination boasts two national parks, the Bruce Peninsula National Park and Fathom Five National Marine Park, as well as numerous nature reserves and the Bruce Peninsula Bird Observatory.
Agawa Canyon
Situated 114 miles north of Sault Ste Marie in the Algoma Country of Ontario, lies the Agawa Canyon. Carved over a billion years ago and further sculpted by the Agawa River, this canyon plunges to a depth of 575 feet. Within the Agawa Canyon Wilderness Park, there are nature trails, waterfalls cascading into the Agawa River, and breathtaking panoramic views of the canyon. Among the cascades within the canyon are the Black Beaver Falls, Bridal Veil Falls, and Otter Creek Falls.
Lake Huron
Lake Huron, one of North America's renowned Great Lakes, boasts the distinction of possessing the longest shoreline among its counterparts. Its attraction lies in its captivating blend of natural wonders, encompassing breathtaking dunes, picturesque beaches, lush forests, sprawling wetlands, and intricate river systems. Lake Huron emerged from the retreat of glaciers during the last ice age, leaving behind a landscape adorned with polished rocks and eventually forming the magnificent mountains and hills we behold today.
Hamilton Waterfalls
Renowned as the Waterfall Capital of the World, Hamilton and its surrounding region boast an impressive collection of over 100 waterfalls, each offering its own unique allure. What sets Hamilton's waterfalls apart is their discreet presence in the local neighborhoods, near industrial areas, roads, and parkways.
Some of the best waterfalls are:
Tiffany Falls
Sherman Falls
Webster Falls
Devil's Punchbowl
Chedoke Falls
Smokey Hollow Falls
Tew Falls
Hermitage Cascade