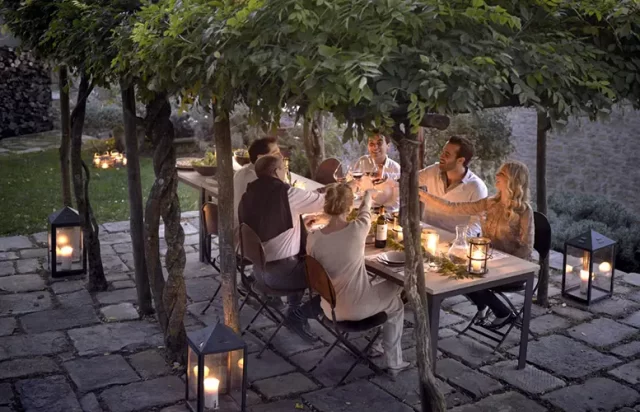 Luxury boutique hotel Monteverdi Tuscany has announced its partnership with Michelin-starred chefs Dominique Crenn and Nancy Silverton as part of its new Chef in Residence program, offering guests a rare opportunity to experience the beauty and flavors of Tuscany alongside some of the world's best chefs. The immersive five-night program will take place from November 7-12, 2023, and will include chef-led dinners, intimate cooking demos, private epicurean excursions and more. 
An extension of Monteverdi's Artist in Residence series, which brings international talent to the property to reflect, create, and exhibit, the new culinary residency invites leading chefs to showcase their signature approach, cooking philosophy and use of Tuscany's bountiful ingredients through meaningful conversations, interactive activities, and transformative dining experiences.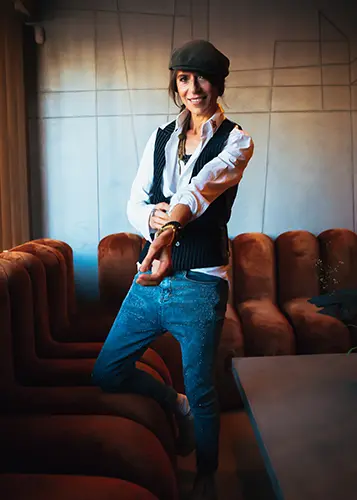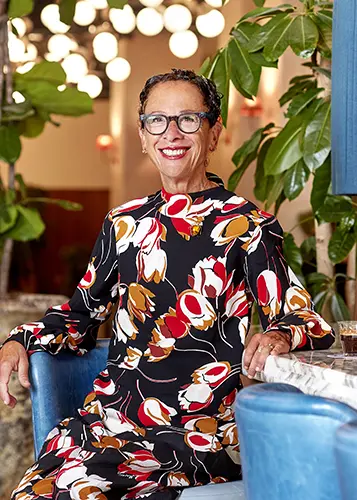 "Throughout my career, I have had the privilege of knowing some of the world's most exciting and accomplished culinary talents. In the midst of this beautiful valley with ever changing landscapes, I want to share my love of Tuscany and allow them to express their craft through pure ingredients," said Monteverdi's Chief Culinary Officer Giancarla Bodoni. "It's a joy to welcome Chefs Crenn and Silverton as our inaugural culinary residents to continue Monteverdi's legacy of bringing talented artists together to inspire and to be inspired."
Chef Nancy Silverton, James Beard Award winner and co-owner of the Michelin-starred Osteria Mozza, Pizzeria Mozza and other top Los Angeles restaurants, calls Tuscany her home and returns to Monteverdi after hosting a pop-up dinner with Chef Bodoni in April. Chef Dominique Crenn, executive chef, owner and the first female chef in America to be awarded three Michelin stars at her influential San Francisco restaurant Atelier Crenn, brings her artistic approach to modern French cuisine to the residency.
"To spend fall in Tuscany with new and old friends is a dream come true. Let us all be inspired by the beauty and bounty surrounding Monteverdi, said Chef Dominique Crenn. "I look forward to a week full of food, laughter, learning and dancing!"
In this inaugural chapter of the program, Crenn and Silverton have collaborated with Bodoni to curate a five-night itinerary filled with experiences that immerse guests in the beauty of Tuscany's Val d'Orcia region, creating unforgettable moments between the chefs and guests for an equally engaging and educational experience. The residency will open with a welcome aperitivo alongside the chefs, followed by a multi-course dinner prepared by Monteverdi's Bodoni and the hotel's Chef de Cuisine Roberto Bruno. Guests will accompany the chefs on private tours and excursions, like white truffle hunting, a visit to Mulino Val D'Orcia, a family-owned flour and grain mill, and chance to learn the art of cheesemaking at Caseificio Pìu, a family-owned sheep's milk farm. Concerts, wine tastings, chef-led cooking demonstrations at Monteverdi's Culinary Academy, and family-style meals are scheduled throughout the program, with time for guests to unwind, relax, and enjoy the stunning views from the hilltop property. 
"I'm excited to join my dear friend Dominique for this experience at the extraordinarily beautiful property of Monteverdi." said Chef Silverton. "I'm really looking forward to the wonderful excursions and meals we've curated with Chef Giancarla – there's nothing quite like exploring, learning, and gathering great people around a dinner table in a beautiful place. Guests are guaranteed to fall in love with Monteverdi just as much as I have!"
Monteverdi's inaugural Chef in Residence experience adds to the property's robust fall programming schedule, featuring a concert series and highly curated multi-day wellness retreats, including the 7-day Holistic Detox program and a longevity-focused Sempre Sano experience. 
Chef in Residence Itinerary
November 7, 2023:
Guests arrive throughout the day
6:00 p.m. Cocktail hour at the Lounge Bar
7:30 p.m. Welcome dinner at Oreade, Monteverdi's acclaimed fine dining restaurant designed by Chef Giancarla
November 8, 2023:
7:30 a.m. – 10:00 a.m. Breakfast
10.30 am Departure from Monteverdi to Fattoria Piu
11:00 a.m. Visit to Fattoria Piu, a family owned sheep's milk farm where guests will learn the art of cheese making, followed by a lunch and wine pairing at the farm featuring renowned cheeses and salumi
3:00 p.m. Guests return to Monteverdi
6:00 p.m Concert at the Lounge Bar
8:00 p.m. Guests are free to enjoy dinner at Oreade or Zita or area restaurants. Our concierge team can assist you with reservations.
November 9, 2023:
7:30 a.m. – 10:00 a.m. Breakfast
10:00 a.m. Departure from Monteverdi be immersed in a seasonal culinary experience like White Truffle Hunting
Approximately at 4.30 pm guests return to Monteverdi
8:00 p.m. Light dinner at Zita
November 10, 2023:
7:30 a.m. -10:00 a.m. Breakfast
10:00 a.m. Guests depart visit to Mulino Val D'Orcia, a family-owned local mill which produces the flours used by Monteverdi and for an olive oil tasting and lunch
Approx 4:30 p.m. Guests return to Monteverdi
7:00 p.m. Cooking demonstration with Chefs Dominique Crenn and Nancy Silverton, followed by a family style dinner in Monteverdi's Culinary Academy featuring renowned wines of the Tuscan region
November 11, 2023:
7:30 a.m. -10:00 a.m. Breakfast
10:00 a.m. – 6:00 p.m. – Guests will enjoy a free day and have the opportunity to enjoy such onsite activities as yoga, spa treatments or offsite activities such as trekking, biking, horseback riding, shopping or wine tours or one more cooking class with Chef Giancarla.
5:00 p.m. – 6:30 p.m. Guests will gather for a wine seminar and tasting where they will enjoy the terroir-driven Brunello di Montalcino wines of Valdicava
7:30 p.m. Farewell "Grand Tasting" dinner at Monteverdi's Culinary Academy that will feature a menu collaboration by Chefs Crenn, Silverton and Bodoni.
November 12, 2023:
7:30 a.m. – 10:30 a.m. Breakfast at Oreade.
11:00 a.m. Guests departure and check out