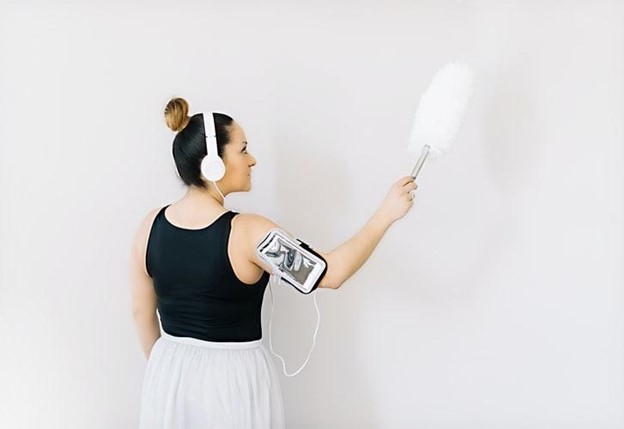 Preparing for a vacation can be exciting and stressful. After all, you have a million and one things to get ready for, so you can enjoy a few days of relaxation.
One of which is ensuring that your house is clean before you go. Otherwise, you could be coming back to a dingy house and musty bed. You would rather flop yourself to bed and rest than clean it as soon as you are back.
In this post, we will share ten easy home cleaning preparations you can do before going on a vacation.
1. Declutter Your Room
A messy bedroom can surely add to everyday stress, cause anxiety, and even interfere with your sleep quality. A clean, organized sleeping area, on the other hand, helps boost relaxation and restfulness. This is something you need after coming home from a tiring trip.
That's why at Maid Sailors Hoboken Cleaning Services, we always recommend decluttering the bedroom at least a week before the vacation. That way, you can lie down to your bed as soon as you're back without having to worry about the mess.
2. Change Your Beddings
Once you get rid of all the clutter in your bedroom, the next step is to change your beddings.
We suggest that you do this a day or two before your departure. That way, you can come back to a fresh-smelling pillow and comfortable mattress.
3. Do a Quick Vacuum
If you want to come back to a relaxing bedroom, you need to ensure its pristine condition. And one way to do that is through vacuuming.
That's because the vacuum can pick up the dust and dirt you might have missed. If you own a portable vacuum with replaceable nozzles, it can fit into some nooks and crannies. As a result, you will leave a spic and span bedroom.
4. Empty Your Fridge
If you will be gone for more than a week, it is recommended that you turn your fridge off. That way, it won't be consuming electricity while you are away.
However, doing so can lead to food spoilage if you're not careful. Thus, you have to ensure that your fridge is relatively empty before you leave.
You can choose to consume the remaining ingredients, turn them into snacks you can bring on your trip, give them away, or toss them. That way, you won't be coming back to a stinking refrigerator because you forgot to clean it before your departure.
5. Wash the Dishes
Much like with your fridge, you'll be incurring waste and inviting pests and vermin if you neglect to wash the dishes before your vacation.
Food gets crusty and can be tough to remove when neglected. Plus, it can be a petri dish for disease-causing bacteria. You might even come back to cockroaches crawling on your plates!
6. Take Out the Trash
If you overlooked taking out the trash before you go out of town, a foul smell and a bunch of pests would likely welcome you.
Rotting trash can draw bugs and rodents, so you'll surely thank yourself later if you spend a few minutes to complete this chore. This is one way to have a fun vacation, knowing that you got rid of anything that can attract rodents, cockroaches, and other vermin.
7. Disinfect Your Garbage Disposal
No one wants to be greeted by stinky garbage disposal and the flies it can attract when you come back from a vacation. So, once you are done with the trash, the next step is to disinfect your garbage disposal.
What you can do is pour some distilled white vinegar down the disposal, letting it run for one minute. Rinse it with water afterwards.
For a fresh scent, try adding some lemon peels and rerun the machine.
8. Do the Laundry
The longer clothes stay dirty; the more developed and resistant their odors will become.
Bacteria thrive when they are exposed to three things: Organic material, warmth, and moisture. This makes your dirty clothes the perfect breeding ground for bacteria.
That said, remember to wash dirty clothes, bedsheets, and towels before you leave.
9. Unplug Your Gadgets and Appliances
Why let your appliances consume electricity when you're out for a vacation?
Mind you, plugged appliances, even when not in use, still consumes energy. Thus, it would be best to unplug everything before you leave.
Doing so can also give you peace of mind, knowing that you are less likely to return to a burnt-over house.
10. Water Your Plants
Whether you will be gone for a couple of days or a week, it would be ideal to trim the grass in your yard and water your plants afterwards. That way, they will stay hydrated while you're away.
If you own a sprinkler system, have it set to water for about 15 minutes every 2-3 days. However, make sure to monitor the drought situations and water restrictions in your area before doing this. More so during the summer months.
You might be violating your city regulations unknowingly.
You should also arrange your plants in a way that ensures that they will be adequately watered. You can seek the help of a neighbor or hire a professional gardener.
Conclusion
When planning for a family vacation or big work trip, your to-do list can seem never-ending. Nonetheless, these are things you must do if you want to have a good time.
This includes the following home cleaning tips:
Declutter your room
Change your beddings
Do a quick vacuum
Empty your fridge
Wash the dishes
Take out the trash
Disinfect your garbage disposal
Do the laundry
Unplug your gadgets and appliances
Water your plants
We know that this can be overwhelming. However, nobody said you have to do everything in a day. There are things you can do a couple of weeks before your departure.
Moreover, consider doing these chores as a way for you to enjoy your trip. That's because it gives you peace of mind, knowing that your house is secured. It also allows you to relax straight away as soon as you are back from a tiring trip.
That said, ensure that your house is spic and span before you leave.