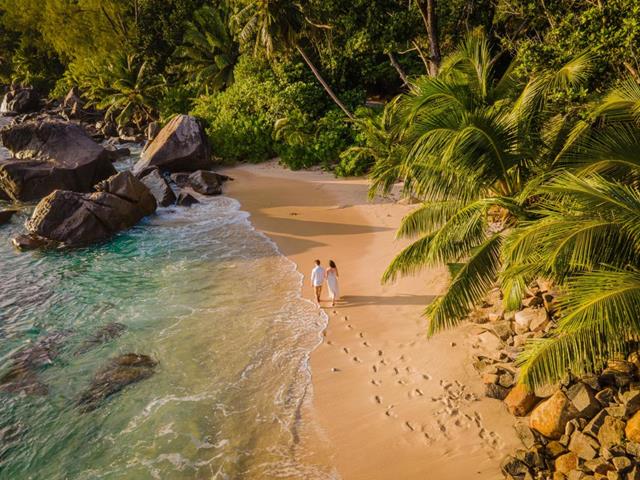 The Seychelles group of islands is a treasure in the Indian Ocean. It is possibly the most romantic archipelago in the world; the perfect paradise location for a dream wedding or the perfect honeymoon adventure to start your journey of life with. With powder white sandy beaches, crystalline clear  turquoise  waters,  lush  flora  and  gently  swaying  coconut  trees,  all teamed with a warm tropical climate all year round making it ideal for that special life event, the Seychelles certainly ticks all of the boxes as a sensational wedding or honeymoon destination .
Kick off your shoes, and enjoy a truly romantic wedding or honeymoon at locations like the pristine and vibrant beauty of Beau Vallon beach or the seclusion of the outer islands. You, your friends and family will never forget this experience, with something truly once in a lifetime to look back upon. With the Seychelles' perfect climate, you are almost guaranteed a spectacular sunny days with a warm cool breeze. Or if you wish a evening wedding or romantic dinner as the sunsets and the blue skies turn from a warm red to pink to a rich dark blue star filled sky, gazing up in the wonder of the universe in some of the clearest night skies in the world Seychelles weddings and honeymoons are truly something to behold.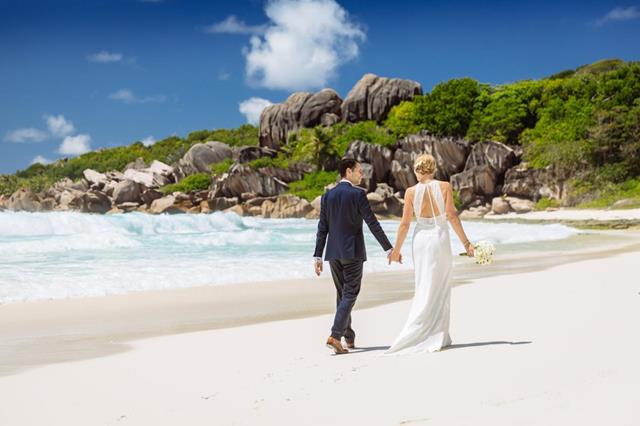 The 10 must do experiences when in the Seychelles for your wedding or honeymoon
1 Relaxing on a secluded beach
There are fewer rituals, more relaxing and rejuvenating than time spent on a beach. Seychelles has plenty of stunning beaches to offer. Anse Source D'argent and Corte d'Or are some of our favorites. But the best part is that it is easy to get a stretch of beach all to yourself in Seychelles. Most hotels boast of secluded beaches but don't be disappointed if yours doesn't. Just request your driver to suggest an offbeat public beach, which doesn't see many tourists. Make sure you carry your sunscreen, a hat, a book, and some wine to have an incredible time at one of Seychelles' gorgeous beaches
2 Island hopping with ease
The Seychelles fast ferries or regular flights make it easy and affordable for guests to commute from island to island. This is amazing as you get to explore so much more. We would definitely suggest putting the islands of Praslin and La Digue on your itinerary if you are celebrating your honeymoon in Seychelles
3 Making friends with smiling locals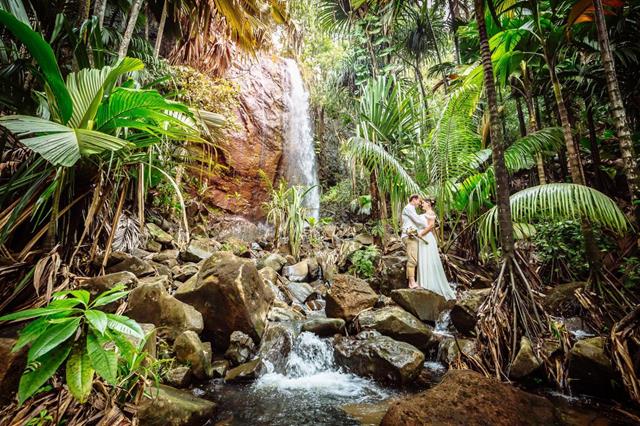 If privacy isn't the only thing you're after and you love exploring, even on your honeymoon, we have good news! The ease of movement between different islands and within the islands makes it easy for guests to interact with locals. Explore the bustling market and colorful houses of Victoria on Mahé Island or interact with locals at the L'Union Estate on La Digue. You are bound to make new friends. Who doesn't like coming home from a honeymoon with such great memories?
4 Biking along the coast
One of the most romantic things to do in Seychelles is to rent bikes and explore a tiny island at your own pace. It is easy to rent bikes on small islands such as La Digue and Silhouette. Spend your day biking around at a leisurely pace you're your partner. Discover hidden beaches and caves, stop for a meal when you feel like it, or just take a break and go snorkeling – aah!
5 Meeting giant tortoises
Seychelles is one of the very few countries in the world where you can see and even touch giant tortoises. Make sure you put L'Union Estate on your itinerary for your honeymoon in Seychelles. Here you can explore old plantation houses and spend time with sluggish tortoises. They seem to work on island time – slow and easy!
6 Working up an appetite with a hike that takes your breath away
If you're craving a bit of exercise on your honeymoon, then book yourself a scenic hike and witness Seychelles' magnificent nature for yourself. There are plenty of hikes on each island but there are two that we would definitely recommend. The challenging Copolia Trail on Mahé Island ends at a cliff top that offers a stunning view of Seychelles' turquoise blue waters and the surrounding islands. Vallee de Mai home to the rare Coco De Mer, offers a 3 hour hike through a plantation. Once again, the end of the hike offers panoramas that will leave you smitten.
7 Hotel rooms that look like this
Seychelles has a range of accommodation to suit every budget. But if you are on your honeymoon we'd recommend splurging on a luxurious hotel room, where you feel pampered to bits. Seychelles offers some of the most luxurious hotel rooms in the world. Take your pick from a room that opens straight onto the beach or a cliff-top room with a private plunge pool with a stunning view to boot. Our suggestion? Split your time and try to experience both kinds of rooms. Choose one with a private pool on the island of Mahé and one that opens right to the beach on the islands of Praslin or Silhouette.
8 Water sports that will enthrall you like nothing else
No island honeymoon is complete without a range of water sports and Seychelles is no different. Seychelles' islands offer everything from snorkeling and sailing to diving and rafting. Most hotels offer water sports within the premises. At the very least, we would recommend renting snorkeling equipment from your hotel and enjoying Seychelles' gorgeous transparent waters for yourself. You will see entire schools of colorful fish and come out completely mesmerized.
9 Breakfasts on the beach
Aah is there anything else that is as pleasurable as a languorous breakfast on the beach? I think not! If you're in the mood to treat your partner to something truly special on your honeymoon, then request the hotel to set up a special canopy for you at the beach. Most hotels offer this service at a small surcharge. If not, then just order room service and enjoy it in the balcony of your beach-facing hotel room. We promise you one thing – you will be unable to tear yourself from the view.
10 Sipping champagne while watching dolphins on a boat
Let me play out a scenario for you – you're sipping on chilled champagne in a little boat that bobs up and down on turquoise waters. As time passes, sunshine mellows down. It's time for sunset and as the sun goes down, the sky is lit ochre. Suddenly somewhere between two tiny islands in the middle of nowhere, you spot 5 playful dolphins jumping in and out of the ocean. As the day metamorphoses to evening and your boat brings you back on land, you wonder if it was a dream you just witnessed or reality. THAT is Seychelles for you!